The craving to ensure that human activities are in harmony with the natural world continues to challenge both political, business, religious, and traditional leaders on the best way to achieve the global sustainable development agenda.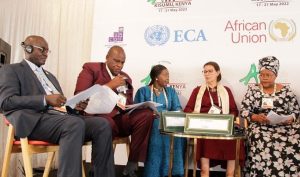 To keep the planet below 1.5 degrees Celsius as advocated to protect man from the catastrophic effects of climate change disaster on socio-economic activities by the middle of this century, there is an urgent need for mass public enlightenment in developing countries particularly in Africa, on how local communities can mobilise domestic resources to combat climate change and accelerate growth.
For instance, over $170 billion is required annually to build infrastructure and address the development crisis in the region. This is not an easy task to overcome looking at the region's socio-economic history of struggle and lack; it demands creative thinking and urgent action to decipher.
Usually, the general practice is that many of these countries rely on foreign aid to handle this predicament. However, the reality on the ground has confirmed that there is no way external support alone can help Africa to attain its development aspirations.
This is why people have to rethink and come up with a workable solution to bridge the gap. There is a need for domestic resource mobilisation since overseas assistance can never be sufficient, and that key is awareness because, without it, no other priority can make resources available.
First of all, it is not everything that cost a lot of money, so to focus on money alone and see it as a means to an end to this crisis is self-limiting. There are other creative solutions as most times things come up from the community that does not cost anything or are very cost-efficient.
While it is the duty and responsibility of the political leaders to lead this pathway, however, it is important to note that the pressure has to come from the citizens.
In Europe for example, students in the primary and secondary schools stood up and went on strike to demand their rights. They accused the big polluting companies of playing with their future and demanded that they do something now.
They mobilised everyone in Europe and boycotted several companies that they felt were using plastic and doing an unsustainable waste treatment. Suddenly, they were made to act, and everyone went green when they noticed that their market was going down.
This action can help increase local commitments and gather the resources needed to curb climate change. Additionally, it will also enable the communities to look inward at what they can do differently.
Most of the biggest cities in Africa are next to the water. Using Lagos, Nigeria as a case study, it is unthinkable to imagine what would happen when this city is to be evacuated in the future. This is why public knowledge is essential and should be invested in, otherwise, it will cost over 10000-fold later to deal with the consequences not only in monetary terms, but the human suffering will be immeasurable.
There are specific Islands where poor people have to live in their huts at a constant water level that is about 30 metres high. Again, like in all problems, it is the poor ones that are hit, the rich can move away, but where is the poor one going?
Environmental education is also a case of social justice, not only in terms of in-country for the poor but also about the rich North and the poor South. Unfortunately, the emissions are not coming from the South, but sadly they have to pay the brunt and consequences.
This is a big hit on global solidarity, and if rapid actions are not taken to bring it back, then the world is doomed to fail. COVID-19 pandemic and climate change have shown the world that sustainable growth can only be achieved by collectively working together.
"So, maybe this is our big challenge to bring us to reasoning and see that we are all brothers and sisters in one boat," Hamzat Lawal, the chief executive officer of Connected Development, said.
The climate and sustainable development campaigner cautioned that fighting for the best place in the boat when it is going under is not helpful. Although, he confessed that he sees lots of hope as many people are waking up; and reversing the trend of globalisation.
The injustice in global development makes everyone feel isolated in the scheme of things, but Lawal believes that "we have to go back and promote neighborhood initiatives because they are the fabric that empowers the local people."
Ecological education in Africa also needs to be strategic to enable the people to channel their efforts into choosing the right infrastructure that will have the most effective impact on them and be beneficial to the continent.
This, according to former President of Seychelles, Danny Faure, should be based on bankable strategic infrastructure that is based on data. He drew attention to the importance of re-coordinating the region's development plan from its current fragmented, to a data-driven need base.
"It is important that we back up our interventions based on facts and data that show us where we are in terms of development," he said.
At the 9th Africities summit held in Kisumu, Kenya, the message on the role of intermediary cities in Africa's development is very clear. Its reality is reflected in the way her small cities are treated because they are the key target of governance.
"Treat them well and they will treat African citizens well, treat them bad and we will fail in our progress," says Jean Pierre Mbassi, secretary-general of the United Cities and Local Governments of Africa.
It is time for the sustainable development agenda in Africa to move away from the business-as-usual approach and realise that the train has left the station and going to hit the wall. The individual realisation of this problem can help proffer its solution.
People must stop doing things the usual way knowing that every single person's action count and will, unfortunately, be added to the overall global pandemonium.
There is an emergency for mass awareness mostly among the young because they are the great hope for the continent. The majority of Africa's population is below 18 years, so if the young people can realise what is at stake like their peers in Europe and emulate them, they will make a difference.
By Etta Michael Bisong, Abuja