Art inspires individuals to see things in new ways and can inspire us to get involved in issues that concern our community, according to the Deputy Secretary-General of the UN, Amina J. Mohammed.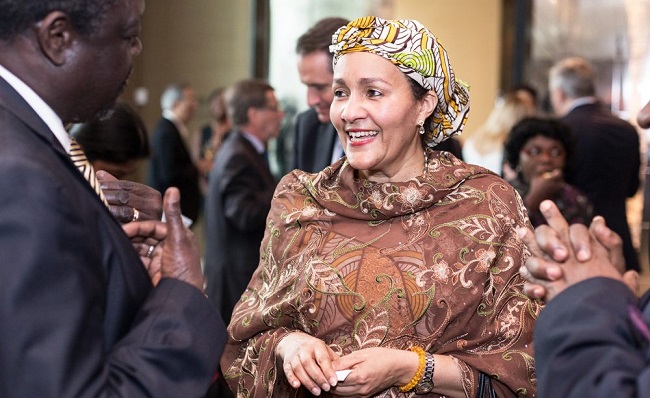 Mohammed stated this at the "Solution17 Art for Climate Change – 5th Global Entreps Award''' organised by Creative Youth Community Development Initiative (CYCDI), with the collaboration of the UN Information Centre (UNIC), Nigeria, on Friday, September 25, 2020.
"Art and music are unifying forces that build bridges across cultures, borders and generations, helping us overcome miscommunications and mistrust.
"They also speak to hearts and minds.
"Climate change poses significant challenges to the present generation, for which they were not responsible, and it must therefore be at the core of our climate solutions,'' she said.
The "Arts for Climate Change" was designed to support the Global Movement Against Climate Crisis.
Art works with their SDG representation which showcased the problem, effect, solution and impact of the Climate Action Enterprises were created by 17 finalists of "Solution17 for Climate Action" from Covenant University, Otta in Ogun State.
The Deputy Chief said it is fortunate that youths are already at the centre of the climate movement by bringing solutions to peers and decision makers through hackathons, inventions and their voices.
She admonished youths to challenge their peers to contribute ideas that would help the world move beyond fossil fuels into an era of solar power and green energy.
"Climate change can be the issue that brings humanity together during this unprecedented time.
"Like art, it offers an opportunity to unite behind a common platform of commitment to transformation and we need all hands on deck to turn this crisis into an opportunity for a better future.
"You and your visions are our inspiration to do more urgently, leaving no one behind and the UN is committed to giving you the platform to raise your voices and support the realisations of your aspirations," Mohammed said.
Addressing the virtual audience through a recorded message, the 8th Secretary-General of the UN, Ban Ki-moon, said that, nowadays, the world is committed to the successful implementation of the Sustainable Development Goals.
He said that the youths who have gone the extra mile to implement the SDGs quicker and sounder are worthy of emulation.
"The best realisation of Globalisation itself are those business owners, authorities and citizens who, through this global competition, demonstrate that a technological breakthrough, green public private partnership or a simple solidarity action spreads out worldwide in few seconds for the best of our climate and our posterity.
"Let us work together for a better present, because the future is now," he said.
Foluke Michael, the Convener and Project Director, Creative Youth Community Development-Solution 17, said that children, teenagers, youths, women and adults are now working together to build a new sustainable world through development of ideas and products for social impact.
She said that art is "communicating real change to help humanity in an innovative way".
"Arts will be converted to tools to generate massive awareness that will spur action globally."
The CYCDI implements and promotes education and community development projects through sustainable platforms tailored to achieve expected outcomes.
The projects are driven with the end goal and objective of birthing new generations of leaders that will cause paradigm shifts through the promotion of Climate Action, Education, Poverty Reduction, Agriculture, and other SDGs.
By Busayo Onijala