Despite environmental issues being transboundary in nature, countries in Africa appear not to be working together as one to address inherent challenges.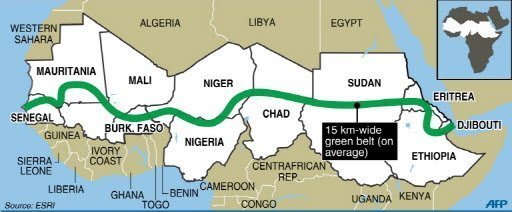 This turned out to be the view of majority of the stakeholders sampled by EnviroNews. Common transboundary environmental issues facing African countries include sea level rise, coastal erosion, desertification, drought, pollution and illegal mining, among others.
"African nations are not united. Neither do they address our environmental challenges with a common voice nor provide adequate resources to mitigate them," insists Ayo Tella of the Initiative for Nature and Human Development (INHD).
Executive Director, Centre for Energy and Environmental Sustainability, Chike Chikwendu, states that collective efforts in tackling the problems are lacking due mainly to low financial capacity and the traditional loyalty of these countries to different foreign western countries.
"Therefore, individual country efforts usually result in ad-hoc solutions that are quickly obliterated by the rampaging global warming effects. Examples abound. In Lagos, the government has succeeded in stemming the coastal erosion at the Bar Beach while the beaches of Benin Republic, Togo and Ghana are fast being washed away. Second, the Great Green Wall project across the Sahel in the West African sub-region succeeded in some countries but is a failure in Nigeria where issues of corruption and transparency has affected the implementation of the project. Many more examples abound," says Chikwendu.
He, therefore, urges African nations to cooperate in addressing their common environmental problems.
Ghanaian environmental journalist, Mary Ama Kudom-Agyemang, stresses that Africa's unity to her common environmental issues is evidenced in the African Union's (AU) New Partnership for Africa's Development (NEPAD) initiative, which is the strategic framework for the continent's socio-economic development that addresses major challenges facing Africa such as poverty.
"NEPAD's programmes are focused on some key thematic areas including agriculture and food, security, climate change and natural resources management and regional integration, which all have bearings on the continent's environment. Thus, the AU is strategically positioned to direct a pan-African approach to tackle common environmental problems," says Kudom-Agyemang.
But she laments that Africa currently lacks structure for environmental governance, "a situation that can be blamed on national governments".
"Individual countries do not seem to appreciate the need to tackle environmental issues from a common front and as such have so far not demonstrated the political will nor committed funds to address environmental problems as a priority.
"It appears Africa's unity, in this wise, is merely rhetoric and there is urgent need to go beyond the talks and translate commitments and plans into action at the individual country level to the wider regional blocks," she adds.
Director, Health of Mother Earth Foundation (HOMEF), Nnimmo Bassey, explains that even though Africans are concerned about addressing common environmental issues, there are however "big challenges in having a coherent approach as there is no holistic matrix by which the ensure a composite tackling of the problems".
His words: "You will notice this even within nations. Until countries treat environmental issues as the cross-cutting issues they are, approaches will remain fragmented and sometimes counterproductive. The other matter is that our countries are dependent on the extractivist path for financial flows. This disposition does not promote environmental care.
"Violent conflicts add to the challenges of environmental protection. Equally, dependence on food aid provides an avenue for genetic contamination of our food systems, especially through so-called food aid as was the attempted case in Zambia in 2002 and Angola and Sudan in 2004. In recent years unverified seeds have been distributed to farmers in Nigeria through aid. These and other factors inhibit a coordinated approach to environmental issues in our nations and on the continent."
But National Network Coordinator, CSDevNet, Atayi Babs, believes that African nations are united in their resolve to address common environmental issues as, according to him, they speak with one voice at international climate negotiations.
"This they achieve through the instrumentality of the African Group of Negotiators (AGN), the African Ministerial Conference on Environment (AMCEN), and the Council of African Heads of States on Climate Change (CAHOSCC), he submits, adding:
"Through these platforms, African nations generate and project the African voice which is usually underpinned by realities of the local communities and contributions by non-state actors outcomes which are key essentials for informed policy formulation and monitoring of its implementation at all levels.