The World Health Organisation (WHO) in collaboration with South Sudan's health ministry has strengthened HIV treatment cascade to improve interventions and achieve the national 90-90-90 targets, an ambitious goal to end the pandemic.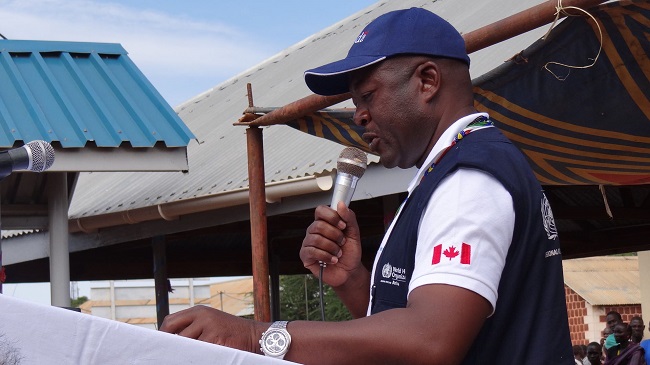 Moses Nganda, Medical Officer at WHO South Sudan, said over the last decades, Juba had continued to face humanitarian crises of varying nature and intensity weakening the health systems,
And this had hindered progressive coverage of health services including HIV.
"The HIV treatment cascade is a convenient tool for assessing integrated health service delivery for people living with HIV," Nganda said in a statement issued in Juba on Saturday, September 15, 2018.
The HIV treatment cascade, also referred to as the HIV care continuum, is a system to monitor the number of individuals living with HIV, who are actually receiving medical care and the treatment they need.
The tool tracks the progress individuals make from the initial diagnosis to achieving a very low level of HIV in the body.
According to WHO currently, a large gap exists between the number of people, who have HIV, those, who are aware of their infection, those receiving effective treatment and those virally suppressed.
"To improve quality of care, address gaps and increase efficiencies along the continuum for better outcomes of treatment, WHO held a five-day training workshop on HIV treatment cascade," said the UN health agency.
Nganda said health workers including medical doctors and clinical officers, nurses, counselors, pharmacist and monitoring and evaluation (M&E) officers reviewed and identified the HIV care cascades, programmatic gaps and support facilities with practical approaches to strengthening M&E systems.
Victora Achut, National HIV/AIDS Programme Manager, Ministry of health, said the current coverage of services was inadequate, and the rate of expansion is too slow to achieve the 2020 national 90-90-90 targets.
Achut said the ultimate aim of the National HIV treatment programme is for people living with HIV to be virally suppressed.
"For this to happen, people living with HIV need to be diagnosed promptly, linked to care, initiated on antiretroviral treatment (ART) and continuously adhere to medication," Achut stressed.