Women are regarded as not only highly vulnerable to climate change effects but also as change agents that can actively provide solutions.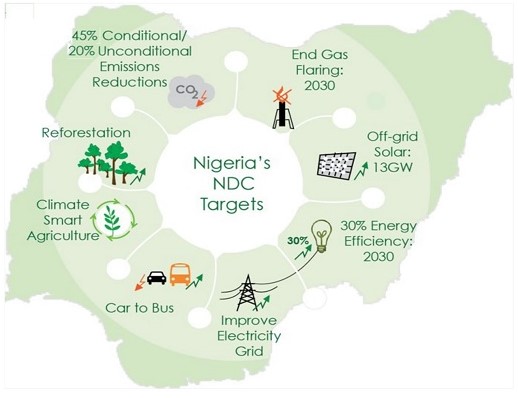 As Nigeria embarks on the implementation of its climate change plans under the Nationally Determined Contribution (NDC) package, the authorities identified with them during a recent engagement.
At a webinar held on Thursday, July 30, 2020 and themed "Reaching out to Women Business Leaders: Communicating the messages of the Nationally Determined Contributions (NDCs) under Paris Climate Agreement", implementation parties explored contributions of women business leaders to climate change towards meeting targets set in the NDCs.
The initiative is being promoted courtesy of the Department of Climate Change (DCC) of the Federal Ministry of Environment, United Nations Development Programme (UNDP) and the NDC Partnership.
"The NDC implementation process in Nigeria under the UNDP and NDC Partnership has specific and targeted activities for women," said Huzi Mshelia, Coordinator, UNDP-NDC Support Programme, while describing the webinar as well as capacity development on project development and accessing climate financing as activities lined up under the initiative.
"Engagement will be continuous with four other planned workshops on capacity building, while the DCC will liaise compilation of women business leaders for future engagement, particularly during the revision process," he added.
According to Mshelia, NDC implementation and revision processes provide the opportunity to portray the different experiences of women and men, and how they benefit and get involved in the sectoral climate change activities.
"Climate change and Covid-19 are risk and vulnerabilities multipliers and so we must thoroughly understand them, in the light of the fact that women and girls often face greater burden. Also, climate change can exacerbate existing gender inequality, and men and women are differently vulnerable to climate change," he said.
Director, DCC, Dr Peter Tarfa, emphasised that in-depth mainstreaming of women in business:
helps to better understand gender differentiated impacts of climate change within key climate related sectors, to inform policy,
supports engagement of relevant stakeholders to consider different needs and opportunities to improve interventions,
ensures better institutional coordination among actors at both horizontal and vertical levels involved in the NDC process,
integrates gender equality into climate change policy and planning instruments and processes, and
examines capacity building needs of institutions and non-state actors.
According to him, strengthening the role of women as agents of change entails involving women in climate change efforts and actions, creating enabling ground for women participation through policies, ensuring that interventions for women will be context specific, increasing women's participation in climate action related decision making, and increasing women's access to climate information including climate smart practices and technologies.
Dr. Jubril Adeojo, Managing Director, SMEFUNDS Capital, in a presentation, examined financial support for mitigation and adaptation activities, including capacity-building and Research & Development, as well as broader efforts to enable the transition towards low-carbon, climate-resilient development.
He described climate finance for mitigation as financial flows supporting the mitigation of climate change, targeting the reduction of net greenhouse gas emissions, such as the production of renewable energy, energy efficiency projects, and REDD+ projects.
Climate finance for adaptation, added Dr Adeojo, entails financial flows supporting the adaptation to climate change, enhancing resilience to the impacts of climate change and variability.