Cameroonian refugees who were staying in Abande, a Benue State border community with Cameroon, have said they were missing their natural food items.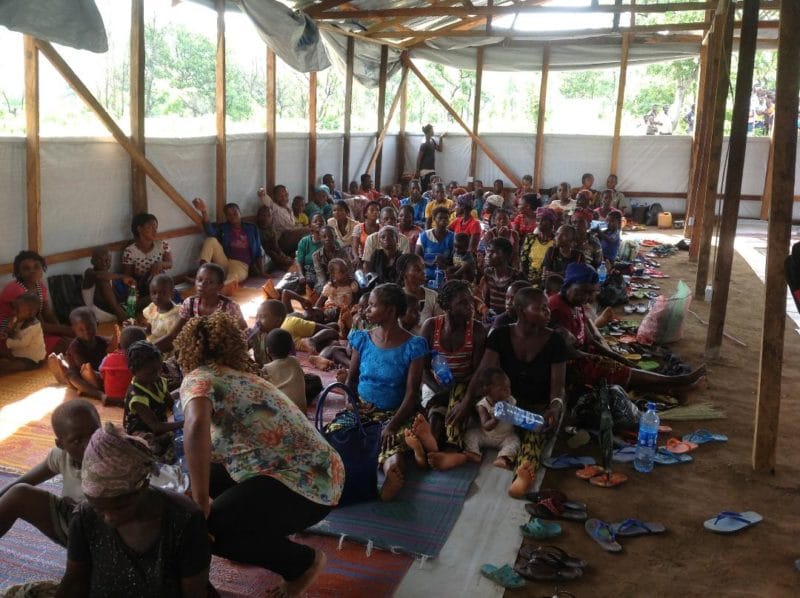 The refugees, who were relocated to Anyake, Kwande Local Government Area of the state recently by the United Nations High Commission of Refugees (UNHCR) in conjunction with the Benue State Government, said they missed their natural food service, especially plantains, bananas, and cocoyam, among others.
Mrs Phoebe Aboshi, a refugee, said that though succour had come their way, they preferred their place because, there, they were eating only natural food items, whereas at their temporary settlements they would be fed with processed foods which would not be of much benefit to their bodies.
Aboshi said that their desire was for the crisis to cease so that they could go back to their permanent places of abode, stressing that there is no place like home.
She blamed the crisis that is rocking the country on marginalisation of the Anglophone citizens, stating that more opportunities including employment were given to the Francophone citizens,  while the Anglophone citizens did not have such opportunities.
She further lamented that most of the mineral deposits in Cameroon were found in only the two Anglophone regions, stressing that despite the huge mineral deposits in those regions, they were completely backward as compared to the eight Francophone regions.
"It was on that basis that the Anglophone citizens decided to request for their independence and that did not go down well with the powers that be.
"We are in this situation because the Cameroonian authority is against our demand for independence and it is not ready to make life worth living for us," she said.
Also, Mr Julius Ekwa, Josephine Aboshi and Napoleon Egumu, all refugees, said that despite what they were passing through in the hands of the Cameroonian authorities, they still preferred their place because they lack most of their natural food items in their new settlements.
They said that they preferred to eat their plantains, cocoyam among others because they were so much used to them.
The trio called on the international community to wade into the matter so that peace would be restored and they could go back to their country.
In another development, while relocating the Cameroonian refugees who fled to Nigeria, the Head of UNHCR on Relocation of the Refugees in Kwande LGA, Benue, Mr Thomas Faustini, said the relocation was necessary because Abande was less than 50km to Cameroon and it was against the International Refugee Protection Principle.
He disclosed that the international refuge protection principle insisted that refugees should not be kept less than 50km to the country where they were fleeing from, adding that adequate security and safety as well as feeding should be given to them.
He added that they would be monitoring them very closely so as to identify their challenges and tackle them.
He said that the refugees willingly accepted to the request of relocating them to a safer community, stressing that they were not coerced into accepting to relocate.
"The refugees voluntarily accepted the decision of the government and UNHCR to relocate them to a more safer and conducive environment.
"In addition to the principle, where they are staying for now is a complete dislocated area because of distance and the area was prone to flooding, hence, the need to relocate them to a more safer and conducive place," he said.
Also, the Health Officer, State Emergency Management Agency (SEMA), Mr Terhemen Kuhe, lamented that there were no adequate health personnel officers to take care of the refugees, stressing that he alone covered three different locations where the refugees were staying.
Kuhe further lamented that it was very strenuous alternating from one location to the other, in order to render health services to the refugees because the three locations were too far apart and the terrain was very rough.
"As a result of the bad road network, it was not possible for us to make referrals and the only referral allocated to us which is the General Hospital, Adikpo was on strike," he said.
A cross section of the refugees who spoke to press men expressed happiness that relief and succour had come their way, stating that their present situation would be far better than where they were.
"There we were staying in classes of a primary school where mosquitoes were feasting on us because some of the classes had no windows," they said.
The Clan Head, Ityuwa in Menev District of Ikyurav-Ya, Kwande LGA of the State, Chief Moses Chile, appealed to the government to construct the only access road in the area, adding that it should also provide them with other amenities to make life worth living for them.