The Department of Climate Change (DCC) in the Federal Ministry of Environment has unveiled details of Nigeria's version of the Talanoa Dialogue, a process designed to help countries implement and enhance their Nationally Determined Contributions (NDCs) by 2020.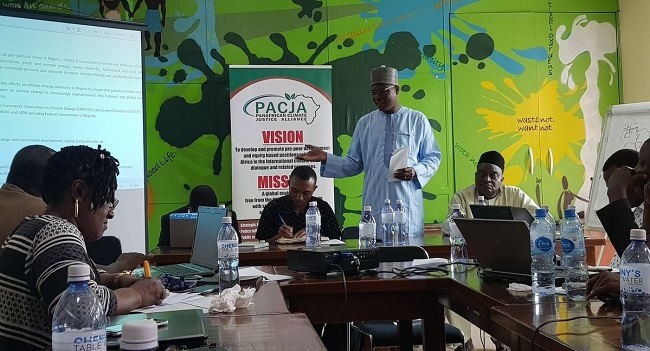 One of the key outcomes of the UN Climate Change Conference COP23 in Bonn in November 2017, the Dialogue will run throughout 2018.
Director, Department of Climate Change (DCC), Dr Peter Tarfa, speaking on Tuesday, August 28, 2018 in Abuja during the National Consultative Workshop on Nationally Determined Contributions and Talanoa Dialogue organised by the Pan-African Climate Justice Alliance (PACJA) and Climate and Sustainable Development Network (CSDevNet), disclosed that the Dialogue would hold in two stages.
His words: "First is by way of on online survey that will be in the public domain and aimed at harvesting input from all stakeholders. The second is by way of stakeholders' discussions, wherein we are targeting representations. We will come together after analysing the survey result around September ending or early October this year.
"During the dialogue, we want to know: Where are we on the issues? Where do you wish us to be in 2030, for example? How do we intend to achieve that?"
According to him, the DCC intends to harvest three things from the National Talanoa Dialogue.
"First is Presidential Statement to be presented at the COP24; secondly, to create a Roadmap for National Action for Climate Change; while the the third is to harvest national input that can be distributed into group discussions to guide the operation and implementation of the Nationally Determined Contribution at local levels," he said.
Dr. Tarfa stressed the imperious role of Civil Society Organisations (CSOs) to assist the Federal Government of Nigeria through the Federal Ministry of Environment to achieve the aforementioned. The NDCs seek to reduce greenhouse gas emission by 20% unconditionally and 45% with international support across the key priority sectors like Energy, Oil & Gas, Agriculture & Land use, Power, and Transport.
Since 1992, when Nigeria became a Party to the United Nations Framework Convention on Climate (UNFCCC), the government through the Federal Ministry of Environment saw the need to set up a Department of Climate Change which has continued to address climate change in Nigeria at all levels.
Over the years, the country has continually joined the global community to adopt and identify with various agreements, parties, treaties, and dialogues focused on addressing the many consequences and adverse impacts of climate change in Nigeria. The most recent is the Paris Agreement (PA) which Nigeria ratified in March 2017, which was approved by the UNFCCC on the May 16, 2017 and entered into force on June 15, 2017.
In attendance at the workshop was the PACJA Secretary-General, Mithika Mwenda from Kenya; Priscila Achakpa, Executive Director of Women Environmental Programme (WEP); Huzi Mshelia of Mshelia and Co.; Atayi Babs, National Coordinator of CSDevNet; and Michael Simire, environmentalist and publisher of EnviroNews, among other prominent civil society operatives and stakeholders across the country.
By 'Seyifunmi Adebote, Abuja