Most districts in Northern Uganda will continue to receive much rain for the period of June, July and August, experts have said.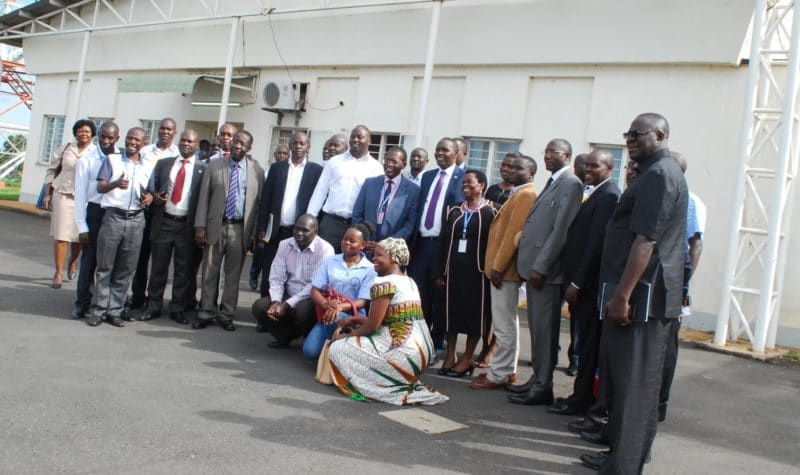 Dr. Festus Luboyera, the Executive Director of Uganda National Meteorological Authority (UNMA), said the major physical conditions that are likely to influence the weather patterns over Uganda and the rest of the east African region for the next three months would largely depend on the Indian Ocean.
He said the Neutral phase of the Indian Ocean Dipole, the El Nino-southern Oscillation which is currently neutral in an El Nino nor La Nina phase and the topographical features and large inland water bodies, would have a big influence in our rain patterns.
Dr. Luboyera was addressing the parliamentary committee on natural resources at Imperial Golf View Hotel in Entebbe.
The committee was on a familiarisation tour to understand how the authority is able to forecast and monitor weather in the country.
The MPs also toured the National Meteorological Training School to assess the school and the kind of training students receive in managing weather forecast and other climate change related issues.
The MPS were also taken to the Civil Aviation Authority control room and other towers to see how the authority manages aviation since no flight can land or take off without the authority's clearance.
"The above considerations as well as detailed of the climatology of Uganda and scientific tools for climate change analysis have downscaled the forecast and there is an increased likelihood of near normal tending to above normal rainfall over the northern and some parts of eastern Uganda while the rest of the country is expected to experience normal to below normal rainfall punctuated with occasional light rainfalls conditions," he said.
He said the districts of Bundibugyo, Ntoroko, Kabarole, Kyenjojo, Kyegegwa, Kamwenge, Masindi, Buliisa, Hoima and Kibaale would experience seasonal rainfall characterised by dry spells.
"The condition is expected to persist up to around mid-June when the dry conditions are expected to begin and continue until mid-July," he said.
He added that Kisoro, Kabale, Rukungiri, Kanungu, Ntungamo, Mbarara, Kiruhura, Isingiro, Ibanda, Buhweju, Bushenyi, Mitooma, Sheema, Rubirizi and Kasese, which have been receiving seasonal rains since February, would start to experience dry spells by July.
He said they are able to promote, monitor weather and climate as well as provide weather predictions and advisories to government and other stakeholders.
He said the agency handles all climatological, hydro and agro-meteorological data which are crucial for research, study purposes, generate climate forecasts and advisories including climate change trends, projections and scenarios for different users.
MPs tours
The chairperson of the Parliamentary on Natural Resources Committee, Alex Byarugaba, said it is very important for the government to equip the authority since they also determine the weather in aviation management.
Byarugaba, who is also the MP for Isingiro South, said there is also need to harmonise with Uganda People's Defence Force since they also have a forecast department.
Paul Isabirye, the Director, Station Networks and Observations at UNMA, said they designed , installed  and maintained weather stations of all categories, making and availing weather and other relevant observations at standardised temporal scales
"A robust and functional observational network, an efficient communication system for both real time and climatological data, skilled human resource and an adequate well facilitated have been put in place to cope with advancing technologies and operational standards," he said.
Isabirye said they have they the capacity and infrastructure  to monitor both surface and space facilities, that include terrestrial and marine, manual synoptic (a branch of meteorology analysing data collected simultaneously over a wide region, for the purpose of weather forecasting), agrometeorological, hydrometeorological, rainfall stations, automatic weather stations, mobile vessels or buoys,  upper air sounding, radar , satellites , aircrafts and drones.
He said that the 12 synoptic stations were equipped with smart phones which improved timely transmission of weather data to the Centre and the Global Telecommunication System for international exchange and increased the level of automated weather observations across the Country by 20 AWSs.
"We have acquired the Automatic Meteorological Message Switching System (AMSS) which is very critical in having access to global weather data," he said.
Challenges
He however said the most Agrometeorological and Hydrometeorological stations were not functional, making their work hard to determine whether accuracy.
In addition to inadequate maintenance infrastructure; calibration equipment, spare parts warehouse, Isabirye also said the authority was faced with a huge challenge of few staff to monitor major stations.
"Out of 156 approved structures, we only have 74 field technical staff to manage all the 45 major stations in the country. This gap has affected us so much and some of our equipment and accessories have been vandalized due to lack of supervision," he told the MPS.
Demand for accuracy
Kabale Municipality MP, Andrew Aja Baryayanga, asked the authority to be more accurate in weather predictions, saying inaccuracies affect people especially the farmers.
"I have come to know that your prediction is at 75 percent. This has a negative effect on farmers who depend on your information for planting. Make it more accurate so that farmers are not misled and make loses as a result of unpredicted dry spell," he said.
Patrick Nsamba, the Kasenda North MP, said the authority risks not getting money as they failed in attaining the certificate of gender and equality.
"You are doing so bad on gender issues as a result we will not provide you with more funds since you have failed in this crucial part of attaining and achieving gender equality aspect as it is required by law," he said.
Godfrey Mujuni, the UNMA Data Centre Manager, said some of the equipment they are using was outdated and asked the committee to lobby for them more funds in order to get the latest technology.
"The current equipment we are using is of that of 1896 yet weather keeps on changing. This requires us to get the latest machines and equipment to do a better job," he said.
By Hope Mafaranga