Shell Petroleum Development Company (SPDC) says it is working with relevant stakeholders to implement the 2011 United Nations Environmental Programme (UNEP) Report on Ogoniland in Nigeria.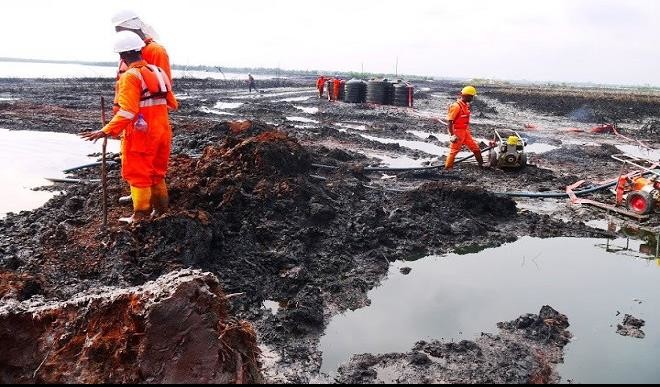 The oil major said in a statement made available to EnviroNews on Thursday, August 6, 2020 that, over the last eight years, it acted on all, and completed most, of the UNEP recommendations addressed specifically to it as operator of the joint venture.
The UNEP report recommended the creation of an Ogoni Trust Fund with $1 billion capital to be co-funded by the Nigerian government, the SPDC JV and other operators in the area.
"The SPDC JV remains fully committed to contributing its share of $900 million over five years to the fund and made $10 million available in 2017 to help set up the Hydrocarbon Pollution and Remediation Project (HYPREP), an agency established by the federal government to lead the clean-up effort," disclosed SPDC.
The organisation stated that, in 2018, the SPDC JV deposited a further $170 million into the escrow account to fund HYPREP's activities, to complete its first-year contribution of $180 million.
It added that the SPDC JV in 2019 contributed the next tranche of $180 million, adding that, at the end of 2019, the total contribution made was $360 million which it noted represents the full amount due for the two years.
"SPDC continues to work with the Bodo community and others to clean up areas affected by two operational spills in 2008. A memorandum of understanding granting SPDC access to begin the clean-up was signed in 2015 and two contractors were selected to conduct the clean-up, overseen by an independent project director," Shell declared.
The clean-up consists of three phases: 1) removal of free phase surface oil, 2) remediation of soil, and 3) planting of mangroves and monitoring.
The removal of surface oil, said Shell, started in September 2017 and was completed in August 2018.
It disclosed that field remediation activities started in November 2019 following a contract procurement process to select remediation contractors.
SPDC further lists actions taken since 2011 on all the recommendations addressed specifically to it as operator to include:
Re-assessed 15 SPDC JV sites mentioned in the UNEP report and remediated further where required with the sites certified by government regulators.
Completed an inventory and physical verification of assets for decommissioning and working with joint venture partners and the FGN to develop a decommissioning plan for these assets.
Completed a comprehensive review of its oil spill response and remediation techniques and made several improvements in line with industry best practices.
Collaborated with the Rivers State Government to deliver water to impacted communities and built water facilities, which are expected to be upgraded as part of HYPREP's planned activities.
Trained contractors on clean-up and remediation techniques and assigned specialist supervisors to several project sites to ensure effective oversight and compliance.
Continuing to carry out regular aerial monitoring of the JV's facilities in Ogoniland, including the creeks and pipelines, to identify new incidents or activities (such as theft and sabotage) which may result in environmental damage.
Providing improved public access to information such as Joint Investigation Visit reports and spill incident data via a spill information web site.
In terms of response to recent spill incidents, the SPDC JV in 2019 remediated 130 sites and 123 certified by Nigerian government regulators, "compared to 116 certified and 45 remediated in 2018".
It added: "Regardless of the cause, SPDC cleans up and remediates areas impacted by spills that come from its operations. In the case of operational spills, SPDC also pays compensation to communities impacted by the spill. Once the clean-up and remediation are completed, the work is inspected and, if satisfactory, approved and certified by Nigerian government regulators.
"SPDC works with a range of stakeholders in the Niger Delta to build greater trust in spill response and clean-up processes. Local communities take part in the remediation work for operational spills. In certain instances, some non-governmental organisations have also participated in joint investigation visits along with government regulators, SPDC and members of impacted communities to establish the cause and volume of oil spilled.
"SPDC has also worked with the International Union for Conservation of Nature (IUCN) since 2012 to enhance remediation techniques and protect biodiversity at sites affected by oil spills in SPDC's areas of operation in the Niger Delta. This work includes using bioremediation, a process that uses micro-organisms to naturally break down and, ultimately, remove oil contamination.
"In 2019, SPDC and IUCN joined forces on the Niger Delta Biodiversity Technical Advisory Group, which also includes representatives from the Nigerian Conservation Foundation and Wetlands International. The groups will continue to work together to monitor biodiversity recovery of remediated sites. Four sites have been assessed and selected as pilot sites for monitoring. These sites represent three ecosystems in the Niger Delta: land, seasonal swamp and swamp.
"The Niger Delta Panel, an independent scientific advisor, has also provided input on oil spill response and remediation of soil and groundwater contamination. Based on this, SPDC strengthened its approach in this area."