Though there have been rapid advances in human health, the continuing degradation of the planetary systems does not bode well for its future. Last week, The Rockefeller Foundation–Lancet Commission on Planetary Health launched a comprehensive report entitled "Safeguarding human health in the Anthropocene epoch" in New York City. This innovative report demonstrates the extent to which human activity is pushing the safe boundaries of our natural systems beyond thresholds required for humanity to continue to thrive and flourish.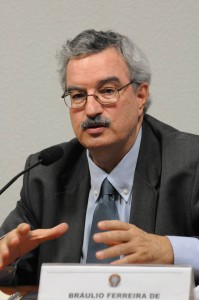 Braulio Ferreira De Souza Dias, Executive Secretary of the Convention on Biological Diversity (CBD) and a scientific advisor for the Commission, noted that "we are moving closer than ever before to triggering potentially irreversible impacts, and jeopardising the health of our ecosystems and that of present and future generations."
Dr. Dias participated on a panel that included other Commissioners and experts eager to engage in a discussion of the report with audience members in New York City. Welcoming the report, Dr. Dias highlighted its synergy with the State of Knowledge Review 'Connecting Global Priorities: Biodiversity and Human Health', a unique collaboration by the World Health Organisation and the CBD Secretariat released last month in Brussels.
He noted that these reports signify an urgent call for concerted, coherent, collaborative action to jointly increase the resilience of our ecosystems and planetary system and communities worldwide. The CBD is deeply engaged in this work as many of the Aichi Biodiversity Targets adopted by over 190 countries in 2010 are directly or indirectly related to human health issues.
Dr. Dias was especially pleased that The Rockefeller Foundation–Lancet Commission makes a bold call for the development of a new discipline of "planetary health." It also suggests a series of practical recommendations that encourage collaboration between the medical, environmental, and other communities and stresses the need to take advantage of related opportunities for positive transformative change. The recommendations include reducing food waste and diversifying diets; protecting nature and biodiversity; building resilient cities; developing more resilient health systems; and making taxes and subsidies conducive for planetary health.