The oil-rich United Arab Emirates (UAE), set to host the 28th Session of the Conference of the Parties (COP28) to the United Nations Framework Convention on Climate Change (UNFCCC) from November to December 2023 in the business hub of Dubai, requires official permission for protests but effectively bans demonstrations it deems disruptive.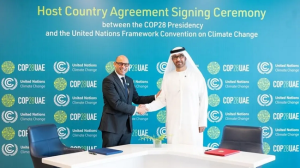 At the upcoming UN climate talks "there will be space available for climate activists to assemble peacefully and make their voices heard", it said.
The announcement was made in a joint statement with the UNFCCC released on Tuesday, August 1, 2023, and published by the UAE's official WAM news agency.
The statement was released after COP28 president, Sultan Al Jaber, and UNFCCC chief, Simon Stiell, signed a bilateral agreement in Abu Dhabi that provides the legal basis for organising and hosting the climate talks.
"We are firmly committed to ensuring that UN values are upheld at COPs," the statement quoted Stiell as saying.
Tuesday's announcement was welcomed by campaign group Climate Action Network International which commended "the COP28 Presidency for their dedicated efforts towards fostering an inclusive climate summit".
But it warned that it would "resist any attempts to curtail (civil society) participation," according to Harjeet Singh, its head of global political strategy.
"Our unwavering conviction is clear: there can be no climate justice without human rights," Singh told AFP.
The UAE is a major oil producer and one of the world's largest emitters of CO2 per capita.
The choice for it to host COP28 has sparked criticism from environmental groups which warn that the involvement of a major oil exporter could slow progress in the fight against global warming.
Non-government groups including Human Rights Watch have also warned that the Gulf state's restrictions on freedom of expression could hinder the meaningful participation of climate activists.
"Civil society actors will struggle to effectively play their role in pushing for ambitious action to address the climate crisis in a country whose government has such an abysmal human rights record," HRW warned in a March report.
Large protests have been common at most previous COPs, and limited rallies were allowed at the last UN climate talks in Egypt, where authorities regularly crack down on demonstrations and detain activists.
The COP27 Egypt host faced criticism over restrictions that made for a tight protest space, where activists had to request accreditation 36 hours in advance, and provide detailed information on the organisers and on the protest.
Approved demonstrations were allowed only during certain hours, and in a specific purpose-built area that saw a heavy security presence.
It was a far cry from COP26 in Glasgow, where tens of thousands of demonstrators from all over the world marched to demand "climate justice".
In the statement, Al Jaber and Stiell jointly disclosed: "As the work to prepare for a successful COP28 gathers momentum, we want to express our commitment to making COP28 an inclusive and safe space for all participants.
"Recognising the global nature of the climate emergency and its varying impacts across communities and societies, we want to emphasise the crucial importance of an inclusive, transparent, and respectful setting for all participants to engage in the COP process.
"In line with UNFCCC guidelines and adherence to international human rights norms and principles, there will be space available for climate activists to assemble peacefully and make their voices heard. We are committed to upholding the rights of all participants and to ensuring that everyone's perspectives are heard and their contributions to the climate challenge are recognised.
"We will work together to make COP28 the most inclusive UN Climate Change Conference to date. To this effect, we have written to all Parties urging increased participation and meaningful engagement of youth, women, local communities, and Indigenous Peoples as members of Party and observer delegations to COP, and in climate decision-making, policy, and action in the lead up to and during COP28 by providing appropriate quality and modalities of participation."
Dr. Al Jaber added: "The COP28 plan of action is centred around: fast-tracking a just, equitable and orderly energy transition; fixing climate finance; focusing on people, lives and livelihoods; and underpinning everything with full inclusivity. The COP28 Presidency believes inclusivity is a critical enabler to achieving transformative progress across the climate agenda. Only by rising above our differences and working together can we raise our shared ambition and deliver progress to keep 1.5C within reach."
On his part, Stiell said: "As custodians of the process, the secretariat is dedicated to supporting the Parties implement their climate commitments, including under the Paris Agreement. To drive climate action and ambition forward, we are firmly committed to ensuring that UN values are upheld at COPs. We are also making every effort on our part to ensure that this will be a COP process where the voices of youth, women, local communities, Indigenous Peoples, and those most impacted by climate change will be heard and reflected within the process."