Conservative Environmental Growth and Development Centre (CEGDEC) commemorated World Environment Day 2015 on Wednesday, June 3 with the pupils of Oke-Afa Junior and Senior Comprehensive College, Jakande Estate, Oke-Afa, Isolo, Lagos. The yearly event, an initiative of United Nations Environment Programme (UNEP) since 1972, was held to raise global awareness of the need to take positive environmental action.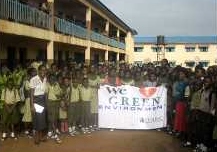 The environmental education and awareness-raising programme was held to achieve a cleaner, greener, and brighter world. Examples on living sustainable lifestyles were cited from the everyday routine an average Nigerian student lives. Information kits given included taking positive actions and adopting an eco-friendly life. As agents of positive change to the environment, actions like doing an inventory of daily energy usage, consuming habits, reliance on unsustainable products and ways to curb the unsustainable activities must be done, said Mrs. Maryam Olayeni, the CEGDEC executive director. Taking public transportation or better still making a choice to take a walk often is a way to reduce our carbon footprint, she added.
Olayeni continued: "Before acquiring so much waste, it is necessary to first consider where the waste ends. Therefore, consider the habit of 3Rs: reduce, reuse, recycle, and then choose to make it a part of your daily life.
"A simple gesture of acquiring permanent shopping bags rather than acquiring so much polythene bags from shopping at different times should be encouraged. Using energy saving bulbs and turning off light in an empty room is a way of sustainable lifestyle.
"More importantly, it is necessary to get involved in conservation, restoration, or local eco-community project. The students were admonished to get involved in planting trees, saving trees, saving water and living in clean environment. 'Greening up' the environment will translate to a fresh home and to fresh city, fresh country and on the whole fresh world."
As part of co-curricular activities, some of the students were already part of Climate Change Club. It was however concluded that, all students should be involved as everyone should be an agent of positive change the environment needs.
In conclusion, she submitted: "Today is a great day to sign up and get involved with people who are doing rather than talking or reading. There are many activities that can be done to live in harmony with the environment rather than to personally impact on the planet. Also take time to help others to learn from you."