Connected Development (CODE), in collaboration with the African Youth Initiative on Climate Change (AYICC), last week engaged in tree planting and sensitisation in local nursery and primary school and held round table discussions on climate change mitigation to commemorate the 2014 World Environment Day (WED) in Abuja, Nigeria.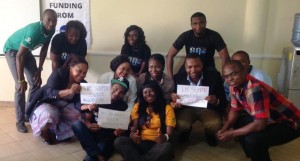 The event, tagged "Tree Planting exercise, sensitisation and round table discussions on Climate Change in Nigeria," rallied around taking actions and engaging pupils of Abuja Children's Home Nursery & Primary School on the importance of tree planting, its social and economic benefit to combat global warming and to the global mitigation efforts with local actions.
Hamzat Lawal, the Chief Executive of CODE, educated pupils and teachers of the school on how current life style contributes to global warming, leading to change in weather pattern, heavy rain fall, and improper disposal of waste which contributes to flooding and affects students to access timely education in affected communities.
"Today's tree planting exercise is also to show our support to the Small Island Developing States (SIDS) as a way of raising our collective voices and not the sea level," Hamzat said.
Maria Yepwi, Head Mistress of the school, commend the organisers while stressing the need for more tress to be planted and commitment to ensuring that the planted trees are properly nurtured and for the organisers to visit other public schools.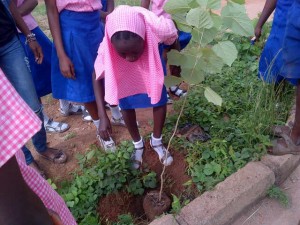 John Sanni, a pupil of the school, said he never knew his actions could contribute to climate change and promised to tell his friends in other schools to plant trees for the planet.
The Nigerian Youth Round Table Discussion on Climate Change was geared towards taking stock on climate change advocacy/actions by young people. "Youth should be mainstream into the process, because the impact of climate change will be more on the younger generations, it is important to make sure that climate change information gets to the grassroots to enable the young people know what it's all about and, through those interactions, more young people will get involved in climate change mitigation," stated Lawal.
Participants underlined for the need for young people to synergise and work together to ensure that their advocacy efforts are taken to the next level with concrete actions. They also stressed need to hold governments accountable for its actions, while calling on the Federal Government to sign the Climate Change Bill which, according to them, will enable a dedicated institution that will handle climate change issues with a strong legal framework.
The CODE is a non-government organisation whose mission is to improve access to information and empower local communities in Africa. It seeks to strengthen local communities by creating platforms for dialogue, enabling informed debate, and building capacities of marginalised communities towards bringing about social and economic progress within communities, while promoting transparency and accountability.
The AYICC is an umbrella initiative of all youth organisations in Africa working on climate change issues. Currently, it has a membership of over 200 youth organisations with over 25,000 individuals and chapters in 42 Africa countries. AYICC's vision is to create an African continent with an empowered and united youth movement, proactively involved in the decision making process and the adoption of sustainable options towards a better climate and social equity.