An Environmental Utility Company, Visionscape Sanitation Solutions (VSS), has cleaned up over 2,000 black spots, otherwise known as illegal dump sites in Lagos State.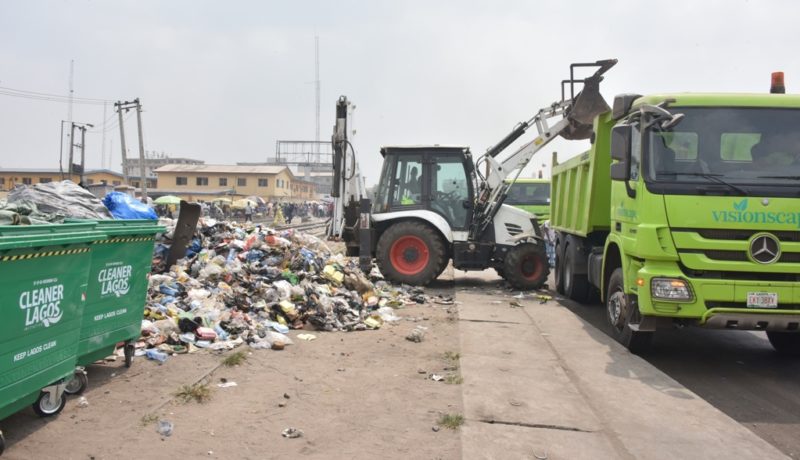 The Director of Operations, VSS, Mr Kiran Reddy, made this known during an interactive session with newsmenin Lagos on Friday, March 23, 2018.
Reddy said the black spots intervention started in July 2017 and the company had gradually moved to door-to-door collection of waste.
According to him, Visionscape identified 5,000 black spots and these black spots weigh ranging from five tonnes to 150 tonnes.
"We cleared up approximately 2,000 black spots by ourselves. Enormous work has been done, not just with the Visionscape fleet vehicles but we have rented 50 trucks to clean up the spots.
"There are many illegal dumpsites in Lagos. The remaining 3,000 black spots we identified are currently being worked on.
"Apart from the challenges of clearing the illegal dumpsites, there are a lot of encouragements from the people of Lagos state.
"They are so happy that we are cleaning these black spots and they have written appreciation letters on our operations."
The director urged residents not to burn their waste, but to bag them for proper disposal.
The Chief Operations Officer, VSS, Mr Thomas Forgacs, said the plan of the environmental utility firm was to collect waste from residential areas, down to the streets
Forgacs said the strategy put in place was to first clear the illegal dumpsites, then move to the residential areas.
He said the company had already deployed 15,000 bins, comprising of 10,000 bins of 240 litres and 5,000 bins of 1.1 cubic litres.
According to him, the second and third batches of bins will arrive before the end of April.
"We are waiting for 20,000 galvanised bins of 1,100 litres. We have distributed four million plastic bags and will be distributing 10 million plastic bags," he said.
Forgacs said that Visionscape already had 131 vehicles deployed for waste management in Lagos State.
By Florence Onuegbu