With COP26 running into overtime, speakers at a media session by Climate Action Network (CAN) on Friday, November 12, 2021, highlighted that key issues in the decision text still remain in play with concerns raised over the watered down language on loss and damage.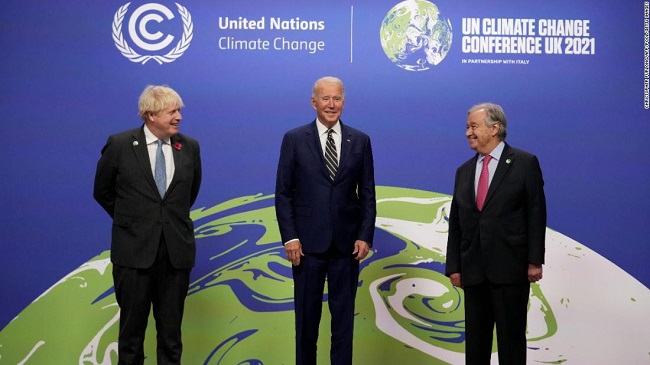 On Thursday, the G77 and China backed a proposal by the AOSIS – the alliance of small island states – for a finance facility for loss and damage to receive funding for loss and damage, in addition to funding to mitigation and adaptation.
But the latest text simply speaks of a technical assistance facility. As climate impacts mount, developing countries have raised the bar for demands for real support to deal with unavoidable climate impacts.
In addition, negotiations on Article 6 took a dangerous turn with ministers from USA, UK, Brazil and Japan closing in on rules with loopholes that would allow double counting of emissions cuts and enable a full scale greenwash under carbon market rules.
The briefing also said the lack of access to civil society groups has cast a shadow over the legacy of COP26. Today, hundreds of civil society delegates participated in a People's Plenary, followed by a march, taking over the main plenary hall to voice their demands for stronger action from leaders and to hold polluters accountable.
Saleemul Huq, Director, International Centre for Climate Change and Development (ICCCAD), said the fact that the G77 proposal for a finance facility for loss and damage was being blocked by US and Europe was "totally unacceptable". He commended the Scottish government for committing 2 million GBP towards a loss and damage fund.
"We are now in the era of loss and damage, and this is the first COP in this era. A COP26 outcome must therefore reflect this reality as a critical next step in the fight against climate change."
Jennifer Morgan, Executive Director, Greenpeace International, said this was a "critical day" and that the Paris Agreement was in "peril" as some countries sought to negotiate a 'double counting' loophole for carbon credits.
Morgan said: "There was text released for Article 6 which would give the go ahead to entrenching carbon offsetting which opens up a major loophole for double counting of emissions for corporates participating in carbon markets and a way out of real emission reductions which could blow the 1.5C limit.
"This would give polluters the right to scam by allowing double counting of an emission reduction that has only happened once, or may not have happened at all, and so this invitation to greenwash would make a farce of the Paris Agreement. If it goes ahead these governments are giving big polluters a free pass to pollute under the guise of being carbon neutral without actually having to reduce their emissions."
Tasneem Essop, Executive Director, Climate Action Network, said the main issue that CAN has been championing in Glasgow has been the fight for finance for loss and damage and commended the G77 group for supporting the "Glasgow Loss and Damage Facility".
She said: "The G77 supported a proposal last night for the Glasgow Loss and Damage Facility and this was not not reflected in the updated text. We will continue fighting for this because this is our litmus test for the success of COP26 and the only credible response to the most vulnerable people exposed to extreme climate impacts."
She also commented on how this has been "a very restrictive COP" with a lack of access for civil society to the talks, particularly in the first week.
She added: "We were told it was going to be the most inclusive ever and many of the activists from poor and developing countries overcame huge obstacles to get here only to find in the first three days we were pretty much locked out of proceedings. We were provided limited access to opening plenaries and very limited access to the world leaders' summit.
"Our job as civil society is to hold this process accountable, to put forward our solutions to ensure that there is much more ambition."
Gabriela Bucher, Oxfam International Executive Director, said that there have been 26 COPs so far and yet global temperatures are still rising and are currently on track for a "terrifying" 2.4C rise.
Gabriela said: "Everyday millions of people on the frontline of the climate emergency are struggling to survive and weather events are pushing them into poverty and hunger. We need a deal that commits countries to come back next year and every year after that to 2030 to ensure emission targets help not exceed 1.5C.
"We need a deal that significantly increases financial support for countries and communities on the frontline of the climate crisis and not through loan mechanisms that further cripple those already heavily indebted. It is unacceptable that poor countries are being asked to foot the bill for something that they did very little to create or cause and important, in terms of trust building and belief in the process going forward, that these commitments are met and increased."