The implement of Sanitation and Hygiene Improvement Project (SHIP) in Ikorodu North and Ojodu Local Council Development Areas (LCDAs) has placed them in the position of becoming the first local government entities in Lagos to be declared open-defecation-free even before the 2025 target.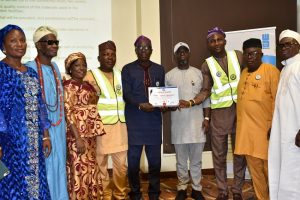 Country Director WaterAid Nigeria, Evelyn Mere, made this statement in her opening remarks at the End-of-Project Meeting for the Kimberly Clark supported Sanitation and Hygiene Improvement Project in Lagos State on Friday, September 29, 2023.
Mere, who was represented by Kolawole Banwo, Head of Advocacy, Policy and Communication, said if that happens "our work would have gotten to a height where we will be recognized not just by the Federal Government of Nigeria but within United Nations system.
While recounting, the Country Director said: "Over the last two years, WaterAid with funding from Kimberly Clark Corporation has been working with the government and people of Lagos State to implement the Sanitation and Hygiene Improvement Project (SHIP) in Ikorodu North and Ojodu Local Council Development Areas (LCDAs).
"We are proud of the milestones and achievements recorded under the project. This is a demonstration of what commitment and partnership can achieve in the bid to transform lives by making clean water, decent toilets and good hygiene a normal part of daily life for everyone everywhere.
"Through this intervention, WaterAid with support from Kimberly Clark rehabilitated 34 dysfunctional toilet facilities and handwashing stations at primary healthcare centres and schools within Lagos State. As part of the project objectives to strengthen systems, we established and trained Water Sanitation and Hygiene Committee (WASHCOM) members as local resources to maintain the facilities provided. Also in schools, we established Environmental Health Club which are currently part of extracurricular activities in 40 schools within the state.
"To realise the project's goals of increasing awareness of state hygiene behaviour practices among pregnant and breastfeeding women as well as children, we undertook hygiene behaviour change campaigns using WaterAid's ABCDE approach aimed at changing the setting of my people's mind through cues, games and takeaways to encourage the practice of good hygiene. We are proud to see that hygiene behaviour change campaigns have been incorporated into ante-natal session within the healthcare centres where we intervened."
While commending the Lagos State Government for its support from the inception of the project, she also urged that they replicate this to increase access to water, sanitation and hygiene.
"I also enjoin the leadership of the LCDAs to demonstrate commitment by sustaining the gains of this project so that all subsequent outcomes will build up to what we achieved and together we can have incremental achievement and change the world narrative until we achieve universal access to WASH in both LCDAs," she maintained.
In goodwill a message, Tokunbo Wahab, Lagos State Commissioner of Environment and Water Resources, represented by Adisa Yunusa, appreciated the efforts put in place by WaterAid and Kimberly Clark Corporation in ensuring safe and hygienic state of the environment.
He said: "Two years ago we started the collaboration with WaterAid and WASH intervention in both Ojodu and Ikorodu North LCDAs. So far, WaterAid has been able to achieve all Kimberly Clark Corporation's project objectives and deliverables starting from the project launch, hygiene behavioural change, workshops, the rehabilitation of toilets in primary healthcare centres and schools and handling over of those projects, among others, is part of the success story we are celebrating today.
"WaterAid Nigeria also collaborated with Ministry of Environment and Water Resources during World Water Day and Global Handwashing Day Ceremonies but more importantly is support of the review of Lagos WASH Policy.
"I appreciate all the WASHCOM stakeholders in the state especially the State Planning Implementation Committee (SPIC) members for their support. I also want to appreciate WaterAid for choosing Lagos State and pray that they will always consider the state for more interventions."
On his part, Olusegun Odumbaku, Chairman of Ojodu LCDA, commended the facilitators of the projects, saying: "This has been a fantastic experience not just for me but the entire residents of Ojodu LCDA because, as at today, we have been able to successfully commission two projects in my domain that will go a long way in changing the narratives about Local Government's governance in line with Public Private Partnership and how we can use this same model to bring succour and much needed infrastructure closer to the people.
"Like Oliver Twist, we want more interventions like this and we assure you that we can be accountable and we can deliver. All these cannot be achieved without our team as well. This is a project we are proud of and want to be associated with anytime anyday."
Niyi Odugbesi, the Secretary to the Chairman, Ikorodu North LCDA, is of the opinion that "Ikorodu North LCDA has been having a good working relationship with WaterAid Nigeria for the past few years whithe the rehabilitation of toilet and water in eight schools (both primary and secondary) which has been a tremendous success.
"WaterAid Nigeria also carried out rehabilitation of sanitation projects in some healthcare centres within the LCDA, this has a positive impact on the lives of patients and staff of the concerned health facilities. We look forward to continued partnership for actualisation of more of laudable projects such as this in the near future."
The two LCDAs later agreed on various measures for the sustainability of the projects while the two chairmen signed the resolution that will ensure the projects stand the test of time.
Dignitaries at the event include Mr. Henry Adenigba, the Executive Director, Human Family Foundation for Peace and Development (HUFFPFED); Mr. Monday Johnson, representing UNICEF; WASHCOM members from the two LCDAs; Chief Owolabi Victor, the Baale of Odonla in Ikorodu; Chief Shakirudeen Agbaje, the Baale of Agbede Omolaiye Community in Ikorodu North LCDA; Mr. Waheed Oguntade, Disability Rights activist; and Mr Adeniran Ogunbanwo, Ikorodu North CDC Chairman; among others.
By Ajibola Adedoye