Lack of access to water and sanitation would continue to increase poverty and diseases in Nigeria because poor sanitation costs Nigeria N455 billion annually. This is based on a desk study carried out by the Water and Sanitation Programme, a multi-donor partnership administered by the World Bank in 2011.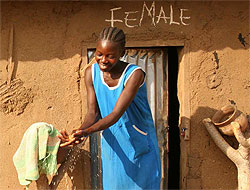 Country Representative of WaterAid in Nigeria, Dr. Michael Ojo, while addressing key stakeholders at an event to celebrate this year's Global Handwashing Day, stressed that WaterAid is working on a five-year project to improve access to safe water, sanitation and hygiene (WASH) as an essential step in human development.
WaterAid projects are being undertaken in six states, which are Jigawa, Benue, Enugu, Ekiti, Plateau and Bauchi due to the needs of the people and the state governments' responsiveness towards WASH in its programmes and policies, he added. Ojo explained that, in order to localise the global United Nation's Millennium Development Goals (MDGs) related to sustainable development, WaterAid has introduced Local MDG Initiatives to the six focal states where it is operating.
Head of Programmes at WaterAid, Mr. Ziyok Ishaku, in a presentation pointed out that, through advocacy programmes, WaterAid is encouraging environmental health clubs in schools that promote hygiene and sanitation. He added that the group is also providing toilet and sanitary facilities to female students as it has been observed that when undergoing menstrual cycle they hardly attend school.
Head of Governance, Mrs Tolani Busari, said in communities where WaterAid has provided different types of water facilities like hand pumps, over head tanks, community taps, through monitoring and capacity building, the sustenance of the project has not been defeated. Busari pointed out that committees are set up within the communities to monitor and ensure the success of the project.
Mr Babatope Babalobi of the WASH Media Network reiterated the role of the media in strengthening public support and advocacy through special reports and programmes. According to him, the media is key in disseminating the message of WASH to create awareness and sensitise the people on the need to ensure basic hygiene which starts from the home.
Babalobi said it was necessary for water-related issues to get more support the way the issue of oil is to national development. In his words, access to safe, clean water is the right of every Nigerian.
WaterAid Communications Manager, Mrs Oluseyi Abdulmalik, called for more public support in ensuring that every Nigerian is not deprived of clean and affordable water. She highlighted that WaterAid supports three key events held globally: World Water Day, Global Handwashing Day and World Toilet Day. These global events, she maintained, are aligned towards the objectives of WaterAid.
Nollywood Stars like Bimbo Manuel, Tina Mba and Femi Brain also expressed their commitment in partnering with WaterAid in sharing the message of hope and life. Mba said she is already speaking with housewives at the community level to teach them about the importance of  basic hygiene such as handwashing, which goes a long way to reduce risk of disease infection. Highlight of the day was the handwashing event which was supported by Unilever Plc. A Unilever staff, Mr. Adeola Dexter, said Unilever was committed to partnering with WaterAid.
By Tina Armstrong-Ogbonna