WaterAid, an International not-for-profit, working in partnership with the Lagos State Government, has commissioned a 10,000-litre capacity, solar-powered borehole, rehabilitated toilets and a newly constructed inclusive, female-friendly toilet block, which will serve over 700 pupils and staff of Agidingbi Junior Grammar School in Ojodu Local Council Development Area of Lagos State.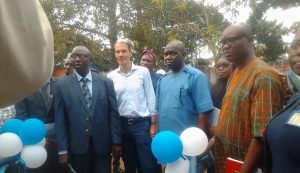 The new water facility and toilets are part of interventions under the first year of the "Water, Sanitation and Hygiene Improvement project" funded by the PepsiCo Foundation in Lagos State. The project, targetted over a three-year period, is to reach at least 173,000 people with clean water, safely-managed sanitation and hygiene promotion.
The newly constructed inclusive female-friendly toilet has three compartments of shower in each toilet, and padbanks to enable girls manage their periods while in school. The provision of these seeming life-transforming services will improve learning and school attendance as children, especially girls, can stay in school because they have access to clean water, decent toilets and good hygiene.
As part of the objective of the project is to strengthen systems and institutions, WaterAid built the capacity of community members by training over 20 female local area mechanics and establishing a Water, Sanitation, and Hygiene Committee (WASHCOM) to maintain and operate the new water facilities.
In Lagos State, only 36% of schools had access to basic water, sanitation and hygiene services (WASHNORMS) in 2021.
Evelyn Mere, Country Director of WaterAid Nigeria, in her submission, said: "Lack of clean water and decent toilets is threatening health, education and safety of Nigerian children. The child's right to education, and water and sanitation are human rights that should be taken away or compromised.
"Children deserve a healthy learning environment with easy access to safe and sustainable water, sanitation and hygiene (WASH) services. Lack of access to adequate WASH facilities can lower attendance and educational achievement in schools.
"WaterAid particularly believes that menstruation-induced school absenteeism is preventable and that higher school enrolment, completion and transition rates among girls can be achieved. It is important that children are not exposed to infections and sanitation-related diseases as they pursue their dreams and aspirations for quality education that will guarantee meaningful lives in the future. WaterAid with support from PepsiCo and the PepsiCo Foundation is making this possible for 700 children today.
"We believe that the school community and the pupils will own these facilities and ensure their functionality, cleanliness and sustainability. We commend the government's efforts in WASH service delivery and systems strengthening. We call for increased investments in clean water, decent toilets, and good hygiene in schools so that children in Lagos State are not exposed to avoidable health risks in the pursuit of education."
In his remark, C.D. Glin, President of the PepsiCo Foundation and Global Head of Social Impact for PepsiCo, said: "We're incredibly proud of our long-standing partnership with WaterAid and the transformative work taking place in Lagos State to give access to the basic human right of clean, safe water.
"This work builds on over 15 years of PepsiCo and the PepsiCo Foundation and reaching more than 80 million people – including 12 million people in 2022 alone – with access to safe water through distribution, purification and conservation programmes. These efforts put us more than halfway to our pep+ goal of reaching 100 million people with safe water access by 2030."
In her welcome address, the Permanent Secretary/Tutor General, Dr. Mrs. Adejoke Shareefah Yusuff, represented by Mr. Olawale Muyiwa Amodu, the Director Schools Admin, Education District VI, said: "What we have on ground is an attempt to make living better for the entire world, so this is service to humanity. As a result we want to appreciate and welcome Pepsico and WaterAid for bringing this facility to Agidingbi Junior Grammar School.
"I want Pepsico to note that this is just one school out of the 106 schools under the jurisdiction of District IV comprising of Ikeja zone, Mushin zone and Oshodi/Isolo zone, so when a project like this is being put in place to support government's effort, we should take cognisance of other zones to cut off petty jealousy.
"I want to draw your attention to the security challenges in our schools, this facility is fantastic, encouraging and deservedly good motivation for our students, whatever security measures you can put in place to safeguard this facility will be very much appreciated," she concluded.
In his goodwill message, Chairman of Ojodu LCDA, Olusegun Odumbaku, represented by Lekan Peters, said: "The commissioning and handing over of water and toilet facility to Agidingbi Junior Grammar is so remarkable and appreciated by the Ojodu Local Council Development Area, the students and the community at large.
"This WASH programme will avail the students the opportunity of having clean water under hygienic culture and propel the 6th item of United Nations Sustainable Development Goals (SDGs), availability and sustainable management of water and sanitation for all through the effort and support of Pepsico Foundation, construction of new boreholes and modern toilets are being realised which is also in line with the 8 agenda of our administration."
Dignitaries at the event include the Permanent Secretary, Ministry of Environment and Water Resources, represented by Dr. Hassan Sanuth; the Principal, Agindigbi Junior Grammar School, Mr. Michael Alo; Ojodu LCDA community leaders; representatives of civil society; and other stakeholders.
WaterAid says it is working to make clean water, decent toilets and good hygiene normal for everyone, everywhere within a generation. The international not-for-profit organisation works in 28 countries to change the lives of the poorest and most marginalised people. Since 1981, WaterAid has reportedly reached 27 million people with clean water and 27 million people with decent toilets.
Established in 1962, the PepsiCo Foundation, the philanthropic arm of PepsiCo, invests in the essential elements of a sustainable food system with a mission to support thriving communities.
By Ajibola Adedoye