Abuja-based WaterAid Nigeria and Makurdi-based First Step observed the 2015 Global Handwashing Day (GHD) on Thursday by seeking changes in hygiene habits. While WaterAid targeted children as change agents, First Step has urged the society in general to embrace the handwashing campaign.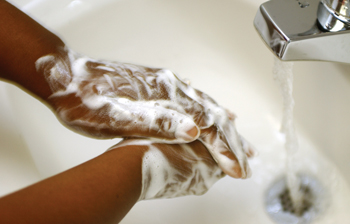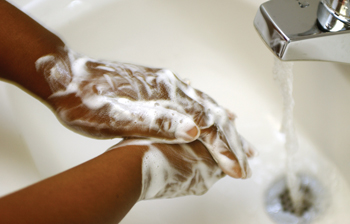 WaterAid Nigeria announced the launch of a hygiene themed proposal writing competition for selected schools in the nation's Federal Capital Territory. The competition, which aims to support children develop skills necessary to allow them become change agents, will ask students to write about the state of hygiene or sanitation in their schools and/or surrounding communities and what they think is a simple and cost-effective way to address the issue.
The best proposals will be funded to implement the recommended hygiene projects in their schools and/or surrounding communities.
The GHD is a campaign on 15 October each year to motivate and mobilise people around the world to wash their hands with soap as a key approach to disease prevention. WaterAid officials described the occasion as "an important opportunity to emphasise handwashing as an effective way to prevent disease and reduce child mortality and morbidity with its subsequent impact on overall health and school attendance."
The organisation also joined the Federal Ministry of Water Resources, European Union (EU), United Nations Children's Fund (UNICEF), the National Task Group on Sanitation (NTGS), the Water Supply and Sanitation Collaborative Council (WSSCC) and other stakeholders to commemorate Global Handwashing Day with students at the Community Secondary School in Asokoro, Abuja.
Speaking at the handwashing event, Ms Tolani Busari, WaterAid Nigeria's Head of Governance, encouraged students to make regular handwashing with soap a habit at home and at school and become hygiene champions in their schools and communities.
Ms Busari further spoke about the importance of handwashing with soap and its benefits for helping prevent diseases and saving lives.
The theme for this year's Global Handwashing Day, "Raise a hand for hygiene," encourages the creation of a strong social norm of good hygiene in schools and communities by asking children/students, people and organisations to stand up, be identified and be counted as hygiene champions. The theme is also a reminder that it is possible for governments to count how many people wash their hands and have access to hygiene facilities in homes, schools, and healthcare centres. Governments must measure hygiene indicators to know where resources should be concentrated.
This year's Global Handwashing Day follows the historic adoption of the new United Nations' Global Goals on Sustainable Development for 2030. The goals, which were agreed on by 191 countries including Nigeria, contain a goal focussed on access to water, sanitation and hygiene for all.
At the end of October, representatives from more than 100 countries and UN agencies in Bangkok will discuss how to measure progress towards the development targets agreed under the Global Goals. WaterAid is calling on all influential officials to help achieve the full health benefits of improved access to water and sanitation by ensuring indicators on hygiene are included as a measure of progress for the goal on water and sanitation for all.
Dr. Michael Ojo, Country Representative, WaterAid Nigeria, said: "Every day across the world, 1,400 children under five die from diarrhoea caused by dirty water and poor sanitation and hygiene. That's one child every minute. Nigeria has recorded practically no progress in the area of sanitation and hygiene in the past 25 years and only 9% of the population have gained access to improved sanitation in that time. Only an estimated 12% of the population have a handwashing facility with soap and water at home.
"The recent agreement of the Global Goals, which aim to eradicate extreme poverty by 2030, have brought us one step closer in ensuring such tragedies will be a thing of the past. However, there is still a long road ahead and a lot of work to be done to ensure the world delivers on the potential of these goals.
"Hygiene, and in particular handwashing, are frequently overlooked, and yet they make a huge difference to the health and wellbeing of the global population. Out of all water, sanitation and hygiene (WASH) interventions, hygiene promotion has proven to be particularly effective in reducing mortality and morbidity from child diarrhoea, and has been identified as the most cost-effective disease control intervention.
"WaterAid is calling for the vital role of hygiene to be included as an indicator for Goal 6, which works towards ensuring the availability and sustainable management of water and sanitation for all. Handwashing and wider hygiene practice will be vital if we are to achieve the Global Goals related to health, education and water and sanitation access."
Whilst the provision of improved water supply and sanitation facilities make it easier to practice good hygiene, on their own they are not sufficient to significantly decrease morbidity and mortality rates. Handwashing is critical for maximising the health benefits of investments in water supply and sanitation infrastructure and combating many health risks.
According to the World Health Organisation (WHO), handwashing with soap and improving hygiene practices can cut cases of diarrhoea by up to about 50%.
In Makurdi, Benue State, Executive Director, First Step, Mrs Rosemary Hua, called on policy makers, stakeholders and the society in general to embrace the habit of hand washing with soap.
Mrs Hua, who made this clarion call on Thursday in her opening remarks on occasion of the observation of the Global Handwashing Day, pointed out that event is apt as fostering and supporting local culture of hand washing with soap cannot be overemphasised.
She maintained that hand washing with soap is an easy, effective and affordable way to prevent diseases and save lives.
"We are creating awareness on the benefits of hand washing with soap specifically to maternal and child health, children and schools with reference to women and children as agents of change," she added.
In a good will message, the Benue State Commissioner for Water Resources, Nick Wende, who spoke through Nathan Ichor stated that hand washing with soap is important in maintaining a healthy life.
"We need water to wash hands and we at the Ministry will try to make potable water available, statewide to enhance the practice," he stated.
Also speaking, the State Commissioner for Women Affairs and Social Development, Mrs Mwuese Mnyim, who was represented by the Permanent Secretary, Tsegba Igbalumun, described the celebration as a re-awakening of the habit of hand washing with soap.
She called for all hands to be on deck in sustaining the habit of hand washing for the benefit of public health.
Earlier, President, Medical Women Association, Benue State Chapter, Dr. Priscilla Utoo, sued for partnership and synergy in practicing the habit of hand washing with soap, adding that, together, as a team, everyone achieves maximally.
In separate remarks, Timothy Chiese who represented the Benue State Rural Water and Sanitation Agency (BERWASA), Esther Kpeeteh, who represented the Permanent Secretary, Benue State Universal Basic Education Board, Mrs. Judith Hirnyam, representative of civil society organisations (CSOs) in the state, Mrs. Mary Makeri, reiterated the importance of hand washing with soap, noting that the habit is crucial to healthy and good living at a very low cost.
The GHD 2015 was marked in Makurdi by WaterAid Nigeria in collaboration with First Step, Benue State Chapter of Medical Women Association, Benue State Ministry for Women Affairs and Social Development featuring over 27 primary and secondary schools across the state.
High points of the celebration included demonstration of proper hand washing with soap, performance of hand washing theme song and distribution of hand washing songs CD and water containers to participating schools.
By Damian Daga