The Federal Ministry of Water Resources and the National Orientation Agency (NOA) have officially inaugurated a nationwide sensitisation campaign to end open defecation practice in the country.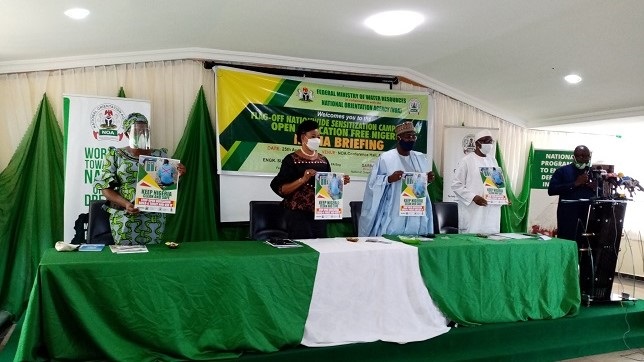 At the official inauguration in Abuja, the Minister, Mr Suleiman Adamu, said that the campaign was all about behavioral change in ensuring that all Nigerians built and used their toilets through Community-Led Total Sanitation (CLTS), model.
He said that collaboration with the private sector was in top gear, saying that the recent conversations with some stakeholders centered on providing free water for toilet business owners toward improving sanitation and hygiene.
He said this would in turn promote sustainability as funds generated would be used for maintaining such facilities and promote overall wellbeing of the society.
Adamu said that the national programme to end open defecation in Nigeria tagged "Clean Nigeria: Use the Toilet" campaign was initiated to address the unfortunate position that Nigeria found herself as the country with the highest number of persons defecating in the open globally.
Quoting the 2019 Water Sanitation and Hygiene National Outcome Routine Mapping (WASHNORM), report, he said an estimated 46 million Nigerians defecated openly, saying this was a quarter of its population.
The minister said that ending open defecation was not just about access to toilets, but about generating demand for toilets and changing people's behavior regarding toilet usage.
"The Clean Nigeria campaign is a transformational and behavior change campaign that seeks to mobilise high level political support, resources and the entire populace towards building a culture of safe sanitation.
"This will require the contribution and commitment of everyone, government at all levels, civil society, Private sector, development partners and the entire populace."
He said the ministry would be leveraging on the nationwide structure of the NOA through the Communication, Orientation and Mobilisation Officers (COMOs), who would aid in dissemination of key messages of the Clean Nigeria campaign.
He expressed optimism that the partnership would help to adopt safe sanitation practices and overall hygiene promotion for a healthy nation.
The NOA Director-General, Dr Garba Abari, said that the Agency was ready to deploy its robust structure and officials to promote reorientation and mobilise Nigerians for social change.
According to him, open defecation and poor sensitisation have implication for universal public health, with attendant cases of water-borne diseases and under-five mortality especially in rural areas.
"The campaign will be implemented in four phases: national, zonal, state and local government activities. We are targeting property owners, women and youth groups, policy makers, family heads among others.
"We will walk with you in line with the charge by President Muhammadu Buhari to ensure that all public places including schools, hotels, fuel stations, places of worship, market places, offices and hospitals have access to toilets."
Abari called on the media to join in the campaign, saying they were a critical stakeholder in achieving a cleaner and healthier environment.
The News Agency of Nigeria reports that as part of efforts to address the challenges in the WASH sector in Nigeria, the National WASH Action Plan was launched.
Also, a State of Emergency was declared by Mr President on Nov. 8, 2018, with strong commitment to end Open Defecation by 2025.
By Tosin Kolade