The Minister of Water Resources, Mr Suleiman Adamu, has pledged his commitment towards full passage of the National Water Resources Bill into law.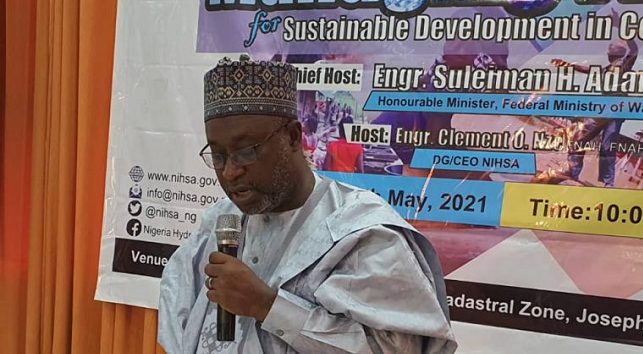 Adamu, who made this call when he featured on the News Agency of Nigeria (NAN) interview forum in Abuja, reiterated that the bill was for the overall benefit of all Nigerians.
He said it was saddening that antagonists of the bill went hysterical, giving it different colourations, saying that outright call for the bill to be thrown out was against water resources development.
Adamu said his ministry had debunked all arguments against the bill through routine continuous media rounds, saying the next step was to await another public hearing, if need be.
"Some of the people that are vehemently opposing this bill are the ones that stand to benefit and the ones that are mostly protected.
"For instance, in the riverine areas, if you don't have a law that protects the interstate waters, because 80 per cent of the fresh water of this country, they flow from north to south into the Atlantic.
"If you don't have this kind of protection for the downstream end, what will happen?" he wondered.
Adamu said if states like Kebbi where River Niger comes in or Adamawa where River Benue flows in decided they wanted to control the water at their end, it would affect the downstream communities.
"That is why since independence, our constitution has made it that the water that flows across inter-state or inter-regional boundaries as it were at that time, the responsibility for that should be vested by the Federal Government.
"So there is nothing unusual about it, and this is what is obtained everywhere in the world,'' he said.
Adamu said Nigeria entered into a treaty with eight other countries in the early sixties to form the Niger Basin Authority, saying such partnership had seen the survival of Kainji and Jebba dams.
He urged all those with conflicting opinions to present them at the proposed public hearing, alleging that they were only determined to rubbish the efforts of President Muhammadu Buhari.
"You know, this bill went through so many things, including a review by a Senior Advocate of Nigeria who is one of the leading legal experts, experts on environmental law and their opinion is that there is nothing wrong with this bill.
"So, why tie it to politics when it should be tied to development. I think we should we should opt out of that cocoon for those that are opposed to the bill and please have an open mind about it and look at it," Adamu said.
"We will continue to pursue this bill because it's our responsibility as government and as the ministry and many experts were involved in this in the formulation of this bill for the past, close to 20 years,'' he said.
The minister said he would not allow the actions of critics to mock efforts to reposition the water resources sector, saying the bill was the major instrument to make it happen.
"So, to the last day that I am Minister in this ministry, I will continue to pursue this bill to its logical conclusion,'' he said.
Adamu called on the private sector to invest in the provision of potable water supply for Nigerians.
He said investing in the utilities would end the continued politicisation and poor commitment by state and local governments.
According to the minister, the responsibility for provision of water for the citizens' rests on the state governments, as provided in the constitution.
He pledged the commitment of the Federal Government to continue to play its part in ensuring that its dams had water all year round.
Adamu said it was worrisome that many Nigerians had the perception that water was a social service which should be free, saying water was an economic commodity when harnessed properly.
He said plans were underway in partnership with development partners to corporatise water agencies, so that they could make revenue in a sustainable manner.
Corporatisation is the restructuring of a state-owned asset or organisation into a corporation.
"Huge efforts have been made in the last several years by the Federal Government through the Federal Ministry of Water Resources with support from institutions like the World Bank.
"These efforts were made to corporatise water agencies so that they can run like business entities.
"But, they have not been successful in many places, because state governments still don't seem to want to appreciate that water must be paid for, of course, the communities don't want that also, so it's a political issue," Adamu said.
He said Nigeria is reaching a point where it is becoming impossible for governments, whether at federal, state or local government to support water supply without some sort of cost recovery.
"And if that's the case, everybody knows also that government is not good at managing businesses or even doing cost recovery.
"So, we have been coming up with lots of strategies, including this aspect of corporatization of state water agencies.
"We are also trying to bring in the private sector, to understand and appreciate that you can actually make money out of water supply delivery,'' Adamu said.
The minister said under the Water, Sanitation and Hygiene strategy, private sectors and philanthropic organisations had been contacted to carry out corporate social responsibility activities in providing water for the citizens.
Adamu said strengthening the capacity of water institutions through effective regulatory framework like the proposed Water Resources Bill would go a long way to promote private sector investment.
On proliferation of boreholes in the country, the minister said with efficient municipal water supply, Nigeria had no business with drilling of boreholes indiscriminately.
He said although the Federal Government could not stifle borehole drilling in the country, it was however worrisome that groundwater depletion might occur.
According to Adamu, there is need to start issuing licences to industries mining water indiscriminately, while hinting that penalties will soon be handed out to defaulters.
On river basin development in the country, he said the basin authorities had met their mandate in employment opportunities with the handing over of 50,000 hectares of land for commercial farming.
Adamu said the ministry, in partnership with the Bureau of Public Enterprises, had begun the partial commercialisation of Niger-Delta, Ogun-Osun, Upper-Niger, and Sokoto-Rima river basins for optimum performance and repositioning.
"There is a farm owned by the Ogun-Osun River Basin with a farmers market. They have now entered into agreement with the private sector concerned to rehabilitate the building, lease it out and revenue will come to them.
"We want them to stand on their own at least for most of their costs, like personnel costs, so they don't have to rely on budget for something. So I will tell you it is progress,'' he said.
Adamu announced the introduction of river training to control recurrent flooding of rivers Niger and Benue towards, reducing disasters and humanitarian crises.
He said the ministry through its Annual Flood Outlook 2022 had revealed severe flooding in many parts of the country, hence the need for Nigerians to take precautionary measures.
He said the river training would include: dredging, putting some structural elements like doing some dykes, embankments, reclaiming certain floodplains, among others.
"We want to do a study on Rivers Niger and Benue, we want to do a master plan that will address some of these issues.
"One of the reasons is that there is huge sediment in the river, River Niger traverses the Sahara Desert.
"It starts from the Futa-Jalon, runs through Mali in the Sahara Desert, so it brings a lot of sediments every year, and so it's filling the river.
"And so when an extraordinary high intensity flow comes in, you know if the capacity of the river bed cannot take it, it will spill over the banks and that's what's been happening.
"So one of the things we were trying to do is the engineering solution to do that.
"We have what we call river training, it involves dredging, it involves putting some structural elements, what we call groins and so on into the river.
"It requires doing some dykes, embankments, requires reclaiming certain floodplains, even straightening some of the sharp bends on the rivers and so on and so forth, it is a huge, huge endeavor," he said.
He said the cost for the proposed river training was about $14 billion saying it was beyond several administrations, and having a masterplan was a first step.
Adamu, while citing instances of efforts of developed countries like Hungary, at taming their rivers, said that Nigeria would pick experiences from them and adopt it effectively.
"Even at that, you can reduce the effect but you cannot effectively say that you can eliminate flood and its effects, because nature behaves in a mysterious way,'' he said.
Speaking on Nigeria's hosting of the World Toilet Summit in November, the minister said it was an opportunity to showcase the country's efforts at scaling up sanitation and hygiene.
He said access to toilet was the cheapest medicine, saying it was an investment capable of reducing over 60 per cent of all health problems in the country.
By Tosin Kolade