A water resources expert, Mr Boniface Onyeji, has advised residents to conduct laboratory analysis of their borehole water to test for bacteria and acidity.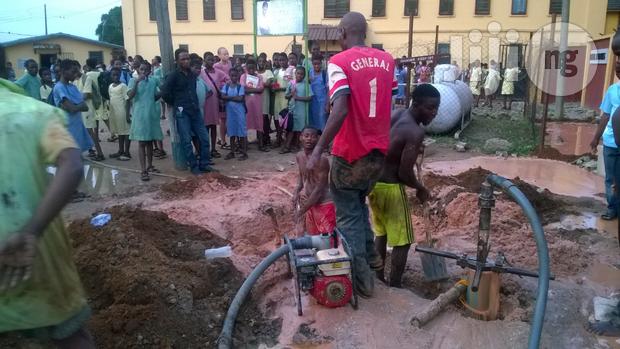 Onyeji, Head of Engineering Services Department, Imo State Water and Sewage Corporation (ISWSC), gave the advice on Wednesday, March 23, 2022, during a campaign to mark this year's World Water Day.
"Borehole is good but from analyses we discovered lots of problems. Some of the boreholes have zinc particles, iron fibres and some are acidic, yet people don't mind thinking it is healthy.
"When you see water from borehole, it sparkles, but after laboratory analysis, you may discover some pathogens, especially those drilled close to soak away.
"I am encouraging Imo residents to take samples of their borehole water to Otamiri Laboratory for analysis to know if it is safe for drinking because a lot of them are acidic and can cause cancer and other infectious diseases," he said.
Onyeji, who said that the campaign was to raise awareness on the dangers of the "invisible visibles" in boreholes, said public water such as the Otamiri Water Scheme remained the best for consumption.
According to him, the Otamiri Water Scheme is safer for consumption because it undergoes a lot of processes.
He said the Otamiri Water Scheme has a production capacity of 60,000 cubic metres of water per day meant for 300,000 households in the municipals within 14 km radius.
Onyeji lauded the efforts of international agencies for resuscitating the facility, but noted that it was still faced with the challenge of reticulation.
He said the urban renewal programme of the state government under former Gov. Rochas Okorocha had tampered and destroyed most utility lines supplying water to many areas within the Owerri metropolis.
He said some of the areas affected included some parts of Aladimma, Ikenegbu, World Bank, Onitsha Road and Port Harcourt Road.
"If the state government can fix the utility lines damaged by the past administration, more Imo residents will gain access to clean water," he said.
The theme for this year's celebration is "Groundwater – making the invisible visible."
The World Water Day is commemorated annually in March to celebrate water and raise awareness of the two billion people living without access to safe water.
By Peter Okolie