In the midst of the coronavirus pandemic, the international community celebrated the 2020 World Water Day (WWD) on Sunday March 22, 2020, which was a reminder to the world that climate change is real and impacting water resources, and that addressing water related issues is key in the fight against climate change and in that current battle against the coronavirus.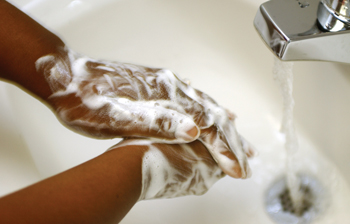 Activities marking the day were mainly restricted to the issuance of statements by key international figures, water sector ministers in countries and institutions. An examination of some of the statements reveals a common theme: "as climate change effects intensifies, so will rainfall variability, floods and droughts." The authors agreed that, if left to business as usual, climate change impacts will have ripple effects on water availability, food production and health among other things.
UN Secretary-General, Antonio Guterres's statement noted that "global heating and unsustainable use will create unprecedented competition for water resources, leading to the displacement of millions of people. This will negatively affect health and productivity and act as a threat multiplier for instability and conflict."
The Director-General of the India-based Centre for Science and Environment (CSE), Sunita Narain's statement said as climate change impact intensifies "we will see the revenge of nature." In her view, this means, "…we will have more water scarcity and more pollution if we do not get our water management right, which in turn will add to economic distress and livelihood insecurity."
Ghana's Minister of Sanitation and Water Resources, Madam Cecilia Abena Dapaah's statement described climate change impacts on water as "risks that damage our built and natural water infrastructure, contaminate groundwater resources, and overstretch sanitation facilities thereby compounding the challenge of ensuring access to water and sanitation services by the poor and vulnerable groups."
In a telephone interview, Prof. Chris Gordon of the Climate and Development Knowledge Network agreed that climate change impact on water will trigger negative effects in other sectors. Citing the Inter-governmental Panel on Climate Change (IPCC), he said "climate change impacts on water will affect food production including shifts in growing seasons, crops and regional shifts."
The statements also offered solutions, which revolved around promoting investment in water and implementing activities that integrates management and restoration of natural infrastructure, particularly water ecosystems.
Secretary-General Guterres saw 2020 as "a make or break year for climate action" and called for an up scaling of investments in healthy watersheds and water infrastructure, with dramatic improvements in the efficiency of water use. He said: "We must anticipate and respond to climate risks at every level of water management. We need to urgently step up efforts to strengthen resilience and adaptation for people affected by climate disruption."
World Meteorological Organisation's (WMO) Secretary-General, Petteri Taalas, and the Chair of UN-Water and President of the International Fund for Agricultural Development, Gilbert Houngbo, said the situation presents economic opportunities to develop new approaches, technologies and industries. In a joint statement issued to commemorate World Water Day and World Meteorological Day, which both focused on 'climate Change and water," they called for climate actions that centre on water and can be coordinated across borders.
Ghana's Madam Dapaah proposed a mixture of initiatives such as large scale simple technologies that protect the quality of water supply and small-scale measures at the community level to manage and store water. She said these technologies and measures should be resilient and adaptive to flooding areas as well as responsive to gender and vulnerable group needs.
CSE's Director-General Narain offered what can be considered as individual, family and community targeted practical solutions: "We need to be water wise; changing diets so that crops we eat are water-prudent; and invest in water efficiency in homes, factories and fields." Her charge to the international community was, "Today, we know what to do and now we must make the management of this resource our single biggest obsession… we can get it right. This is what we must remember."
But their concern went beyond addressing climate change impacts on water, to admitting that "water is key in the fight against the coronavirus pandemic." Madam Narain's statement asked the international community to at this time ponder over whether "…we have enough access to clean and safe water, considering the fact that hand-washing has emerged as one of the most effective ways of controlling the spread of this virus."
Her additional concern had to do with nations in the Global South, consisting of low and middle-income countries in Africa, Latin America, the Caribbean and Asia, including India that may not have adequate access to clean water necessary for handwashing.
Prof. Gordon who is also the former Director of the Institute of Environment and Sanitation Studies (IESS) of the University of Ghana, Legon, explained that because water is life, when there is no water readily available, people will go and look for it. He was concerned that "people in search of water will congregate around the source to collect some and this will cause a breakdown in Social Distancing, which is currently one of the few means we have to slow the spread of the coronavirus."
According to the UN, globally, three billion people do not have access to even basic hand washing facilities at home. Lack of access to clean water affects vulnerability to disease and ill health. It is especially acute among those living in extreme poverty in rural areas, as well as in informal urban settlements.
However, access to safe water is an essential component of the 2030 Agenda for Sustainable Development, particularly of Sustainable Development Goal 6 on Water and Sanitation.
It is for this reason that the UN System and its Partners are committing to the SDG 6 Global Acceleration Framework, which will unify the international community and deliver fast results in countries at an increased scale as part of the Decade of Action to deliver the SDGs by 2030.
To this end, WMO Secretary General Taalas and Chair of UN Water Houngbo, called on every sector of society to join them because, "together, we can accelerate progress in an area that will allow humans and the planet to thrive for many generations to come."
Madam Narain, reminded nations of the urgent need to ensure that everybody has access to safe water. "Providing access to clean water is the biggest preventive health measure we can take – and this is why, on World Water Day 2020, we must make this connection. For all our sakes."
By Ama Kudom-Agyemang