Numerous communities in Kano State in Nigeria have been submerged following the collapse of the Warawa Dam.
The dam is one of the 120 earth dams in Kano and Jigawa states.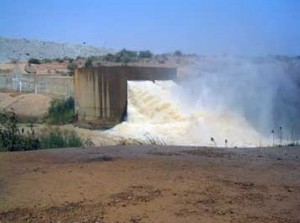 Similarly, thousands of residents in the Kaduna metropolis in Kaduna State have been displaced by flood from the Kaduna River.
Likewise, over 25,000 people in Benue State  have so far been displaced as a result of flooding arising from the overflow of the Benue River, the second largest river in the country.
Officials of the National Emergency Management Agency (NEMA) have however said that the organisation is reaching out to areas affected by the disaster.
NEMA's spokesman, Yushau Shuaib, said: "Some of the communities at risk have remained adamant even as over 25, 000 persons in 14 communities were displaced in Benue State following the overflow of River Benue."
He added that more areas along the plains of River Benue and River Niger have remained under the threat of flood from the unprecedented rise of water in the upstream dams.
He noted: "In Benue State, NEMA, along with the state government and other stakeholders, have established three camps for the displaced persons while officials have mobilised to the other areas that are also affected by the disaster including Bauchi State. Also, the agency has contacted the relevant states governors and stakeholders as well as launched a series of awareness campaigns and advocacy to sensitise the vulnerable communities on measures to be taken. However, some of the communities have remained adamant not to move to any place of safety and resigned their fate to the act of God."
Meanwhile, authorities at the Jebba hydroelectric dam has began discrete release of the excess water from the dam to safeguard the facility, signalling a fresh threat of flooding to thousands of communities in several states located along the banks on the River Niger.
Chief executive officer of the hydroelectric power plant, Lamu Audu, attributed the high water level to excessive rainfall this year.
An assessment team comprising officers of NEMA and the stakeholders including the line ministries visited the dam and some of the threatened communities in Kwara and Niger states.
NEMA's Director of Planning Research and Forecasting, Charles Agbo, who led the team, expressed satisfaction with the manner at which the excess water is being managed.
During the visit to Jebba and Old Jebba which are the two immediate communities located at the downstream of the dam, Dr Agbo advised residents to relocate to the higher grounds for safety.
The team was received by Alhaji Abdulkadir Adebara (Oba of Jebba) at Jebba, and Alhaji Muhammed T. Muhammed at Old Jebba .
By Laide Akinboade