A Ghanaian team of biotechnology and biosafety regulators recently paid a study tour visit to the National Biosafety Management Agency (NBMA) towards understudying the Nigerian biosafety system and its success story.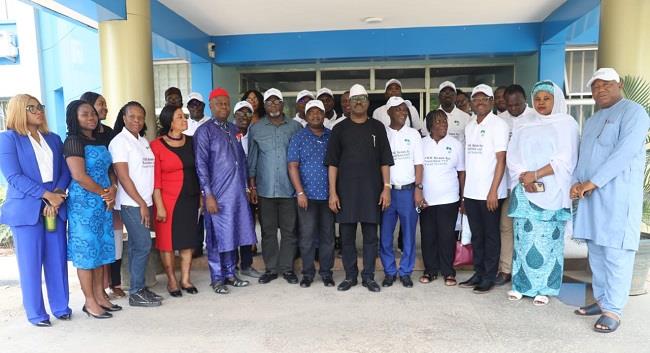 While welcoming the 20-man team, Director General/Chief Executive Officer of the NBMA, Dr. Rufus Ebegba, recognised how important the visit of the Ghanaian Regulatory team is to the regulatory authority in Ghana, stating that collaborating with their Nigerian counterpart on the need to strengthen regulations in Ghana and in Africa would strengthen the stipulations of the law establishing the regulatory agency in Ghana.
Ebegba, however, stated that, in the sphere of GM regulation, Nigeria has set a model for the African continent.
"The agency was not established to stop GMOs but rather to see that whatever results from the technology does not pose threat to human health, the environment, animals and plants.
"The global economy today is driven by science and technology, and it is timely that Nigerian is keying into it by ensuring that safety measures are put in place for the deployment of the technology. The government is so proactive to the establishment of NBMA and by implication the Agency stands to prevent Nigeria from becoming a dumping ground for unregulated Genetically Modified Organisms (GMOs)," he stated.
The DG/CEO added that the collaboration among the government agencies, departments and ministries have been effective especially in the area of information and teamwork.
"The agency since inception has put in place regulatory instrument like policy documents and guidelines that ensure safe Modern Biotechnology activities are carried out in the country."
Ebegba underscored the need for the Ghanaian government to extend the scope of the regulatory framework to capture the new emerging technologies such as Gene Editing, Gene drive, and Synthetic biology.
In a remark, the team leader, Dr Emmanuel Marfo, who is a member of Parliament in Ghana, echoed the position of Nigeria as a role model for the African continent, stating that Nigeria and Ghana have a longstanding relationship, and this would further earn both counties synergy that can boost their economies by way of working together.
He also disclosed that Nigeria has been playing a leading position in Africa and this reflects the level of education, population and personality. He, however, sought opportunity for Nigerian to impact on the Ghanaian biosafety regulation system.
Chairman, National Biosafety Authority in Ghana, Prof. Charles Boasiako, lauded the very wide and broad presentation of the DG/CEO which was very detailed taking the visitors through the regulatory process and approval processes of the agency, describing Nigeria as a model for other African countries as the guidelines and regulations produced from the agency has been used by other countries as models for the drafting of their documents.
The team visited the NBMA's GM detection and analysis laboratory where they applauded the state-of-the-art equipment and Dr. Ebegba presented the regulatory instruments of the NBMA to the teams.