Vietnam has pledged a contribution to the Green Climate Fund (GCF) at the Paris COP 21 talks, further broadening the base of support to the Fund. Forty-three states have now pledged support to the Fund, including both developed and developing countries.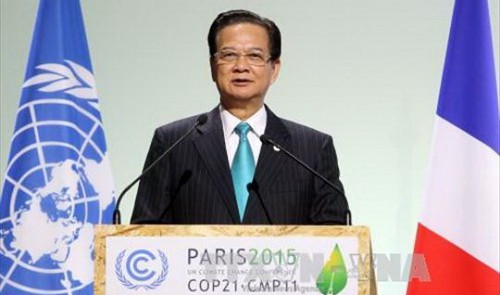 Vietnamese Prime Minister, Nguyen Tan Dung, announced the pledge of $1 million during his address to the Paris climate conference plenary.
The Prime Minister emphasised that developed countries should take the lead in delivering their commitments and at the same time provide assistance for capacity building to developing countries in order to implement together the Paris agreement successfully.
Vietnam would nevertheless step up its efforts as well, he said.
"Greater efforts will be taken to fulfil our obligations under the UNFCCC and Kyoto Protocol. Vietnam accordingly will contribute $1 million to the Green Climate Fund for the period 2016-2020," he stated.
Prime Minister Dung reiterated that, despite limited resources, "Vietnam will continue to implement the national strategy, programme, and plans in response to climate change in various areas with concrete measures."
He recalled that Vietnam's Intended Nationally Determined Contribution (INDC) includes a commitment to reduce greenhouse gas emissions by 8% by 2030 compared to business-as-usual (BAU) projections, and by up to 25% conditional upon international support.
Vietnam's INDC also identifies the threat posed by rising sea levels to the Mekong Delta region among others and the need for climate resilience measures to be taken.
GCF opened its initial resource mobilisation in October 2014, rapidly reaching about $10 billion equivalent by the end of that year. The Fund remains open for contributions during its first funding period (2015-2018), and accepts them on an ongoing basis.