The Green Climate Fund (GCF) and the Socialist Republic of Viet Nam have signed letters of agreement approving nearly $300,000 in GCF Readiness funding to support the country's green growth and climate action strategies.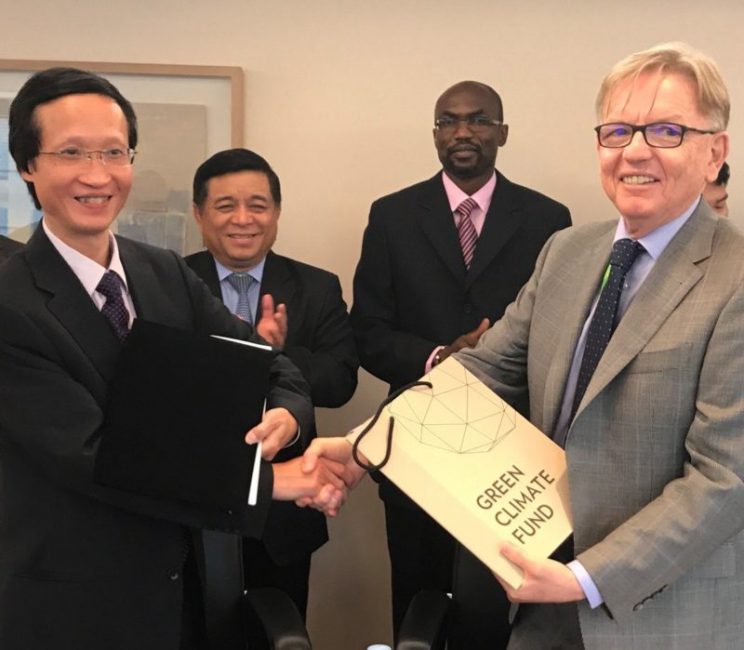 The resources will be used to strengthen Viet Nam's capacity to access project funds from GCF, increase overall coordination of the country's various climate change programmes, and engage communities and other stakeholders in GCF-related initiatives.
The letters were signed by Pham Hoang Mai, Director General, Department of Science, Education, Natural Resources and Environment, with the Ministry of Planning and Investment (MPI), and Howard Bamsey, GCF Executive Director.
Speaking at the signing, and leading the country delegation, the Minister of MPI, Nguyen Chi Dung said he appreciates the supporting role of GCF and called the Fund a "core partner" of Viet Nam's national climate finance architecture.
Minister Nguyen Chi Dung added, "GCF Readiness support will allow us to increase our understanding of GCF modalities and procedures and to identify priority areas to meet GCF investment criteria. It will also enable us to respond to our national mitigation and adaptation needs."
Activities under the Readiness grant are expected to start in October 2017 and run to June 2019. Implementation and oversight will be managed by the Ministry of Planning and Investment, which also serves as the country's National Designated Authority (NDA) to GCF.
Viet Nam, in partnership with the United Nations Development Programme (UNDP) – a GCF Accredited Entity – is already home to a GCF project to increase the resilience of coastal communities to climate change.
The five-year $29.5 million project was approved in June 2016 to strengthen storm and flood protection through resilient housing, planting and rehabilitation of mangrove forests, and systematised climate risk assessments for the public and private sectors.