Mostly seen at roadsides in inexpensive shops, small containers, or wooden frames, motor oil dispensaries blaze with the youths who are drawn from different educational backgrounds. They set up business at the most accessible links to motorcycles, tricycles, and vehicles. According to one Rabiu, "the business is somewhat cheap to start with, and it's unseasonal."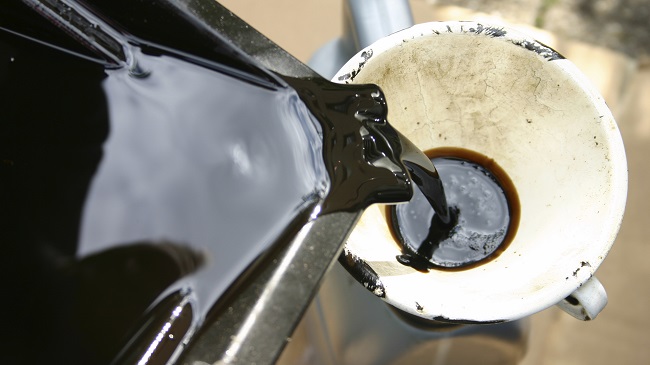 However, our ecosystem is fragile and faces many forms of environmental pollution – whether on land, water, air, or noise depletes the ozone layer, increases the climate crises and adversely affects both animals and humans health. Oil that lubricates motors, overtime, picks up impurities and when disposed of inappropriately, could be hazardous to land, water and air. The variety of contaminants that motor oil picks up include lead, cadmium, arsenic, dioxins, chromium, etc. And these are harmful components when released or burnt in our environment.
Waste motor oil is popular at local oil vendors across the country, especially motorcyclists who patronise these stores to refill or renew their engine oil, usually leaving the old, extraneous oil with vendors. There are thousands of oil vendors in Nigeria that operate without the safety laws adhered, since the motor oil industry is relatively controlled – it has made them a burgeoning empire.
However, only few, according to findings in Kaduna metropolis, have trivial knowledge of how to recycle used motor oil. According to my interview of a pocket of motorcyclists in the metropolis, 68% of them who change their engine oil do not know that the resource could be re-refined for repeated use – motor oil does not waste. The main difference between refined and virgin oil products is that re-refined oil represents the responsible choice for the environment.
The Department of Petroleum Resources (DPR) is responsible for issuing licences and permits, setting and enforcing environmental standards amongst other obligations and duties, but it has not lived up to expectations. Local oil vendors are not regulated and supervised to ensure that environmental pollution is not caused by used motor oil, and other non-virgin petroleum products. Disposing of used oil, the wrong way has the potential to pollute the environment. We need to recover, recycle, or re-refine as much of it as possible.
Hazards of irresponsible use and disposal
Most used motor oil and the contaminants it contains are disposed of inappropriately and released into the environment, they can harm humans, plants, animals, fish and shellfish. Local motor oil vendors who operate nearby streams and waterways could pose an insurmountable threat to aquatic life as rainwater can wash off residues of used oil into the water. Oil is a visible pollutant in water, floating as a scum on the surface and can sip into the groundwater easily, causing water contamination.
When met with Joshua, a local motor oil vendor in the metropolis, "used motor oil is bought by many people for different purposes," he said. He further said that "buyers of used oil could apply on timber and anthills to control insects and termites from destroying wood."
Used oil has the potential to travel long distances and pollute the environment – especially land and water. It makes the soil become less productive. Sadly, one gallon of used oil can contaminate one million gallons of fresh water. And with the current statistics of many people without access to clean water, sump oil deepens the crisis.
Solomon, who also owns a motor oil shop, revealed that "used oil is bought by motorcyclists who use carbon motorcycles to refill their dwindling engine oil level, and these people cannot afford the costs of virgin oil or save costs on the resource." He also added that "used oil could be used on weeds, disposed of at landfills, or applied on heavy metal (slide) gates to soften it."
This appears to be a problem that local oil vendors are aware of, although disregard the fact that impure motor oil could heavily pollute the ecosystem, but they hinge on the money value it brings them.
Preventing an environmental problem
Because used oil contains a cocktail of toxins and re-used by buyers haphazardly, it pollutes land and water and makes it difficult to clean up or retrieve thereafter. It can build up lethal hazards and persist in the environment for years. So, it is imperative for local motor oil vendors to recycle or dispose of used oil properly.
The fragility of our environment stifles already with other pollutants, we must understand that the human environment remains vulnerable to incongruous animals and human diseases if used oil is allowed in the hands of third parties.
By Francis Annagu in Southern Kaduna; documentary photographer, poet, and freelance journalist; francisannagu@gmail.com