The Supreme Court of the United States on Thursday, June 30, 2022, sharply cut back the Environmental Protection Agency's ability to reduce the carbon output of existing power plants, a blow to the Biden administration's plans for combating climate change.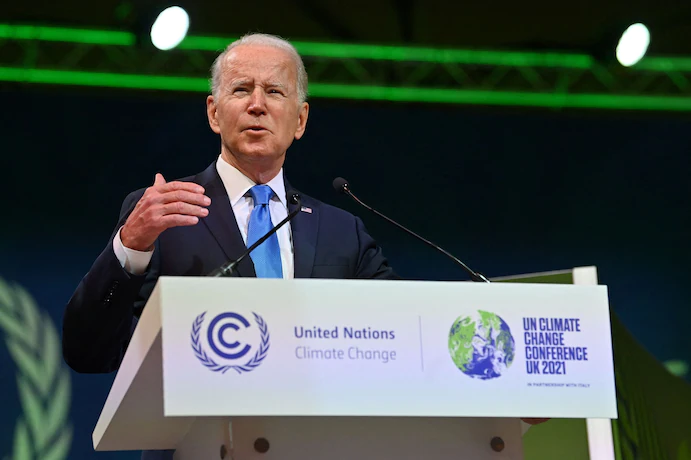 The ruling infuriated President Joe Biden and environmentalists, who said it raised formidable obstacles to the United States meeting its climate aims, including the president's goal of running the U.S. power grid on clean energy by 2035.
"Another devastating decision that aims to take our country backwards," Biden said.
But the Republican-led states that challenged the broad authority the EPA claimed said it was a dutiful examination of the Clean Air Act and a proper acknowledgment that Congress had not given such vast powers to the agency.
The vote was 6 to 3, with Chief Justice John G. Roberts Jr. writing for the court's majority. And it reinforced an emerging view from its conservatives that too much power is vested in executive branch agencies that act without clear authority from Congress.
"Capping carbon dioxide emissions at a level that will force a nationwide transition away from the use of coal to generate electricity may be a sensible 'solution to the crisis of the day'," Roberts wrote, referring to a court precedent. "But it is not plausible that Congress gave EPA the authority to adopt on its own such a regulatory scheme."
In similar fashion, the court has reined in the Centres for Disease Control for enacting an eviction moratorium during the pandemic, and the Occupational Safety and Health Administration from far-reaching vaccine-or-test requirements. Roberts was joined in the EPA decision by Justices Clarence Thomas, Samuel A. Alito Jr., Neil M. Gorsuch, Brett M. Kavanaugh and Amy Coney Barrett.
Gorsuch wrote separately to elaborate: "When Congress seems slow to solve problems, it may be only natural that those in the Executive Branch might seek to take matters into their own hands. But the Constitution does not authorise agencies to use pen-and-phone regulations as substitutes for laws passed by the people's representatives."
Justice Elena Kagan, writing for herself and fellow liberal justices Stephen G. Breyer and Sonia Sotomayor, countered that the majority had empowered the wrong people to pass judgment on an existential dilemma.
"The Court appoints itself – instead of Congress or the expert agency – the decisionmaker on climate policy," Kagan wrote. "I cannot think of many things more frightening."
Kagan began her dissent with familiar warnings about the calamity ahead. With higher seas, fiercer wildfires and other consequences of climate change apparent, the world is already in unprecedented territory. Global average temperatures have increased more than 1 degree Celsius (1.8 degrees Fahrenheit) since the preindustrial era, largely because of pollution from burning fossil fuels.
If warming exceeds 1.5 degrees Celsius (2.7 degrees Fahrenheit), scientists warn, sea levels could surge, ecosystems collapse, and millions of additional people would be at risk from heat, hunger, disaster and disease.
Biden hoped to lead by example to convince other countries to cut emissions and help the world keep warming under the 1.5 degrees threshold. Now such diplomacy has become more difficult for Biden, especially as countries scramble for new sources of oil and gas after Russia's invasion of Ukraine.
The president said he will "continue using lawful executive authority, including the EPA's legally-upheld authorities," work with cities and states to pass laws, and "keep pushing for additional Congressional action, so that Americans can fully seize the economic opportunities, cost-saving benefits, and security of a clean energy future."
Reacting to the development, UN Secretary-General's Spokesperson, Mr Stéphane Dujarric, said: "It is not the UN's role to provide legal commentary on judicial decisions of individual Member States. More generally, we can say that this is a setback in our fight against climate change, when we are already far off-track in meeting the goals of the Paris Agreement. The Secretary-General has said repeatedly that the G20 must lead the way in dramatically stepping up climate action.
"Decisions like the one today in the US or any other major emitting economy make it harder to meet the goals of the Paris Agreement, for a healthy, liveable planet, especially as we need to accelerate the phase out of coal and the transition to renewable energies. But we also need to remember that an emergency as global in nature as climate change requires a global response, and the actions of a single nation should not and cannot make or break whether we reach our climate objectives.
"The Secretary-General has also said there is still time to avert the worst impacts of climate change, if all nations – especially those who make up the G20 – step up their efforts, together with cities, regions, businesses and investors, and individuals everywhere raising their voices for bolder climate action."
Courtesy: Washington Post