The Federal Government has called for new attitude among Nigerians toward waste management to develop sustainable and resilient cities.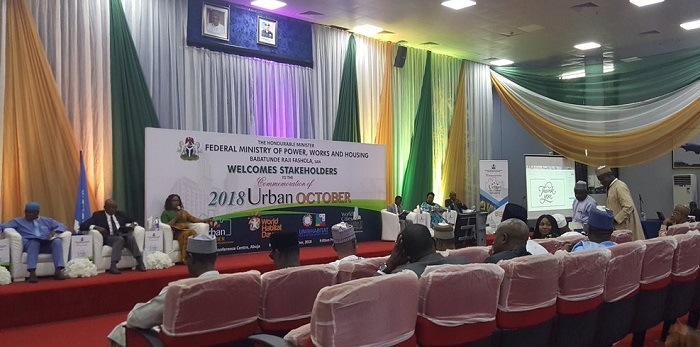 Minister of Power Works and Housing I, Mustapha Shehuri, made the call at an event to commemorate 2018 Urban October, organised by the ministry on Monday, October 22, 2018 in Abuja.
Urban October, celebrated every first Monday of October, comprises of World Habitat Day and World Cities Day with the theme "Municipal Solid Waste Management" and "Building Sustainable and Resilient Cities" respectively.
It is a platform set up by the United Nations under the umbrella of United Nations Human Settlements Programme (UN-Habitat) to reflect upon and set new directions on issues concerning human settlements and environment.
Shehuri, however, said that solid waste management in urban areas has become a potent subject which featured across the globe while there were massive complexities surrounding its processes of generation, collection and disposal.
According to him, it is indeed time to re-invent our attitude in favour of minimisation of wastes, re-use or recycle of wastes and increased level of regularisation of informal waste collectors.
"Proper application of wisdom in the management of wastes must necessarily lead to efficiency in collection and disposal of wastes as well as better use of public expenditure towards waste management.
"It could be necessary for city that is Waste-Wise to regroup informal and isolated waste collectors to enjoy economies of scale.
"Such city will ensure that waste is collected and disposed without polluting atmospheric air or underground water."
He said the focus of the World Cities Day celebration on "Building Sustainable and Resilient Cities" evoked equally challenging interest as that of World Habitat Day.
According to him, if Nigerians must collectively achieve better living, the cities must become more sustainable and resilient.
"Many shocking statistics have emerged to establish the worrisome effects of natural disasters across nearly every region on the globe.
"Within the past ten years, it has been estimated that the economic damage arising from effects of natural disasters across the globe is about $100 billion annually," the minister said.
Shehuri said that the figures would keep growing if conscious efforts are not made to make cities more sustainable and resilient.
Apart from the measurable impacts on the economy, he said that there were many subterranean effects of socio-cultural and community levels on which re-adjustments could continue for many years.
"It is unfortunate reality that a considerable proportion of disasters are not caused solely by nature but also by economic stress, religious intolerance and other avoidable acts of man's inhumanity to fellow man.
"Also, the resultant damage of disasters is usually not selective, but it often cuts across public and private assets.
"If cities remain less resilient and natural disasters continue to occur, hordes of urban residents will ultimately be pushed to poverty. This is a scenario we must contend with in Nigeria,'' he said.
Shehuri said in 2017 and 2018 budget years, the ministry adopted the approach of enriching available data store on resilience and sustainability of Nigerian cities.
He mentioned the parts of the steps taken as finalisation of plans for preparation of resilience and sustainability plans for Ibadan, Oyo state, Lokoja, Kogi state and Yola, Adamawa State.
In addition, he said plans were made to prepare technical reports on Inner City Regeneration Plans for Kano and Enugu states.
He said over the years the ministry had equally funded Model Urban Renewal and Slum Upgrading Schemes, including roads and drains work in selected communities across geo-political zones.
He, however, called for tangible suggestions to set up vibrant municipal structures and cities in Nigeria.
In his presentation, Minister of State II in the ministry, Suleiman Hassan, Zarma, urged the citizenry to reflect on their consumption pattern/lifestyle and determine to reduce wastes and adopt better environmental habits.
His words: "We can assume active roles in environmental education for all. We can reverse the threat of polythene and plastics to terrestrial and acquatic life. We can become more sensitive to the fact that our environment is fragile and susceptible to disasters that are often times avoidable."
In an address, Senator Barnabas Gemade, Chairman Senate Committee on Housing and Urban Development, decried the fact that in Nigeria people dumped waste anywhere they found space.
Gemade said that the parliament would ensure adequate legislature to facilitate all policies adopted for effective management of municipal wastes.
The presentations were followed by the Urban October Dialogue Session that had "Improving Municipal Solid Waste Management for Sustainable Development in Nigerian Cities" as its theme.
Moderated by former High Commissioner of Nigeria to Kenya and Permanent Representative of Nigeria to UN-Habitat and UNEP, Ambassador Akin Oyateru, the Dialogue Session had Mr Ola Oresanya of the Lagos State Waste Management Agency (LAWMA) as guest speaker and Dr Lawrence Anukam (Director General, National Environmental Standards and regulation Enforcement Agency), Mr Amos Odunfa (Deputy Director, Abuja Environmental Protection Agency), Mariam Lady Yunusa (former Director, UN-Habitat), and Mr. Michael Simire (Principal Consultant, MS & Associates Limited) as panellists.