We journeyed from Calabar and passed through Ikot Offiong before finally arriving at Akpabinyo Township in Cross River State. The Police Secondary School was one of the major landmarks on the voyage to discover some of the hidden treasures in the forest of Cross River. On my mind was the main objective of pinpointing the nuisance palms along the waterways of this naturally-endowed region of the Niger Delta.
The Nipa Palm, known scientifically as Nypa fruticans, had been introduced to the South Eastern part of Nigeria about 100 years ago from its native locations in the Indian Ocean. Two decades ago, Alhaji A.R.K. Saba, Chief Executive of Natural Resources Conservation Council (NARESCON), said that the mangrove vegetation around Port-Harcourt, Opobo and Cross River had been taken over by Nipa Palm, which he noted is more dangerous than the Water Hyacinth whose spread can be controled. Twenty years after, I was back on the trail of Nipa Palm which had become more rooted in the ecosystem of Cross River State.
Odingha Odingha, Chairman of Cross River Forestry Commission (CRFC), admitted in an interview in Calabar that Nipa Palm is one of the major challenges that his commission is facing and the government has put in place some methods to tackle the spread of the nuisance palm.
In order to get rid of it, the CRFC set up three nursery sites at Akwa Esuk Eyamba-Akpabuyo, Esuk Idobe-Akpabuyo and Esuk Okon in Bakassi Local Government Area of the state.
Samuel Njar, Unit Head, Mangrove Wetland at the CRFC, is in charge of the three nurseries which he tends rigorously. The Forestry Commission through the nursery wants to extend the vegetation cover of the mangroves by re-introducing them to check the spread of the Nipa Palms.
Njar took me through a highly-eroded landscape and we meandered through same dangerous cliffs created by erosion until we got to the creeks of Akwa Esuk Eyamba. His courageous words and leading-by holding my hand through the cliff of the sharply eroded crevices finally took me to the destination to inspect the mangroves nursery and the menace of the Nipa Palm. Although Nipa was used over the years by local people to make the thatched roof in their houses, its negative effect on the coastline and economy is more pronounced.
Just before dusk, we watched as fishermen and women tried to earn their living by working on the creek to catch fish, crabs, etc.
Suddenly, I spotted Lancelets, the marine organisms which construction workers had wiped off the Lagos Coastline at Victoria Island where the gigantic construction of the Eko Atlantic City Project had destroyed. It's an indication that some of Cross River Pristine ecosystems are still intact for conservation efforts.
We later met His Highness Chief Jacob Offiong Okon, Village Head Akwa Ezuk Eyamba and Reverend Anthony Offiong Essien Chairman, Forest Management Committee of Akwa Esuk Eyamba, who assist in coordinating the forest community on how to conserve their forest resources.
His Royal Highness Utsu Peter B. Ekwen, Clan Head of Okorshie, Obudu Local Government Area, said that the British Overseas Development Administration encouraged the communities to look at other ways of making money from the forest rather than deplete the forest into extinction.
In the early 2000, the British Department for International Development (DFID) also moved into the region to encourage the forest communities to look for alternative sources of livelihood. They set up Forest Management Committees including community leaders such as HRH Utsu Peter B. Ekwen. Some of them went into bee farming including the His Highness who seized the opportunity of the UN REDD+ University inauguration at the University of Calabar to sell his natural honey made from bees which has now become one of his livelihood options resulting from the training. Proudly, Peter B Ekwen announced to that gathering that he is now a Bee Farmer. Mrs. Helen T. Ndim from Buanchor Community in Boki Local Government also told the gathering about the enlightenment campaign she had been carrying out with the forest communities and how they can source for alternative means of livelihood from the forest rather than depleting the trees.
The United Nations Development Programme (UNDP) and the Federal Ministry of Environment held a programme tagged REDD+ University in Calabar, Cross River State.
The REDD+ University was meant to equip Nigerian forest communities, lecturers, students, stakeholders, non-governmental organisations (NGOs) and other experts on the specialised area and basic information on the United Nations programme on Reducing Emissions from Deforestation and soil Degradation, (REDD+).
The REDD+ University event which took place under the auspices of Cross River State Forestry Commission and the University of Calabar was declared open by Governor of Cross River State, Senator Liyel Imoke, who said that the state is committed to the protection of its forests from deforestation and soil degradation as enshrined in the UN REDD+ programme. Imoke said that it is the belief of his government that the forest in Cross River is being protected for the benefit of the present and future generation.
The governor said that his government would support the UN REDD+ University programme and make sure that it lays the foundation for the state's forest to be a future revenue earner similar to oil which has become a major revenue earner in Nigeria. Imoke said that it is important that the state looks inward to alternatives to oil as a revenue earner in the country.
The REDD+ University is a major step meant to implement Nigeria's REDD+ Readiness programme  which was approved by the United Nations REDD Policy Board with a budget of United States $4 million (about N650 million). The full implementation of the programme is expected within the next two years.
Joseph Gari, UN REDD+ Advisor for Africa, said that the UN REDD+ University represents a public inception of the programme and it is meant to prepare the knowledge base for implementation.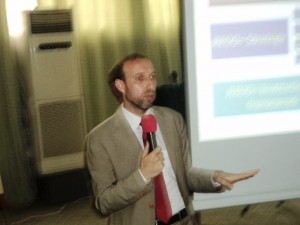 During the inauguration of the first REDD+ University at the University of Calabar and Cross River Forestry Commission event, about 200 participants were taught by 25 experts from Ghana, Nigeria, Ethiopia, Senegal, Democratic Republic of Congo, Zambia, Ethiopia, Kenya and the United States. Amongst the participants were lecturers, students, researchers, journalists, extension workers, community leaders and NGOs.
Janthomas Hiemstra, Deputy Country Director of the UNDP, said that the three-day intensive UN REDD+ University course in the country is expected to equip participants on technical and policy issues and presentation on projects that provide lessons and best practices in the area of sharing of REDD+ initiatives from other parts of the world.
Hiemstra said that the programme was designed to create sustainable environmental protection practices that will be linked to solid political affairs and governance in Cross River State as a model for the country. The UNDP Deputy Director counselled that it was imperative to create a conducive atmosphere where REDD+ can outlive any administration. He commended Governor Liyel Imoke for his passion in making Cross River State a model for sustainable development practice linked to the conservation of forests and the REDD+ programme.
Our forest initiative and tackling the wild Nipa Palm, by Odingha
Odingha Odingha is Chairman of Cross River Forestry Commission. A recipient of many international awards, Odingha spoke to Tunde Akingbade in Calabar. Excerpts:
You are the Chairman of Gross River Forestry Commission. You have also participated on the global platform on Governors Forum on Forestry. What is the current position on UNREDD+ University; what
next?
As far as UNREDD+ is concerned, it's one of climate change programmes and you can see that it's the easiest and fastest way to carry out mitigation of the problem of climate change. It is low cost effective and it's a lot cheaper. As you see the UNREDD+ is going on. We in Nigeria and Cross River State are carrying out a lot of sensitisation among the people because before people begin to implement a programme, they must first of all understand it. The first step is to get the exposure to the knowledge.
So, now, we are trying to digest that knowledge, assimilate it and we also want to get the knowledge down to the community level so as to fast track the process of implementation. Our approach is that we target the communities. We have to make people who live in the communities understand so that within few months, we will train more people. Remember what Janthomas of UNDP said, that we can bring natural resources at community level at tandem with democratic governance. So that's next step we are taking.
There are fears that the global economic crisis might affect ecological funding. Professor Emmanuel Oladipo has also stated this position at different fora and asked Nigeria to look inwards. Cross River State, from what I know from Ex-Governor Donald Duke to Governor Imoke, has been looking inwards. What is driving Cross River State?
We believe one of the greatest assets we have in Cross River State is the forest. That is our gold. We also believe with or without UNREDD+, we will continue to manage our forest. However, we see UNREDD+ as a means of helping us to manage our resources the more. Our Governor, His Excellency, Senator Liyel Imoke, has said it clearly that one of our assets is our forest. We have budgetary allocation to protect our forest and we believe in it. The Governor believes in it. We are not looking at the global economic crisis in the protection of our forest.
I have been in Calabar for days now, and I have been under so much heat your office is under trees, there is air conditioner here and there is heat. Your office is under trees, there is air conditioner here and there is heat. If we have no trees in Calabar, what do you think will happen?
It's obvious that the level of humidity in this part of the country is high yet there is heat as you observed. Where there are no trees, people will start to experience heat waves. Experience has shown that it is important that we keep trees. There was a big storm earlier this year which pulled down trees. Imagine if those trees were not there, the storm would have pulled down other things including houses.  We are not letting go the scheme to plant more trees. We will plant more trees. We will plant more trees and reach the goal of five million trees so as to recover our trees that have been lost over the years.
What is happening to the animals in this region?
We have animals moving from Cross River to Cameroon and vice versa. We call the area Cross River Bio-Region. We have parks in Cameron and a corresponding one from Cameroon down have. As far as animals are concerned, there are no boundaries. The gorillas and the elephants move freely from one area to another.
They don't take passport or visa for their movement?
No, they don't take passport or visa before they move from one territory to another. They don't even need customs or immigration to regulate their movement. Another thing is that during one particular season, you may see some animals in a particular region going to another region. In fact, you see some animals resident in Nigeria in Cameroon, so the boundaries are artificial. It was the creation of the colonial masters for administrative purposes and we inherited that. We have an initiative on Trans Boundary relationship for Conservation. This is to buttress the point I am making.
Can you give is an insight into Afi River forest and Boshi/Okwango area?
We call the area Afi complex. What is going on under the Afi Complex is what we call the Afi Conservation Programme. We have the Afi Wild Life Sanctuary; also have the Pandrillus for conservation and we rehabilitation of some endangered species – the drill monkeys, the gorillas. These things are going on there. The activities are quite intensive.
The swallow birds are there. The large gorillas are there. What we need to do is how to package the place and get private sector to be involved.
The private sector should be interested in it. What we want to do is to make the place an eco-tourist destination. The private sector should be interested.
Which means you are looking at Eco Tourism to fetch a lot of money in the future for Cross River State?
Yes. We know that is the fastest growing Sub – sector. The endangered species such as the elephant and the swallow birds that are thought to be rare are coming up there. Conservation can bring tangible monetary rewards.
What is going on with this Nipa palm and the nuisance they have become to Nigeria?
What happened is this. About 100 years ago, the colonial masters introduced this plant into this environment. The Nipa palm has the tendency to spread quickly. It's been spreading and colonising areas that have been previously occupied by the mangroves. The mangrove is the spawning ground for fishes and other marine
organisms. The problem now is; how do we contain the wild Nipa palm so that it will not destroy our fishing industry? How do we carry out a mangrove management?
Can we partner with people who have what it takes to bring out the economic use of the mangrove? How can we also turn Nipa Palm to a viable economic opportunity? So, these are the challenges we have. This is a serious issue. It is colossal to invest money to destroy Nipa palm. Some studies have shown that Nipa Palm can be used as animal feed. It can be used to produce chemicals. So we have all these kind of possibilities and we will like investors to take advantage of these and explore its uses to make money. However, we believe in the long run, it is better to have the mangrove than the threat of Nipa Palm.
Do you have the threat of ocean surge from, Atlantic Ocean or coastal erosion problem?
Yes, of course we have the threat of the rising sea level because of climate change. You know when the ice melts in the polar region, it will go into the sea and the sea level to rise. With that it will bring water from the ocean. Unfortunately our coastline has not been protected. So the coastal communities are very vulnerable. So, there is tendency that this pool towards the coast will make the impacts of climate change quite serious. We hope that with mitigation and adaptation programmes, we will be able to protect our coastline. If not our coastal cities will be submerged as a result of melting ice at the Polar region due to global warming. There is need to do something about these areas all the way from Lagos. Even our oil installations are at risk. We seriously have to
address the impact of climate change on the coastal areas.
'
Our forest resources and experience with Jathropher in Jigawa –Yisa Mohammed
Alhaji Yisa Mohammed, Permanent Secretary, Ministry of Environment, Jigawa State, spoke to Tunde Akingbade on what Jigawa State is doing with tree planting and using it to empower the youths and reduce poverty in the state. Excerpts:
What are the peculiar environmental challenges that you are facing in Jigawa State?
There are a lot of environmental challenges in Jigawa. They range from land degradation to desert encroachment.
In terms of desert encroachment, how much of Jigawa State is being troubled by this phenomenon? Is it like a quarter of the state?
You know Jigawa State shares borders with the Niger Republic and our Local Governments have to share these borders mostly affected by this desert encroachment. About 12 local governments are affected out of the 27 we have in Jigawa State.
And, what is the government doing to help people to adapt to this desert encroachment?
What the government is doing now is to provide tree seedlings. With the coming of the present government in 2007, one of the main tasks that are being attended to is desert encroachment. The governor has directed us at the Ministry of Environment that we should do everything possible to provide enough seedlings to be distributed to the communities and institutions, free of charge for planting. That will help us to reduce the menace of desert encroachment. Right now we started in 2008, we produced three million seedlings, then from 2008 and 2009 till date, every year we used to produce over two million seedlings with support from the state government and we have been recovering some of the degraded forest reserves, degraded land. I must state that these measures also serve as an economic empowerment to the community. These are some of the efforts of the government towards reducing desert encroachment.
With the problem of climate change and desertification, the heat must also have affected some river basins. Have you found places where some rivers dried up or are drying?
Well, actually, the main river, that is River Hadeja which has been overflowing was reduced by the construction of Tiga Dam in Kano State. So, the inflow is always there, but not as much as we expect. And the river flow is year round. It has not been affected. And if you come down to the savannah area of Jigawa State, some of the rivers used to dry up. Maybe in the dry months, most of the rivers will dry as a result of the climate change.
And people find it difficult to get drinking water?
Well, you know, largely in Jigawa State, we depend on underground water. So, many of the communities will have their open wells, bore holes and motorised water pumps, that's the source of our water, we don't depend on river water.
 I remember sometime ago the problem of Tiga Dam, over two decades ago, somebody was building his house along the river course. Do you still have people constructing along the course of Tiga River?
No, apart from Tiga and Gbagoda dams, there's no other dam along that course for now.
Now, let's go to the Jathropher tree that you are planting. What inspired you, your government to be doing that?
Okay, like we say that our government is for the poor. So whatever the government will do to empower he citizens of Jigawa State, we will do it. We have got this idea of Jathroper from an environmental consultancy firm doing it and we have seen it that, if that is the case, the government has come to venture into this programme so that the people can be empowered. Like you see in our presentation we made in Abuja, we have now established over 6000 hectares of this Jathropher plant produced by the government, but the government is doing it as a pilot scheme, so that the people around will see the benefit, and they can also copy and begin to do it. Now, there are a lot of NGOs that have shown interest on this our Jathropher plantation, there are some that are willing to come and establish refinery, that will provide bio-diesel and there are some that are willing to come to use the chips for fertiliser. Locally, we use the chips for soap making. You see, if the community will adopt this strategy, soap making, the fertiliser which is of more nutrient than the conventional fertiliser we are talking of, I can assure you the people and the community will be empowered. More so, the firm that will establish the refinery will also provide free electricity to the communities around using the bio diesel. So I think that one; this will be a great benefit to the community and they will be empowered. When the factory is established, the people around will be the employees of this company.
So in a way, you are also trying to fulfil the Millennium Development Goal, using all kinds of avenue through this tree planting?
Oh yes! The Governor of Jigawa State, all he is thinking about is his people at the lower level and how he will empower them. The governor will do everything possible to empower the people. So what we are doing with Jathroper is a starting point. There are other activities that we use to empower the communities. Like the government also created a new Ministry of Economic Empowerment. You see, we gather the unemployed youths, in various Skill Acquisition Centers, and we give them a sort of training, like welding, leather work, carpentry, plumbing, mechanical work. We are doing all these in Jigawa State, all in an effort to reduce poverty.
,

The treasure in Moringa tree and Abia State experience, by Ogwu
Dr. Patrick Ogwu teaches Environmental Resource Management, Environmental Impact Assessment and Forest Impact and Sustainability Science at the Abia State University. He has been responsible for several green initiatives on the university campus and he is passionate about the resources in the forest and the efficacy of Moringa tree. He spoke to Tunde Akingbade. Excerpts:
You are so passionate about planting and use of Moringa tree. How did this start?
We started this campaign about Moringa in 2007 when we were talking about the problem of how to get the private sector involved in forest conservation. We knew very well that if you plant any Iroko tree today, it will take about 30 to 40 years to mature. So what do you do? Do you just go on spending money for 30 years? If you do that people will say you are mad. So we began to talk about how you can reduce the cost. That was the first presentation made on Moringa. If you plant an Iroko or Mahogany, 10metres space interval, you have the opportunity of using Moringa seedlings one metre interval in that order and within one year, you begin to harvest money to which you can maintain the forest estate. That was the first contact and people were asking; what is Moringa? What is Moringa? I brought out from my bag the processed Moringa powdered. And they saw it. Incidentally, Moringa is everywhere.
It's like the Moringa is everywhere in this compound, just like the Abia State University experience?
You saw them! We are ignorant, that's why we cut them down. So, the second point we want to make is that every single plant has a function, but because we don't know what it was created for, we begin to cut them down. In fact, most people are paid to destroy plants. When you employ a gardener whose work is to destroy and the person is in your pay roll, you are a destroyer. So Moringa experience is one single thing that will tell you that one single plant can meet all the Millennium Development Goals, all of them, one single plant! We went into research on Moringa and we discovered that a lot has been done on Moringa right from 1945, when Dr. Marcus did a Ph D on the composition of Moringa. In Pakistan, so many people have done a lot of work on Moringa.
Where was Dr. Marcus from?
He is a Canadian, from Vancouver. If you go to Vancouver, there's a Moringa that is preserved with an inscription; Please don't touch! This is because they know the value there. But here we don't k know
the value and the research that has been done on Moringa shows that Moringa can cure almost everything. We have been in the business trying to give Moringa to those who have very high level of Cholesterol. Anybody whose fasting blood sugar is above 95 is Diabetic and Moringa powder is capable of bringing down blood sugar, in fact stabilising it and will enable one to carry out what we call Gluco Neo Genetics, ability of the system, the kidney and the liver to store excess glucose and bring back to the blood stream depending on the need. That's what we call Gluco Neo genetic. There are evidences to prove this. Recently, somebody was condemned by a medical doctor, because his Fasting blood sugar was above 500 and has shown all kinds of complication of Diabetics including, impaired vision and inability of wound to heal, so we rushed one bottle of Moringa powder and .within four days, the Fasting blood sugar crashed from 500 to 250, and within one week, the Fasting blood sugar crashed to 140.
What is Fasting blood sugar?
Fasting blood sugar is fast, just like breakfast. If you don't eat for six hours, you're said to be fasting. It's an indication, because if you just eat a bowl of 'eba" now and you go for test, that will not be a good index of what sugar level you have. So you have to fast before you go for the test.
So they take the measurement after?
Yes, after not eating for six hours, you go and take your blood sugar. There are so many instrument that people can use. You can stay at home using acute test. Its digital so you can see the result immediately. We have also done this for people who have hypertension. It's a very simple test. You know it's something you tie round your hand and you can find out this thing. So many people with hypertension have had their blood pressure stabilized.
I was talking to a group of medical doctors, they went to school, medical school and were taught Chemistry, Physics and Biology. They know about titration and they know about Boye's Law and Charles Law. They know that as volume increases, pressure will crash. That is why, when a patient comes to a medical doctor, who has hypertension, they will recommend a drug that will dilate their vessel, so that the volume that is available is increased, so that is the mechanism with which the pressure is reduced. They were not taught they have plants that have all the potentials, genetic resources that are so complex and curative and they can heal. Because some don't know about that, the first thing they do is to condemn every single plant, except the one that has been sensitized. The combination therapy they use in malaria drugs now is an herb. Because some people don't know that, either they call it alternatives, but some of them will just out rightly describe it primitive. This day, they have coined other things about alternative, herbal medicine and so on.
Moringa is not native to Nigeria?
Well, botanically speaking, it is native to India.
How did it come to Nigeria?
Well, Moringa for a long time has been associated with the Northern part of the country. They call it Ogele, you know in the North, they are more informed when it comes to herbs. Moringa is native to India but it is almost everywhere you find settlement of the Hausa. You find Moringa around that place and they have been using it and they know it cures, but have not been able to discover why it is used. They use it in their soup.
Chief Giwa Bisi Rodipe used it to cook for both of us in Ijebu-Ode at his Forestry Demonstration Centre?
You can use the leave to replace your Ugwu vegetable. But the dried leaf is 20 times more potent than the fresh ones in terms of carrying the active ingredient. It has more protein, more calcium than bone and all its nutrients have more vitamin A than carrot. That is why they call it a miracle plant. So when you hear that Moringa is curing arthritis, it is because of the high content of calcium that it contains. Or that it is curing somebody's eye problem, it is because of the high content of vitamin A it contains. That it is healing is because of the protein and amino acid it contains.
What do you teach in Abia State University?
I teach Environmental Management and my Department in Abia State University is Environmental Resource Management. I also teach Environmental Impact Assessment and Forest Impact and Sustainability Science and in addition quantitative techniques. Those are the courses that I teach. My basic degree is in Horticulture and Landscaping, but my other degree Masters and PHD are in Environmental Management.
You are responsible for the greening of Abia State University and you've planted over one million trees?
My other name at Abia State University, if you come in and ask for me is The Lecturer who has been beautifying the Campus. If you ask for that, they will just bring you to my Department. When I was employed in Abia State University, I decided to initiate what I call the Green Citizen Club and within this club, we were able to do what we call sustainable campus programme, where we use "pure water" nylon sachets that littered everywhere. We picked them as a resource for stocking plant. And in the last three years, we've been able to plant trees and manage resources on the campus. Every single thing, we can cause it to take root. For example, you know, Cane doesn't have leave and it doesn't have root and you know once anything takes root, it will begin to produce leaves. So I am trained to induce rooting in every plant material and that's what gives me an advantage to start the University Education project.
By Tunde Akingbade, who was in Calabar and Akwa Esuk Eyamba