Algiers edifice set to topple Johannesburg tower as global property portal, Lamudi, investigates sky-high buildings on the continent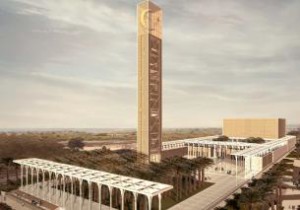 Towering 270m over the Algerian capital, the new Great Mosque of Algiers will be the tallest building in Africa once it is completed. Construction slated for completion this year.
The new Great Mosque will surpass Africa's current tallest building, the 223m Carlton Centre in Johannesburg, South Africa. The shopping and office centre has been Africa's tallest skyscraper for more than 40 years. South Africa dominates the list of the country's supertall buildings, with seven out of the top 10 tallest towers located in the country.
At 173m, Ponte City Apartments, also in Johannesburg, claims the second spot. Constructed in 1975, the building has also been on the list for nearly four decades. The residential building was reportedly originally planned to be 64 storeys high, but was scaled back due to fire safety concerns.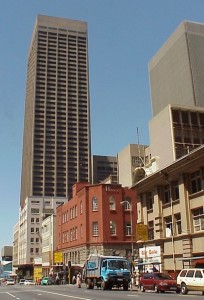 In third place on the list is NECOM House in Lagos, Nigeria. In addition to its height, the building has another distinguishing feature: the communications spire at the top acts as a lighthouse beacon for Lagos Harbor.
Africa has been slower to embrace supertall buildings than other regions, particularly Asia which is home to the majority of the world's top skyscrapers. While the top 10 sky-high buildings in Africa would measure a total of 1.6km if stacked one on top of the other, Asia's tallest buildings would reach more than 5km into the sky.
But while South Africa has traditionally been the home of skyscrapers in Africa, there are signs this is changing, as other countries embrace high-rise life. Two towers in Tanzania now feature on the continent's top 10 tallest towers list: the PSPF Towers A and B, unveiled last year in the capital Dar Es Salaam.
Elsewhere, the Hazina Trade Center is now under construction in Kenya's capital, Nairobi. The building is tipped to become the tallest building in East Africa and the third tallest on the continent once completed 2016. In Ethiopia, the 99-storey Chuanhui International Tower will measure 448m. The supertall tower in Addis Ababa will house a five-star hotel, premium office space, restaurants and more.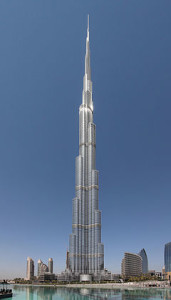 The world's tallest structure is the Burj Khalifa, a skyscraper located in Dubai, the United Arab Emirates (UAE). It stands at 829.8m.