The Executive Director of the United Nations Office on Drugs and Crime (UNODC), Yury Fedotov, arrives in Nigeria this week on a two-day official mission in furtherance of the long-standing partnership between UNODC and Nigeria in the areas of anti-corruption, terrorism prevention; drug control with a balanced health-focused approach; strengthened criminal justice sector and the rule of law in Nigeria and the Economic Community of West Africa (ECOWAS) sub-region as a whole.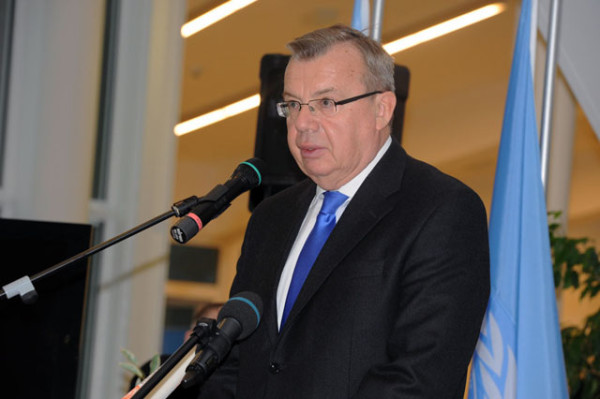 Mr. Fedotov will hold high-level meetings with top government officials and strategic ministries, department and agencies (MDAs) of the government of Nigeria as well as with the president of ECOWAS.
Nigeria and UNODC enjoy cordial relationship since almost three decades. Nigeria has ratified the three UN Conventions on Drugs, 15 out of the 19 international legal instruments on terrorism, in addition to the United Nations Convention against Transnational Organised Crime (UNTOC) and the United Nations Convention against Corruption (UNCAC), which are all UN Conventions that are under the global mandate of UNODC. UNODC works with some 50 government partners in Nigeria, at the federal and state levels as well as with civil society organisations in the implementation of the Conventions.
Nigeria is one of UNODC's priority countries, with a large and comprehensive portfolio in the areas of anti-corruption, the response to drugs and related organised crime, justice sector reform, anti-human trafficking/migrant smuggling and counter terrorism. The programme is funded by the European Union in the amount of about $100 million and constitutes UNODC's largest technical assistance portfolio in Africa and the third world wide. Other international partners of UNODC in Nigeria are Germany, Japan and Switzerland.
Among the major landmark technical support UNODC has provided in Nigeria is the support to the development, drafting and reviewing of new laws. These include the recently enacted Administration of Justice Act; Extradition Act (Modification) Order, 2014; as well as new legislation against human trafficking and migrant smuggling, in line with the UN Convention against Transnational Organised Crime and its protocols. Presently, UNODC is also assisting Nigeria's efforts in updating its piracy/maritime crimes law and in reinforcing the criminal justice response to these crimes.