The Universal Energy Facility (UEF) says it will provide grants to renewable energy companies who apply to have their projects financed as part of the facility's Stand-alone Solar for Productive Use programme in Nigeria.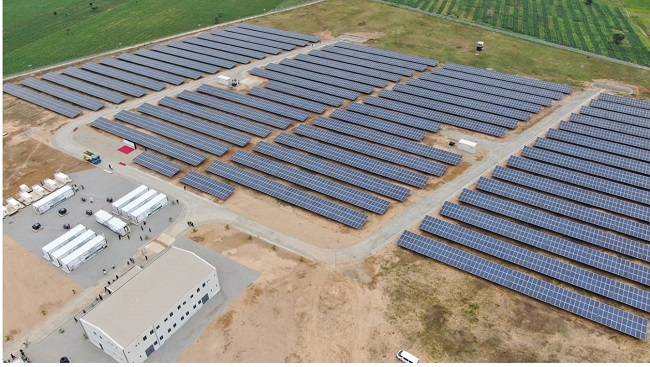 The UEF is a results-based financing facility managed by Sustainable Energy for All.
This was disclosed in a statement in Lagos on Thursday, February 23, 2023, by Anita Otubu, Senior Director, Universal Energy Facility.
Otubu said that these companies would now begin construction on their proposed solar projects, all of which are designed to connect businesses and services to a clean, affordable and reliable electricity source.
"These projects will span most states in Nigeria and be completed within the next 12 months.
"Together, they will connect approximately 3,500 businesses, markets, shopping malls, cold-storage facilities, clinics, schools, and other productive uses of energy, that support economic activity and community infrastructure.
"As stand-alone solar energy projects, they will alleviate the need for businesses and services to rely on expensive, polluting fossil fuel generators as their source of power.
"The UEF estimates that approximately 5,400 tons of CO2 equivalent per year will be saved once all of the proposed projects are implemented," Otubu said.
Damilola Ogunbiyi, CEO and Special Representative of the UN Secretary-General for Sustainable Energy for All, said: "With this programme in Nigeria, the Universal Energy Facility will demonstrate the enabling power that sustainable energy can have on local economic development and climate action."
Ogunbiyi said that solar projects supported by the facility would give businesses clean and affordable electricity to help them scale up, create jobs, and replace polluting power sources.
The statement noted that, in 2022, the Government of Nigeria launched its Energy Transition Plan showing how the country would achieve universal energy access by 2030 and net-zero emissions by mid-century, as well as the finance required to meet these goals.
It said that the UEF was contributing to the plan's finance targets for the power sector by providing grants that companies could leverage to attract additional finance for clean energy.
"The Universal Energy Facility will provide grant payments to enable solar companies to expand their operations to small and medium-sized enterprises across Nigeria, while crowding-in additional private capital," said Prof. Yemi Osinbajo, Vice President of the Federal Republic of Nigeria.
"Projects supported by the Universal Energy Facility will help grow businesses and create jobs, making them key contributors to our Energy Transition Plan."
Goddy Jedy Agba, Minister of State for Power of the Federal Republic of Nigeria, said: "This Universal Energy Facility programme is a practical demonstration of targeted investment in our power sector and in our overall objective to provide energy access to all Nigerians."
The Stand-alone Solar for Productive Use programme in Nigeria opened for applications in August 2022 and received expressions of interest from hundreds of energy developers.
Otubu said that within just a few months of opening this programme in Nigeria, they were now at the point where grantees have been selected and companies could start building transformative stand-alone solar projects.
She said that the Universal Energy Facility was proving the effectiveness of results-based finance to catalyse energy development at speed and scale.
Simon Harford, CEO, Global Energy Alliance for People and Planet (GEAPP), said that the global energy transition must power both people and planet, enabling economic opportunities and displacing carbon-intensive technologies.
Harford said that GEAPP was proud to support the Universal Energy Facility's efforts to offer targeted, country-specific solutions in those communities most affected by energy poverty and climate change.
He said that UEF had the potential to become a unifying force and the platform of choice for those interested in results-based financing.
He said that this was the first grant funding window under the Stand-alone Solar for Productive Use programme in Nigeria noting that UEF had identified many additional viable projects for financing in future waves.
By Abiodun Azi