The Director General, United Nations Industrial Development Organisation (UNIDO), Li Yong, will visit Nigeria on a two-day official assignment from November 19 to 20, 2018. This is Yong's second visit to Nigeria – Africa's largest economy – since he assumed office as head of the UN organisation in 2013.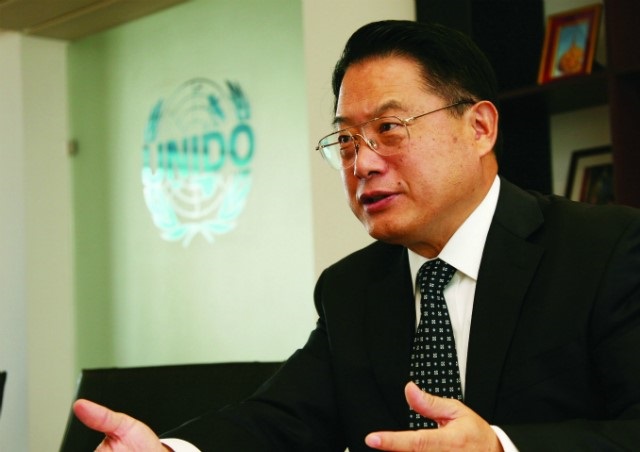 One of Yong's major engagement in Nigeria will be the historic signing on November 19 of the $60 million UNIDO Nigeria new Country Programme (CP) for Inclusive and Sustainable Industrial Development (2018-2022) with the Federal Government.
The new CP, the second in the series of UNIDO's support to the Government of Nigeria, is aimed at enhancing Nigeria's drive towards Inclusive and Sustainable Industrial Development (ISID) and is aligned to the priorities of the Federal Government as outlined in the Nigeria Vision 20:2020 (NV 20:2020), Economic Recovery and Growth Plan (ERGP) and the Nigeria Industrial Revolution Plan (NIRP).
Designed to build on the cumulative achievements of past Country Service Frameworks and Country Programme implemented by UNIDO, the new CP comprises nine programmatic components. These are: industrial governance, research and statistics programme; Micro, Small and Medium Enterprises development programme; Special Economic Zones (SEZs), industrial parks and private sector development programme; innovation, science and technology management programme; agro-industry and agribusiness development programme; minerals and metals development programme; trade capacity building programme; renewable energy development programme; and environmental management programme.
The visit will also take place in the context of the 2018 Africa Industrialisation Day (AID) commemoration holding at the International Conference Centre, Abuja, on November 20.
This year, under the theme "Promoting Regional Value Chains in Africa: A Pathway for Accelerating Africa's Structural Transformation, Industrialisation and Pharmaceutical Production", AID 2018, according to UNIDO, offers an opportunity to identify innovative, solution-driven actions and policies to advance pharmaceutical production on the continent, in the context of the Africa Continental Free Trade Agreement (AfCFTA) and the Third Industrial Development Decade for Africa (IDDA III).
The AID, celebrated on November 20 of every year, presents a platform for UNIDO to enhance international cooperation and dialogue on the pan-African industrialisation agenda, and to raise awareness of the opportunities and challenges associated with this innovation drive, says UNIDO. Every year, it gathers African leaders, policy makers, representatives of the private sector, academia, international financial institutions (IFIs) and development partners to showcase the continued relevance of industry, including manufacturing production, as a powerful engine for sustainable development and poverty eradication.
During his two-day working visit to Nigeria, Yong, it was gathered, will also hold bilateral meetings with high level government officials and UNIDO's bilateral partners  to expand and strengthening the organisation's capacity for promoting Inclusive and Sustainable Industrial Development in Nigeria, Africa and globally.