The United Nations Development Programme (UNDP) has restored hope to more than 1.3 million people in the Lake Chad region.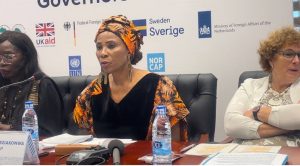 Ms. Ahunna Eziakonwa, UNDP's Assistant Administrator and Regional Director for Africa, made this known on Friday, July 7, 2023,  during the Fourth Lake Chad Governors Forum meeting in N'Djamena, Chad.
The forum occurs amidst shifting conflict patterns and emerging challenges that have resulted in widespread displacement, damage to the social fabric, interrupted public services, and weakened institutional capacities across the affected countries – Chad, Cameroon, Niger and Nigeria.
Eziakonwa said together with the governments of the Lake Chad basin, the UNDP built homes, schools and health centres; restored markets and feeder roads; repaired garrisons and police stations; and gave access to energy and light.
She said that this has enabled more than 400,000 displaced persons to return home.
"By working together, we have given hope to the displaced and conflict-affected people in the region by restoring their lives and livelihoods back.
"Let me share with you some personal stories. Across the border, in Ngarannam Nigeria, we have stories of hope and dignity restored.
"Mrs Yerima, a mother of eight children, is now a Stabilisation steering committee leader. Her story is powerful, signifying what it means to move from a displacement camp and to return 'home', with her children in school, and her husband reclaiming his livelihood."
She said that, In Cameroon, beyond the infrastructural improvements, the Stabilisation programme in Amchide and Banki had a profound impact on the lives of farmers who lost everything due to the conflict.
She explained that through the programme's vocational training and seed funding, farmers were able to  restart their agricultural activities, leading to a collective resurgence in agricultural productivity and economic stability.
"In all these countries and communities, what we have seen over the past three years is how the impact of the Stabilisation programme extended far beyond numbers and statistics. It has restored hope, dignity, and a sense of purpose to individuals who had once been displaced and marginalised.
"We have proof that the stabilisation model works. Across the Lake Chad Basin region, we see islands of stability where people have regained normalcy in their lives.
"Looking back to when we met in Yaoundé in October 2021, we have made remarkable progress, however the challenges remain daunting," she said.
The regional director noted with concern that this year marks 13 years since the outbreak of the Boko Haram insurgency, and violence still wrecks our regions.
"More than 2.9 million people remain displaced, including two million in Nigeria alone. Effects of climate change on the environment continue to worsen.
"The impact is being increasingly felt, resource based local conflicts and livelihoods worsen, and dignified employment opportunities dwindle, particularly for the youth and women.
"In addition to the chronic and volatile challenges facing the region, the outbreak of the Sudan crisis is adding to the complexity," she said.
She commended the government and people of Chad for their solidarity and warm reception extended to Sudanese refugees in this land of Toumai.
"We see the heart of the Chadian people in the response, and we are grateful. Yesterday, I visited Abeche and Adre, and saw first-hand the suffering of Sudanese refugees, and how the host Chadian host communities are stretching the very little they have to help.
"As an international community, we must step in to help – to extend basic services and provide livelihood opportunities, in addition to the urgent humanitarian response.
"Let us use this forum, this is the moment to draw the world's attention to the need for solidarity with Chad as it strives to stabilise its own country through a complex transition while opening their doors to offer refugees relief to their neighbours.
"This is the essence of multilateral action and support. As governments, as the African Union, as the Lake Chad Basin Commission, as civil society and as international development partners; we stand at a critical crossroads on our journey in the Lake Chad Basin.
"And we must move forward in determining the direction of future travel, we must ask ourselves two key questions: How do we move from stabilization islands of excellence to a mass scale-up of stability?
"How do we move from stabilisation, which was always envisaged as a bridge, and morph our efforts into longer term development approaches that can yield transformational impact into peoples' lives for the better.
"In designing stabilisation 2.0 we must confront head on the dual questions of scale and sustainability. On scale, we need to expand stabilisation to other territories not yet touched.
"For example, in Nigeria, stabilisation only covers 15 percent of the areas that need covering. In Chad, about 70 percent of affected areas have not yet been relieved. We must become more efficient, around humanitarian-development-peace nexus, programming.
"As we have seen in the 3rd Lake Chad Basin Conference, which the UN (OCHA and UNDP_ convened together with Germany and Norway, we have made good strides, but we need to do more.
"The regional director said how the success and sustainability of the Stabilisation programmes in Lake Chad Basin will depend on adequate national government appropriation and funding.
"While multilateral support has been instrumental in achieving positive outcomes, she said,  it is essential for governments to take ownership and allocate sufficient resources to consolidate progress made," she said.
In a related  development, the World Bank has provided $1 billion to strengthen resilience and improve the livelihood of the people in the countries affected by the insurgency in the Lake Chad region.
The bank's Country Manager for Chad, Mr Rasit Pertesv, made this known during the Fourth  Lake Chad Governor's Forum meeting in N'Djamena, Chad.
He said that the funds, which were disbursed among the crisis affected countries, has helped in revitalising economic development, creating jobs, and improving the lives of people who had suffered the brunt of the crises.
The country manager said that the zero-interest financing from the International Development Association provided support in two major regional development priorities which include recovery of livelihoods to reduce the vulnerability of people living Lake Chad
He said that it would go a long way in expanding cross-border economic activity to spur greater opportunity and integration in the areas of agriculture, energy, transport and regional trades.
Pertev lauded the regional stability programme aimed at restoring and improving security in Lake Chad and called for redoubled efforts toward sustainable recovery in areas that were economically affected.
"The world bank has written a regional memo for Lake with emphasis on the strategic approach towards enhancing socio economic of the region the improvement of security and development.
Also speaking, the Executive Secretary of the Lake Chad Basin Commission, Amb. Mamman Nuhu, emphasised that prevailing poverty, unemployment, and illiteracy created a susceptible environment for the extremist group's ideology to spread rapidly among communities in the Lake Chad region.
Nuhu said that the region's majority youth population, traditionally reliant on farming and cattle rearing, had their livelihoods disrupted, making them vulnerable to Boko Haram's propaganda.
"Since the development of the Regional Strategy for Stabilisation, Recovery, and Resilience (RS-SRR) in 2018, the strategy has acted as a regional architecture for responding to the complex security, humanitarian and development issues plaguing the region.
"It emphasises the need for a comprehensive, multi-sectoral, and coordinated set of sub-national, national, and cross-border initiatives to achieve long-term stabilisation, recovery, and resilience.
"As a result, several initiatives and programmes have sprung up to facilitate regional cooperation, respond to humanitarian needs and foster peace and development in the region, one of which is the Lake Chad Basin Governors' Forum.
On his part, Amb. Adeoye Bankole, Commissioner for Political Affairs, Peace and Security, African Union Commission, said the Lake Chad Basin Governors Forum is an essential platform for promoting sustainable regional peace and security in the region.
"The African Union encourages further collaboration among member states and international partners to support the forum's efforts towards consolidating peace in the region and creating better opportunities for the people of the Lake Chad Basin," he added.
Njoya Tikum, Director, UNDP Sub-Regional Hub for West and Central Africa, said: "UNDP will continue to support the LCBC in creating a brighter future for the Lake Chad Basin – a future where security is restored, communities are rebuilt, and opportunities abound.
"The Regional Stabilisation Facility, born out of the Lake Chad Basin Governors' Forum, has been instrumental in implementing the RS-SRR. Through collaborative efforts, we have been able to co-create practical and enduring solutions that have enabled nearly half a million internally displaced persons to return to their communities and significantly enhance their quality of life," he said.
The Lake Chad Governors Forum, themed "New Opportunities for Peace in a Shifting Security Context," aims to improve understanding of emerging security trends in the region and their implications to ongoing efforts to restore state authority.
It also seeks to explore the future of the RS-SRR, which is now in its final year of implementation and find ways to scale up and forge partnerships to address the plight of forcibly displaced people, including refugees and internally displaced persons.
By Hamza Suleiman