A social group known as the Unit Hike on Saturday, March 1, 2023, carried out a sanitation exercise at Karu, FCT, in commemoration of the United Nations (UN) Zero Waste Day.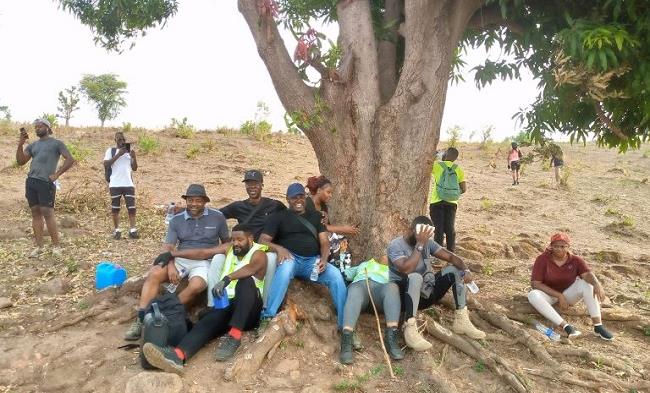 The UN Zero Waste Day, marked annually on March 30, aims to promote sustainable consumption and production patterns.
It was instituted to support a societal shift toward circularity and raising awareness on how zero-waste initiatives could contribute to the advancement of the 2030 Agenda for Sustainable Development.
According to the UN, the waste sector contributes significantly to the triple planetary crisis of climate change, biodiversity and nature loss, and pollution and that humanity generates an estimated 2.24 billion tons of municipal solid waste annually, of which only 55 per cent is managed in controlled facilities.
Every year, around 931 million tonnes of food is lost or wasted and up to 14 million tonnes of plastic waste enters aquatic ecosystems.
The sanitation exercise by the group took members to a hill in Abuja and also involved physical training/exercise to keep members fit and healthy.
Mr Timilehin Oke, an Administrative Member of the group, said: "The group is aware of the challenges in the country.
"Environmentally, we understand that the Ozone layer has been depleted through the acts man.
"The world has begun to experience an emerging temperature; however, to make the world habitable for all, everyone must contribute one or two things to mitigate this."
He said that, to sustain the environment, everyone must work toward tolerating the waste to zero, adding that plastic waste must be recycled to keep the environment safe.
"The physical exercise is very important for the UN day.
"It is one of the things we are here to do; to promote advocacy, talk to people on how to curb waste, especially to preserve the environment.
"Immediately we finish this exercise, we are going to be picking every waste in and around this environment," Oke said.
Mr Wisdom Agahama, also a member of the administrative group, said the group also performed other functions such as meeting people, networking with people as well as encouraging good societal practices.
"Coming to this hill is a way to exercise. Physical exercise is very necessary; we are not just exercising; we are also socialising. You are getting to meet new people and going to places you don't normally go to.
"Many people are down there who have never been to this hill. On top of this hill, you are going to see the world from a different perspective, you are going to have a feel of nature," he said.
Natasha Bassey, a member of the group, said the essence of the hiking was to exercise and connect with nature, places and that places like the hills are always a tourism site.
Bassey called on Nigerians to be mindful of the waste they drop on the ground, urging citizens to recycle the recyclables, which was also a means of wealth generation.
Ajuluchukwu Eze, a Lawyer, who is also a member of the group, said that the group brought members together to explore the environment as a way of adventure.
"This group visits different sites within the FCT to hike and also use that opportunity to exercise and reach out to the communities.
"You can see where we are now. It is a community where some people don't even know that such a community like this exists.
"So, we are here, and we are also going to do a little form of outreach to the people living here by telling them about keeping the environment free from pollution.
"This group advocates zero waste. We don't encourage littering of the environment. We don't encourage wastage, and so, anything that will lead to wastage is something we fight against," he said.
By Aderogba George