Gov. Dave Umahi of Ebonyi State on Friday, February 14, 2020 inaugurated the United Nations Women Climate Smart Agribusiness (CSA) project in the state. The initiative is aimed at stimulating women's economic empowerment and involvement in the Rice Value Chain.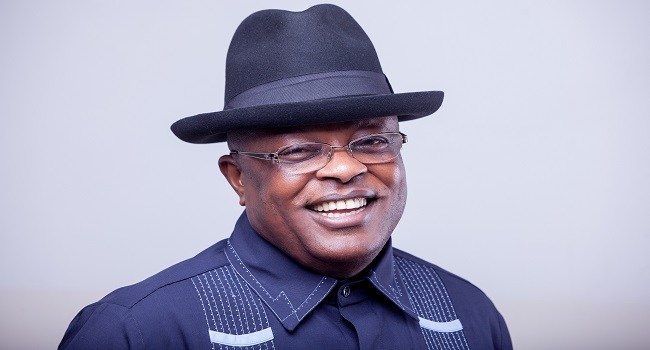 The project is geared towards promoting Ebonyi women's economic empowerment through climate resilient agribusiness.
Umahi who was represented by his deputy, Dr Eric Igwe, lauded the UN Women Nigeria for the initiative, adding that his administration would ensure that the projected succeeded.
He described the climate smart resilient agribusiness as critical in the economic empowerment of the Ebonyi women and bridging social and economic inequality between them and their male counterparts.
"We are happy with the UN Women Nigeria for coming to Ebonyi to institutionalise women in agribusiness.
"This programme is unique in the sense that it has become a flagship programme in mainstreaming women activities and operations in nation-building.
"It is a flagship programme for us in Ebonyi because it is anchoring on already established framework for Ebonyi government in women empowerment. It is also mainstreaming women in governance.
"It is also showcasing and manifesting women empowerment not only in agriculture but also in security consciousness, alertness, governance, politics and in economic growth and development," Umahi said.
The governor said that the administration was working hard to elevate the Ebonyi women to the status of entrepreneurs, stressing that the government would give necessary support to that the UN Women Nigeria for the project to thrive in Ebonyi.
The governor, who also inaugurated an eight-man Steering Committee for the smooth take off of the project, said that government would continue to support and encourage women to go into agriculture.
Miss Comfort Lamptey, UN Women Country Representative to Nigeria and ECOWAS said tlthe project was in partnership with the Food and Agricultural Organisation (FAO), ILO and UNIDO with funding from Stanbic IBTC bank.
She said that in Nigeria, UN Women was working to support Nigeria's developmental priorities and framework which were anchored in the Sustainable Development Goals (SDGs).
She added that the contributions that agriculture would make in the 2030 sustainable development agenda was enormous.
She said: "Agriculture is directly and indirectly linked to over half of the 17 SDGs. The project we are launching today is therefore situate within broader efforts to support accelerated progress and realisation of other SDGs.
"Women contribute enormously to the agricultural sector in Nigeria providing 60 per cent to 80 per cent of the rural labour in agriculture.
"Women who engage in agriculture and off-farm activities are also responsible for up to 80 per cent of food production in Nigeria."
She said that the project would support women groups and cooperatives working on the Rice Value Chain to overcome the barriers faced by women and improve their productivity and income through technology, skills and services.
"The innovative project aims to close the gender gap in ownership of productive resources including land and active participation in decision making and management of these resources," she said.
Ezza South and Ohaozara are two local government areas of Ebonyi selected to benefit from the pilot project.
By Douglas Okoro