UN Secretary-General, António Guterres, has welcomed the release of most of the Dapchi schoolgirls abducted the by suspected Boko Haram terrorists.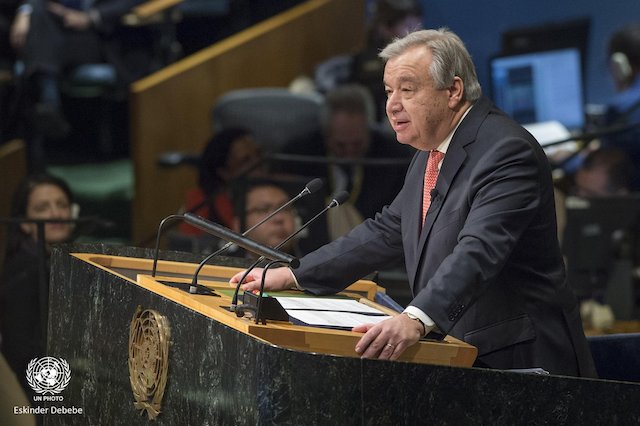 The Secretary-General, in a statement issued in New York, called on the Federal Government to bring the abductors of the schoolgirls to justice.
Guterres welcomed "the safe return today of most of the 110 girls abducted by suspected Boko Haram insurgents during an attack on an educational institution in Dapchi Town, Yobe State, Nigeria on 19 February".
The Secretary-General reiterated his calls for the immediate and unconditional release of all remaining missing girls and for their safe return to their families.
He urged the Nigerian "authorities to swiftly bring those responsible for this act to justice".
The Federal Government on Wednesday confirmed the release of 104 of the 110 abducted students of Government Girls Science and Technical College, Dapchi, Yobe on Feb. 19.
The girls were reportedly brought to Dapchi town in the early hours of Wednesday by their abductors suspected to be members of a faction of the Boko Haram terrorists.
UN Deputy Secretary-General, Amina Mohammed, also commented on the remarkable development, joining Guterres in welcoming the girls regaining their freedom.
She said in a Twitter message: "I join António Guterres to welcome the safe return of most of the 110 Dapchi girls abducted by suspected Boko Haram insurgents. The UN Secretary-General reiterates his calls for the immediate and unconditional release of all remaining missing girls and for their safe return to their families."
By Prudence Arobani