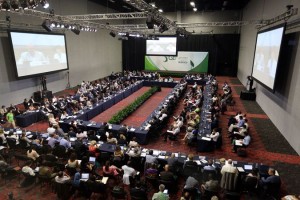 The United Nations Convention to Combat Desertification (UNCCD) will assist Nigeria to tackle her environmental degradation challenges especially those related to aridification.
The agreement was reached recently in Cancun, Mexico at a bilateral meeting involving a Nigerian delegation led by Environment Minister Laurentia Mallam and a United Nations (UN) team headed by UNCCD Executive Secretary, Monique Barbut, during the Fifth Assembly of the Global Environment Facility (GEF).
Barbut described Nigeria "as the biggest and legitimate voice in Africa," promising that she would flag-off the intervention with a visit President Goodluck Jonathan before the year's end.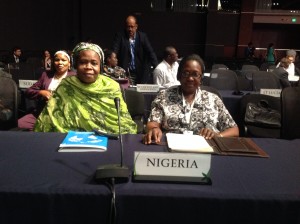 The meeting also attracted dignitaries such as Permanent Secretary in the Federal Ministry of Environment, Rabi Jimeta; Director PRS/GEF Operational Focal Point; D. M. Dauda; Assistant Secretary General of the United Nations Environment Programme (UNEP), Ibrahim Thiaw; and Director General, United Nations Industrial Development Organisation (UNIDO), Li Yong.
Barbut underlined the need for countries to look more at the issues of drought being the highest human killer than any other crises in the world as, according to her, issues of land degradation and security pose more threat to livelihood of people especially Africans, which makes them poor.
She urged African countries to consider more seriously issues of land degradation which will along the line tackle problems related to climate change, biodiversity and pollution, while promoting Sustainable Land Management (SLM).
"African countries should come up with some concrete projects on land degradation management through synergy to tackle the issue of environmental degradation. African countries should do more in proper management of land than to consider its reclamation which is more expensive and in turn has negative effect on food security," she stated.
Yong assured the role of UNIDO in promoting green growth in industries, noting that the body recently adopted a new mandate to make sustainability central to industrial development. He said future developments would be based on low-carbon technologies, even as he outlined a range of strategies UNIDO is adopting to support sustainable industrial development to include: getting public sector policies right; boosting knowledge networks to promote innovation and trade; and looking for synergies between international organisations' green growth approaches to facilitate investment flows. He suggested that GEF-Nigeria and UNIDO work together in these areas under GEF-6.
Thiaw, on his part, advocated the need for Nigeria to work with UNEP on food security under the GEF-6, adding that Nigeria should seek for soft loans to form part of her co-financing mechanism.
While three projects were approved for Nigeria under the GEF-6 (Sixth Cycle), the Council endorsed the Work Programme comprising 37 new and two resubmitted project concepts, one non-expedited enabling activity, and one programmatic approach.
Nigeria, believed to be the only country (apart from Mexico) to fully participate in the Fifth GEF Assembly's exhibition among the 183 member states, urged the GEF to assist countries in recovering degraded land and educating small-scale farmers to enhance food production and improve farmers' livelihoods.
While Ethiopia stated that infrastructure plays a key role in building a nexus between energy, food and water issues. Saint Lucia proposed discussing trade and investment policies that promote investments in carbon-intensive infrastructure over renewable energy.
Furthermore, Senegal highlighted a national plan involving projects on agriculture and energy and wondered how the GEF could help countries pursue goals within such plans. Zambia, for the Southern Africa constituency, called on the GEF to support sustainable forest management, biodiversity, land degradation, climate change and chemicals management efforts in Southern Africa.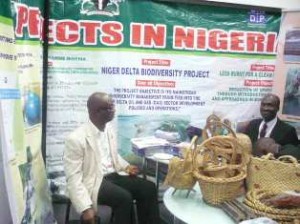 At the exhibition, Nigeria showcased her success stories and achievements over the past years in the implementation of GEF funded projects. While sharing knowledge on the peculiarity of the country and how GEF support has made a difference at all levels, officials demonstrated the linkages between the different ranges of project sizes and the existing strong partnerships with partners that have contributed to the successes experienced.
The Nigerian delegation also included delegates drawn from the Ministries of Environment and Finance, GEF Project Coordinators, Project Consultants and representatives of Civil Society Organisations (CSOs).