The United Nations (UN) on Friday, October 5, 2018 called for stronger partnership with stakeholders to address humanitarian crisis caused by Boko Haram insurgency in the North-East region.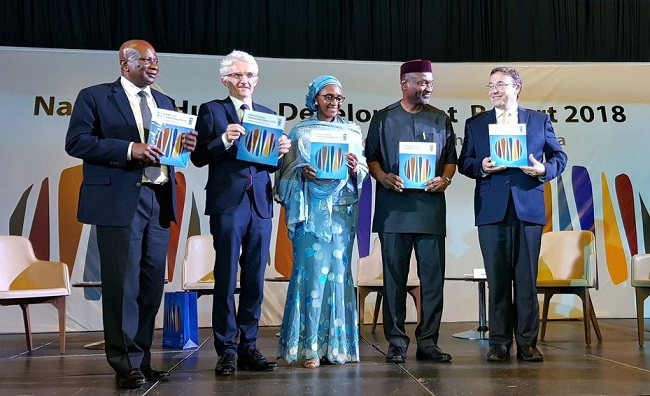 Achim Steiner, the UN Development Administrator and Mark Lowcock, UN Emergency Relief Coordinator, made the call at a joint press conference in Maiduguri, Borno State.
Steiner stressed the need for national and international partners to reinforce efforts toward addressing dire humanitarian needs in the conflict-ravaged states of Borno, Adamawa and Yobe.
He noted that such partnership between humanitarian and development organisations was imperative to tackle humanitarian needs and root cause of the crisis.
Steiner said: "We have a unique opportunity to make real difference to communities across the North-East.
"Helping communities affected by the crisis requires us to work together; humanitarian and development organisations alike, to tackle immediate humanitarian needs and the root causes of the crisis.
"The government of Nigeria has launched recovery initiatives and efforts in the North-East aimed at rapid stabilisation.
"Early recovery and livelihoods activities implemented by UN agencies, international and local organisations seek to address the underlying causes of the conflict, lay foundation for sustainable development and prevent aid dependency.''
Steiner expressed satisfaction with rebuilding and resettlement of displaced communities in Borno, adding that proactive activities are necessary to ensure sustainability of the programme.
Also commenting, Lowcock said they were on a two-day official visit to Nigeria to appraise the humanitarian situation in North-East and Lake Chad region.
Lowcock reiterated UN commitments to support Nigeria to address humanitarian crisis, fast track recovery and stabilisation of communities affected by the conflict.
"We are committed to Nigeria and to the people of Nigeria.
"We are here to support the government's leadership towards solutions in the North-East as humanitarian intervention can only be a temporary solution.
"I am pleased to be here with the UNDP administrator to help join up humanitarian and development efforts to save lives; help stabilise the situation, rebuild lives and communities for the future.
"We must do everything we can to prevent this crisis from continuing for years," he added.
According to the UN Office for Coordination of Humanitarian Affairs (UN-OCHA), the visit was sequel to an international donor conference held in Berlin in September, during which donors pledged $2.5 billion for humanitarian, stabilisation and recovery projects in Lake Chad region.
The UN agency said over 7.7 million people need humanitarian assistance, while food security and nutrition remained fragile in the war-ravaged region.
Also, an estimated three million people face critical food insecurity and about one million children between the ages of six months and five years face malnourishment while 440,000 others suffers severe acute malnutrition, it said.
By Rabiu Sani