The UN Environment Programme (UNEP) on Monday, May 9, 2022, joined religious leaders and others in signing a landmark joint appeal for climate-responsible finance as a moral imperative towards children.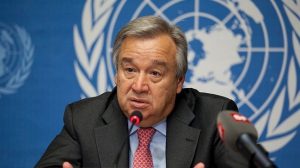 The World Council of Churches (WCC), UNEP, Muslim Council of Elders, and NY Board of Rabbis have all signed the Climate-Responsible Finance – A moral imperative and responsibility to all children and the living world.
"We, leaders of the undersigned organisations, affirm our commitment to engaging with the financial institutions.
"To engage, we bank, invest, and seek insurance coverage, to ensure that our financial dealings are aligned with the Paris Agreement objective of limiting global warming to 1.5° C," they stated.
The signatories also agreed to review their "pension, banking, insurance and other financial service arrangements to ensure evidence-based accountability."
Meanwhile, UN Secretary-General, António Guterres, welcomed the initiative, saying that, "for too long, the financial services sector has enabled the world's fossil fuel addiction.
"It is now time for financial service providers to accelerate the shift to renewables. They have the power – and the responsibility."
According to him, the scientific and moral imperative is clear, there must be no new investment in fossil fuel expansion, including production, infrastructure and exploration.
The findings of the latest Intergovernmental Panel on Climate Change (IPCC) report, released on April 4, dramatise the critical urgency of this challenge.
The initiative suggests positioning investment portfolios in ways that will help to meet net-zero GHG emissions by 2050.
In addition to investing in renewable energies and researching for climate solutions, it pushes for the European Union and the Organisation for Economic Co-operation and Development to fully phase-out financial services and exposure to coal no later than 2030, and no later than 2040 for the rest of the world.
It also advocates to end all financing towards any new oil and gas projects exploration and extraction projects and requires oil and gas companies to stop all new development or expansion projects beyond this year.
Against this backdrop, the joint appeal calls upon financial service providers to take urgent and effective action to transition out of fossil fuel financing and invest in climate solutions through renewable energies and research.
The appeal also calls on financial service providers to require oil and gas companies to stop all new development or expansion projects…including especially all such projects in the Arctic region.
By Cecilia Ologunagba