Tuesday, June 20, 2017 appears to symbolise a special day in the history of global climate action as it marks the day when the United Nations Framework Convention on Climate Change (UNFCCC) opened for signing by Governments at the UN in New York.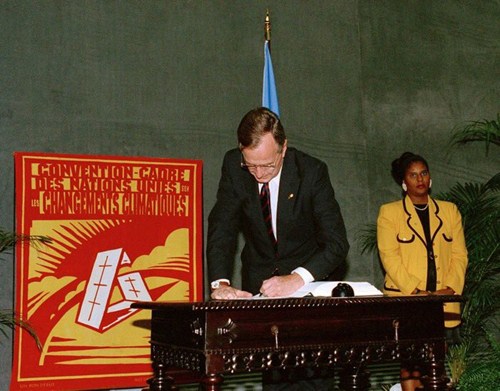 This followed its adoption a few weeks before in 1992 by world leaders at the UN Conference on Environment and Development (UNCED), otherwise referred to as the Rio Earth Summit.
According to the UNFCCC, it signaled a key milestone on the journey to a better, more secure world that, 23 years later, would see the birth of the universal Paris Climate Change Agreement of 2015.
"Over the intervening years, many remarkable foundations were laid and pillars erected that provided the impetus and building blocks towards what became the Paris Agreement. These include the Kyoto Protocol, the establishment of carbon markets under the Clean Development Mechanism and increasing efforts to bring adaptation and resilience to the fore alongside emission reduction measures," discloses the UN body.
It believes that the world has changed a lot since 1992 – geo-politically, economically, technologically, socially and environmentally, but that the vision established 25 years ago has endured despite many ups and downs and bumps along the way.
It adds: "Today, record amounts of renewable energies are being installed world-wide and costs are tumbling; new kinds of carbon markets are expanding; investors are shifting funds into more sustainable investments and issuing new kinds of instruments like green bonds.
"Electric vehicles are starting to take off and storage of electricity, generated from clean energies, is perhaps on the cusp of a technological breakthrough.
"Increasing numbers of projects and initiatives are factoring the climate but also the wider sustainable development of the natural world into national and global action – from improved management of forests, soils and river systems to coastal ecosystem such as mangroves and sea grasses.
"Support by cities, regions, territories and states, alongside major companies; insurers; pension funds and citizens is unprecedented with so many aligning behind the Paris Agreement."
The UNFCCC entered into force some two years later – in March 1994. Paris's entry into force appeared to be more rapid – a development observers say underlies a higher level of urgency but also optimism to address a phenomenon that will define the future of development and perhaps the human race itself over the coming decades and centuries.
Patricia Espinosa, Executive Secretary of the UNFCCC, says: "In marking this 25th anniversary, we are paying tribute to all those leaders from the worlds of politics, science, civil society, local authorities, the private sector and communities who recognised the threats emerging from climate change and laid a fundamental foundation to address this challenge".
"Over the next 25 years, through the implementation of the Paris Agreement, we must together complete or substantially complete their work and increasingly transform a threat and a major risk into an unprecedented opportunity for every man, woman and child," she said.
"I also look forward to welcoming as many people as can attend the UN climate conference in Bonn, Germany in November 2017, where we can write the next historic chapter on cooperative climate action," Ms Espinosa adds.
The UNFCCC says it is marking the 25th anniversary of the opening for signature in New York with the publication of archival images and other communications products.
Similarly, it is urging governments, sub-national governments, business, investors, NGOs and citizens to join in on Tuesday with their own memories, thoughts, pictures and forward-looking statements.