After its inauguration in March, the United Nations System Staff College (UNSSC) – Knowledge Centre for Sustainable Development organised its first ever UN Summer Academy at the UN Campus in Bonn, Germany from 22-26 August. It was the fifth UN Summer Academy globally with previous editions hosted in New York and Turin, Italy.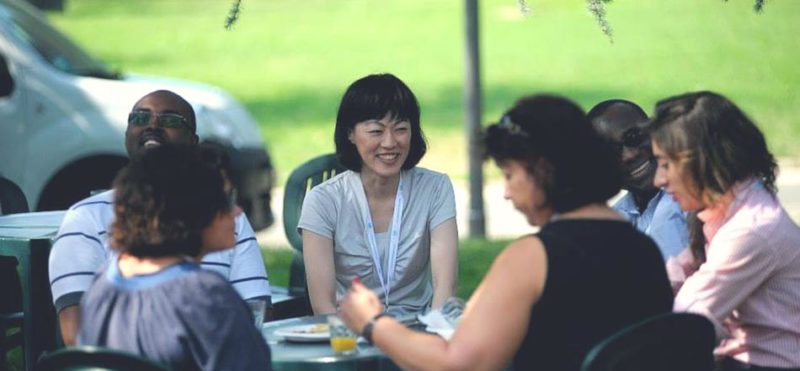 This year's UN Summer Academy focused on the Agenda 2030 for Sustainable Development. The Summer Academy's theme "Shaping a Sustainable Future" echoes the motto and work of the United Nations in Bonn (UN Bonn). UN Bonn, consisting of 18 different UN organisations, builds a powerhouse for sustainable development and different UN Bonn entities contributed with their expertise to the panel discussions, key note speeches and workshops.
More than 50 participants and speakers from over 30 countries across the globe attended the UN Summer Academy at the UN Campus' historic Haus Carstanjen, where the UNSSC Knowledge Centre for Sustainable Development sits. The week-long interactive learning and sharing event gathered UN staff, sustainability practitioners, researchers, businesses and representatives from different governments and public authorities. It aimed to stimulate exchange and learning from action in areas of critical importance: People, Planet, Prosperity, Partnerships and Peace – the elements that underpin Agenda 2030 with its Sustainable Development Goals.
"The first UN Summer Academy here in Bonn was a great success," emphasises Patrick van Weerelt, Head of Office of UNSSC Knowledge Centre for Sustainable Development Bonn. "It allowed for fruitful discussions between a multitudes of actors with many different perspectives. I am sure the UN Summer Academy will become a permanent feature of our annual program in Bonn, opening the UN Campus to a wider audience and providing a unique space for reflection and discussion in a different setting. "Shaping a Sustainable Future", the motto of this year's UN Summer Academy, is particularly pertinent here in Bonn, which is an outstanding model for sustainability."
Through the support of the Federal Foreign Office Germany and the state North Rhine-Westphalia, the UNSSC Knowledge Centre was able to offer a total of 13 scholarships, which allowed a wide spectrum of nationalities to take part. Recipients of the scholarships included government representatives from Ukraine and Egypt, as well as PhD students from Brazil and Germany, working on research on sustainability.
"This year's UN Summer Academy represents the new spirit of openness and integration of the new agenda and models the need for countries, as well as the UN system, to work in a more integrated way with stakeholders from all sectors of society," said Ambassador Ingrid Jung, Head of the Liaison Office of the Federal Foreign Office to the United Nations in Bonn during her opening speech. She further added: "We see the work of the UNSSC Knowledge Centre as a useful extension of our approach to foster a vision of foreign policy as an opportunity for cooperation and as a basis upon which to build the foundation for a working partnership on global matters. We are very much looking forward to future joint projects with UNSSC."
During a "Share Fair", the Summer Academy opened its doors to the UN staff in Bonn to provide a networking platform for the participants. Every participant had the opportunity to present his or her own work, no matter how big or small, on sustainable development.
"This year's UN Summer Academy provided us with an opportunity to explore ideas and learn from each other as well as a chance to meet experts in the field of sustainable development. We go back to our countries inspired and with many new connections, which will help us to make a difference back home," explains Dwiti Vikramaditya, representative of Kalinga Institute of Social Sciences (KISS) India, an NGO educating 25,000 deprived indigenous children across the subcontinent. "Education is the first step to change attitudes and behaviors in the long term."
Participants also had the chance to experience some of the biggest global challenges that the UN addresses today via UN Virtual Reality. "Clouds over Sidra", "My Mothers Wing" and "Waves of Grace" allow to explore the effects of displacement and conflict as well as Ebola through an immersive experience.