Over 450 organisations call on world governments to reject and ban importation of Russian oil and gas, and to rapidly phase out all fossil fuels in the name of peace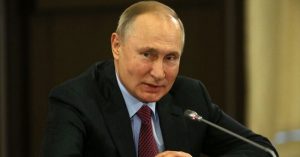 Numerous organisations are expressing solidarity with Ukrainians in a collective call on world governments to end fossil fuel production once and for all.
The current crisis, according to activists, sees Russian President Vladimir Putin weaponising oil and gas money to threaten livelihoods and fuel terror with escalating violence, underscoring the fossil fuel system's role in driving conflict.
They describe the war as a fight for Ukrainians' own freedom, but more broadly, a fight for self-determination worldwide.
The letter – initiated by a dozen Ukrainian climate organisations – recognises the war as a "grave violation of human rights, international law and global peace" fueled by the oil and gas money that powers Putin's war machine. Some 40% of Russia's federal budget is said to come from oil and gas, which also make up 60% of Russia's exports.
The signatories urge governments to use all nonviolent means necessary to stop Putin and his war machine, restore peace, and end the aggression. Governments, they add, must work together to manage transition to a clean and safe renewable energy in a way that is fast and fair.
This, they insist, also means stopping all trade and ending investment in Gazprom, Rosneft, Transneft, Surgutneftegas, LukOil, Russian Coal and others, seeing a cease to all financial services for Russian energy companies operating in the coal, oil and gas sectors.
Svitlana Romanko, Ukraine-based climate activist and strategist, said: "This horrific war in our country that sees people dying every day is the result of governments and oil giants having blindly tolerated Russian acts of oppression for many years to maintain the status quo of the fossil fuel economy. We call upon all governments, companies and financial institutions to divest, end all trade and embargo all fossil fuels from Russia. We call for justice and peace.
"We call to overcome this. We want no more wars. Nations worldwide must commit to the rapid and just transition away from all fossil fuels and fossil fuels non-proliferation. Fossil fuel companies cannot be allowed to make their 'peace washing' to justify increased extensive fossil fuel exploration."
Roman Shakhmatenko, Ukrainian Deputy Minister of Environmental Protection, said: We have to stop being indifferent. We should end using gas, oil and coal. We should not break international laws and hold those who break them accountable."
The signatories highlight that it is imperative that the world not simply replace Russian-produced fossil fuels (in particular fossil gas) with fossil fuels from other countries (in particular liquefied natural gas) and demand that fossil fuel expansion must be immediately halted. Nations worldwide must commit to the rapid and just transition away from all fossil fuels, they noted.
The demand to end global fossil fuel dependence comes as the UN Secretary General responds to this week's IPCC report, saying "fossil fuels are a dead end – for our planet, for humanity, and yes, for economies". The report is a dire reality check that the world is hitting the limits of climate change adaptation so the need for rapid emissions reduction is clear.
Phasing out fossil fuels, which are responsible for 86% of CO2 emissions in the past decade alone, should be a priority for all governments who are now faced with a dual crisis of climate and security. However, there is currently no international mechanism to specifically address fossil fuel production and for governments to negotiate transition pathways – which is why many of the signatories of this letter have also called for a global Fossil Fuel Non-Proliferation Treaty, and support the Beyond Oil and Gas Alliance.
Signatories to the letter come from around the world, including CAN International, World Council of Churches, Centre for International Environmental Law, Climate Reality Project, Christian Aid, Rainforest Action Network and 350.org. Several Ukrainian activists have made comments, as follows.
Yevheniia Zasiadko, Head of Climate department at the Center for Environmental Initiatives Ecoaction said: "Continuing any relationship with Russia means supporting war in Ukraine, killing children, women, and men on the streets of peaceful cities. 44 million lives in Ukraine have been destroyed in the last week. This is the breaking point, where Europe must completely abandon fossil fuel from Russia, stop all business and support of fossil projects."
Nataliya Andrusevych, Chair at "Society and Environment" think tank, said: "Russia kills. Do not buy anything from Russia, including gas and oil. World's dependence on fossil fuels pushes some countries to keep silent or hesitate to react to Russian aggression against Ukraine."
Kostiantyn Krynytskyi, Head of Energy Department, NGO Ecoaction, said: "Russia has clearly shown that gas is a transition fuel to war. It's high time to ban Russian fossil fuels such as oil, gas and coal that are quite literally financing this war. One of my hopes for the future reconstruction of Ukraine is that our government and our international partners will support only sustainable solutions and clean energy and don't go back to the dependency on fossils."
Olha Boiko, coordinator of CAN EECCA, said: "I hope the world gets our message loud and clear – there has never been a better time to phase out fossil fuels and stop buying coal, oil and gas from Russia. Ukrainian civil society is urging all investing countries and businesses to open their eyes. The coal, oil and gas money are what is fuelling this war right now. Take your shares out of the Russian fossil fuel business and plan to urgently increase the speed of just transition to renewables."
Roman Nitsovych, Research Director, DiXi Group, Ukraine, said: "We have been warning our Western partners – governments, companies and experts – of Russian energy being used as a weapon and on the risks of high dependence on Russian supplies. Now there is more understanding that revenues from Russian oil and gas exports were used mainly for enrichment of elites loyal to Putin's regime and extensive military buildup.
"Regretfully, this awareness in the West comes at a dreadful cost of Ukrainian lives. That is why it is so important to force the aggressor to stop the war – with suspension of fossil fuel purchase from Russia being one of the strongest measures."
Julia Pashkovska, executive director of NGO "Ekoltava", CAN EECCA Board member, Ukrainian Climate Network Board member (Poltava, Ukraine), said: "People should not die for fossil fuels. People's lives and the independence of states are much more expensive than gas pipelines and petrodollars. This war of Russia with Ukraine is sad proof that as soon as possible we need to build a just world with 100% renewable energy. We do hope that Europe and all of the world will support us. We want to live in democratic country, not a totalitarian one."