Britons enjoyed sweltering heat for the third day running on Tuesday, June 26, 2018 with temperatures reaching 30 degrees Celsius in Wales.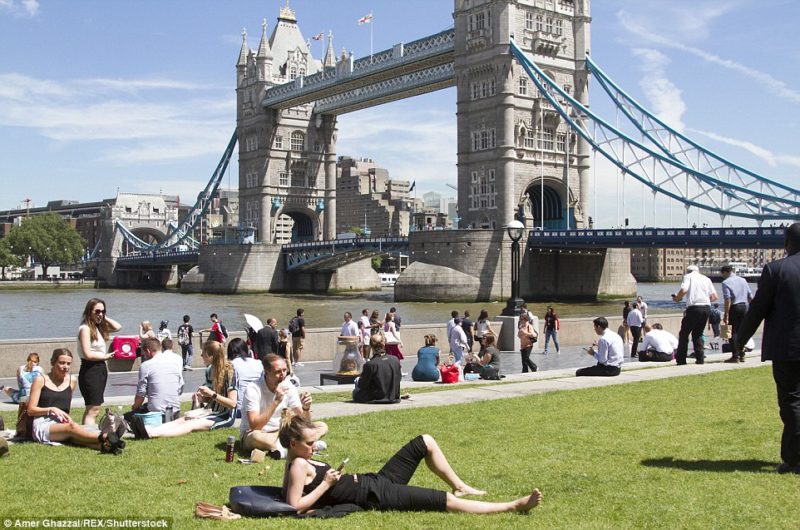 The temperature is possibly set to hit record June highs this week, the Meteorological Office said.
Twitter and Facebook were replete with dogs bathing in fountains and rivers, some even wearing sunglasses and hats.
The Meteorological Office said: "With temperatures into the low thirties over the next couple of days, there is a chance we could beat Northern Ireland's all-time record of 30.8 degrees and Scotland's June record of 32.2 degrees."
Portmadog in North Wales was the hottest place at 30.6 degrees, with Tuesday in general only a shade below Monday's highs, while temperatures are expected to peak on Thursday at around 32 degrees.
Britain's highest-ever temperature for June was 35.6 C recorded in the southern port of Southampton in 1976.
A high pressure system is expected to stay over most of Britain into next week and health and emergency services are offering tips on staying cool.
Police were issuing open-water warnings to stop people tempted to bathe unsafely and several wildfires were reported in northern England.
The heatwave had yet to reach Scotland's northernmost Shetland Islands, however, where temperatures were around 15 C and skies cloudy.
Shetland Library tweeted: "Went out for an ice cream at lunchtime, to celebrate that everyone ELSE in the country is having a #scorchio #heatwave."