Speakers at an event marking the World Pangolin Day (WPD), on Sunday, February 21, 2021 in Lagos advocated the protection of Pangolins to prevent it from extinction.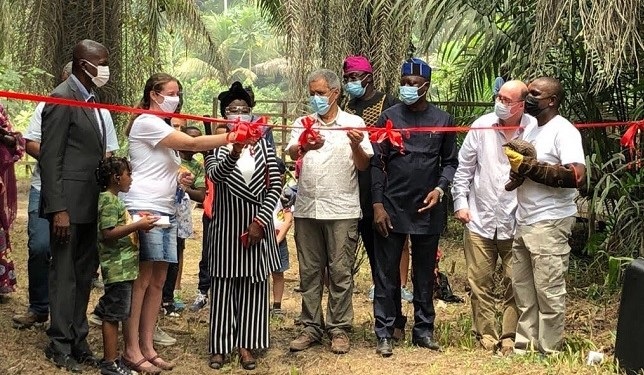 Mr Ben Lewellyn Jones, British Deputy High Commissioner, urged everyone to do more in protecting the animal.
Jones said that WPD was set aside to create awareness of the dangers Pangolins face and to celebrate efforts by individuals in ensuring that the mammal didn't go into extinction.
The British envoy described Pangolin's as ant-eating mammals endangered globally by traffickers
"A single Pangolin can consume 20,000 ants per day.
"All of us have the responsibility to protect them,'' Jones said.
In a goodwill message, Mrs Belinda Odeneye, Permanent Secretary, Ministry of the Environment and Water Resources, said that the Lagos State Government was collaborating with LUFASI Nature Park (LNP) in the protection of Pangolins from extinction.
Odeneye, who was represented by Mr Ademola Olabode Samuel, Assistant Director of Conservation and Environment Department in the ministry, said that the government was committed to the conservation of Pangolins and hooded vultures to prevent them from extinction.
In his address of welcome, Mr Desmond Majekodunmi, Founder, LNP, frowned at the manner in which the environment is being treated.
Majekodunmi added that lack of love for nature was endangering man's existence on earth.
Quoting the UN Secretary-General, Antonio Guterres, Majekodunmi said "our war on nature is suicidal, biodiversity is collapsing''.
"One million species are at risk of extinction and the eco-system is disappearing before our eyes.''
Delivering a keynote address, Dr Joseph Onoja, Director, Technical Programmes, Nigerian Conservation Foundation (NCF), said that Pangolins were scally ant-eaters.
Onoja spoke on the theme: "Pangolin Conservation; A Race to Save the Species".
He said that the scales of the mammal was most sought after by traffickers who traffic them to Asia and some European countries.
According to him, Pangolins eat 70 million ants in a year.
"They protect an area of forest as large as 31 football field from termite's destruction, enabling forests to absorb carbon dioxide and producing oxygen.
"Pangolins are the most illegally trafficked mammal in the world.
"Twenty tonnes are trafficked annually,
"If Pangolins are gone, the world will be inhabitable,'' Onoja said.
The highlight of the celebration was the releasing of three domestic Pangolins into the wild in the park.
The event was put together by NCF, LUFASI Nature Park and WildAid West Africa.
By Fabian Ekeruche