The third Cohort of the Nairobi Summer School on Climate Justice that commenced at Kenyatta University in Nairobi from July 3, 2023, officially ended on Saturday, July 15, with the promoters urging the graduands to turn the skills acquired into action.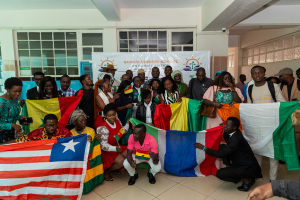 Organised by the Pan African Climate Justice Alliance (PACJA) in partnership with Kenyatta University, over 500 youth from across and outside Africa converged on the Kenyan capital for the third edition of the training session.
Dr. Mithika Mwenda, the Executive Director of PACJA, while addressing Alumni of Nairobi Summer School Cohort III, expressed his appreciation, even as he tasked them to turn the skills acquired into action.
"With the knowledge and skills you've gained from this programme, you can become the driving force behind Africa's climate justice agenda. You now understand that climate change is not simply an environmental issue but also a social, economic, and political one," said Dr. Mwenda, adding:
"Seeing the young generation interested in learning climate justice and connected approaches was such a charming moment. They have shown their eagerness for the future and to becoming leaders of today and tomorrow."
Dr. James Koske, Executive Dean, School of Agriculture and Environmental Science, Kenyatta University, while addressing participants asserted a commitment of the university to continually support the process and called on the youth to sharpen their skills in climate change and the environment.
He said: "I speaking, I am a witness to climate change impacts. When we went to school many years ago there was rain, and rivers were flooding and it was hard to cross. Today they are no more. Therefore, we don't need to persuade you that climate change is occurring, you are naturally persuaded and you need to know that this is not an individual task; everybody is involved and that is why you are here."
Ambassador of Sweden to Kenya, Caroline Vicini, reminded that the skills learnt within the intensive 14 days of the programme are not for theories and commended the school for basing on science.
She stated: "The school is important to base activism on science. I know it's not easy, but nothing works in isolation. It's important to be informed and I am hopeful that this generation will be better than their leaders today."
Mwenda assured that PACJA would always build the knowledge and skills of young people to take matters of climate justice into their hands.