President Donald Trump of the United States on Thursday, January 9, 2020 proposed fundamental changes to 50-year-old regulations in an effort to speed up new mines, pipelines and hundreds of other projects around the country, including some that could harm the environment and accelerate climate change. The move also could prevent communities from having much say about what gets built in their backyards.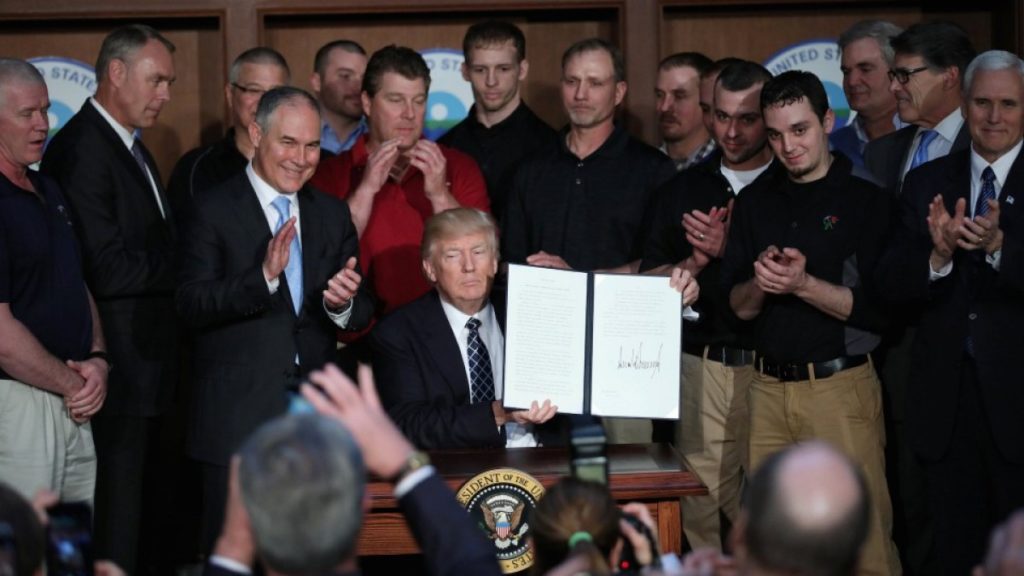 Flanked by members of his Cabinet and labour leaders, as well as construction industry representatives in hard hats, Trump told reporters at the White House that his proposal will allow highways to be built in "a small fraction of the time."
"We will not stop until our nation's gleaming new infrastructure has made America the envy of the world again," Trump said. "It used to be the envy of the world, and now we're like a third-world country. It's really sad."
Interior Secretary David Bernhardt said the president was making the most significant regulatory rollback of his term. "Let me tell you, this is a really, really big proposal," Bernhardt said, turning to Trump. "The proposal affects virtually every significant decision by the federal government that affects the environment."
The proposed rules would narrow the scope of the National Environmental Policy Act (NEPA), which requires federal agencies to assess the impact of a major project before a spade of dirt is turned and to include the public in the process.
The changes would mean that communities would have less control over some projects built in their neighbourhoods. Environmental groups, tribal activists and others have used the law to delay or block a slew of infrastructure, mining, logging and drilling projects since it was signed by President Richard Nixon in 1970.
The White House proposal will almost certainly face legal challenges.
Notre Dame Law School Professor Bruce Huber said in an email that because the regulations do not alter the underlying law, agencies are still required to report the environmental impacts of actions they take that significantly affect "the quality of the human environment."
"Today's proposal will involve changes to the way the law is implemented, and it will be up to the federal courts to decide whether those changes are faithful to the law," Huber said.
The proposed changes would redefine what constitutes a "major federal action" to exclude privately financed projects that have minimal government funding or involvement.
That interpretation of the law could make it much easier to build some pipelines, which have become controversial as activists have sought to block projects that extract, transport or burn fossil fuels linked to climate change.
Courtesy: The Washington Post