Despite a drumbeat of scientific warnings, the Trump administration on Wednesday, June 19, 2019 issued a new rule that cuts carbon emissions from power plants by less than half of what experts say is needed to avoid catastrophic global warming.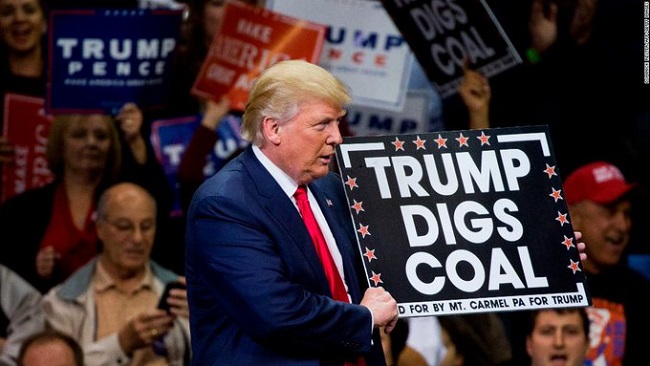 The Affordable Clean Energy rule, issued by the Environmental Protection Agency (EPA), represents the Trump administration's most significant action to unwind federal regulations aimed at addressing climate change. At the EPA on Wednesday, Trump's top aides, Republican lawmakers and state business leaders celebrated it as proof that the president had delivered for his constituents in coal country.
"That means cleaner and more affordable energy for the American public," said EPA Administrator Andrew Wheeler, addressing a group that included coal miners from Pennsylvania and West Virginia.
Under the Trump rule, utilities are expected to cut emissions 35 percent below 2005 levels by the end of the next decade. But to avoid global average temperatures from rising beyond 2 degrees Celsius, the U.S. electricity sector would need to cut its emissions 74 percent, according to the International Energy Agency.
Unlike the Obama administration's 2015 Clean Power Plan, the new rule does not set specific greenhouse gas emissions cuts for each state. Instead, it allows state regulators to determine how utilities can improve efficiency and will not force companies to switch from coal to lower-carbon energy sources.
But market forces have already prompted many utilities to cut back on coal.
DTE Chairman and CEO Gerry Anderson, whose Detroit-based utility has pledged to cut its carbon output 80 percent by 2040, said the new regulation won't affect the decision to shutter 14 of its 18 coal-fired units by the end of the decade.
"The industry's in motion, and it's got its own life," Anderson said in an interview. "We're moving on, and the rest of the industry is in a similar direction."
Critics of the Trump rule argue that because it doesn't require a move away from coal, some utilities will leave their plants open for longer, producing more pollution. They also say the new rule will result in even more confusion as states set their own climate agendas.
While liberal states are adopting ambitious climate policies, more conservative ones might not allow power companies to pass on carbon-free investment costs to customers if there's no federal mandate to cut emissions.
Either way, the U.S. power sector is on track to surpass the Trump emissions projections, which amount to about one-third less than 2005 levels. Last year, utilities had lowered their emissions by 27 percent, and many companies plan to go even further, cutting carbon dioxide in half by 2030.
Environmental groups and some attorneys general, including New York's Letitia James and California's Xavier Becerra, are threatening to challenge the Trump rule in court. The strategy carries some risk, since a more conservative Supreme Court could limit the EPA's ability to set mandatory carbon emissions limits for the states under existing law.
Instead, said Bracewell LLP partner Jeff Holmstead, business and environmentalists might seek to cut a deal in a future Congress.
"If Trump isn't reelected and the next president makes climate change a priority, I think there's a good chance that we'll see a climate change bill enacted into law, even if Republicans control both houses of Congress," said Holmstead, who headed the EPA's air office under President George W. Bush.
By Juliet Eilperin and Brady Dennis, The Washington Post